China CE approved adult cheap electric scooter
Product Description
1.Production Introduction
Escooter/two-wheel balance vehicle is a substitute tool for walking, which uses gyroscope to intelligently control balance. It moves with the gravity center of the rider, making forward or backward as the gravity center goes. The turning radius can be zero, which means that it can be operated in a very narrow space, reaching almost every possible place where people can make.
You can feel very confortable and fresh when driving Escooter. Escooter has two-dimensional inertial navigation system,it can feel your posture.When you hold still, Escooter will keep still.When you pull forward, Escooter will move forward.If back,it also back.You can feel nature,safe and free.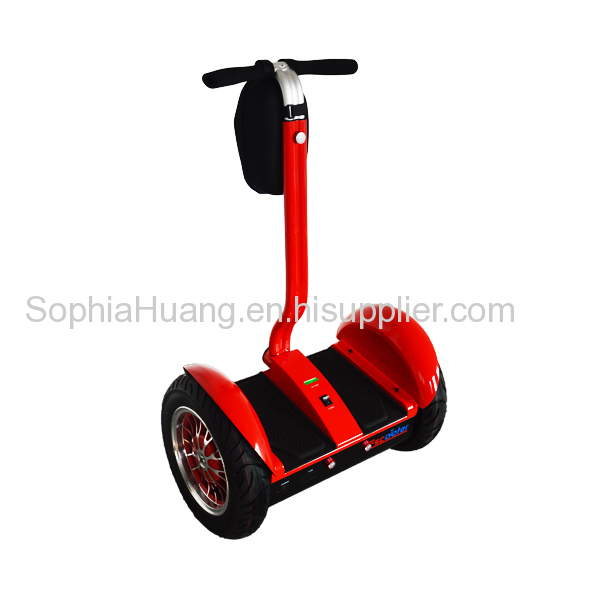 2.Detailed Information of Escooter
(1)Improved Appearance
(a).New design handle steering mechanism.
It is made of whole molding aluminum alloy.It is more beautiful.It is easy to turn around because of its handle designed as ergonomic.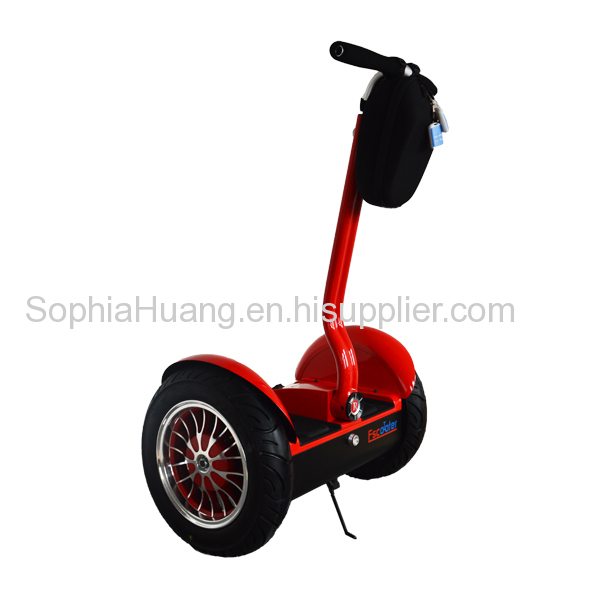 (b).New model pedal.
It is made of whole molding silica ge.which make scooter body more stable.Its waterproof and dustproof function is improved.It is more stable and safe for driver's standing because of its increased friction by grain.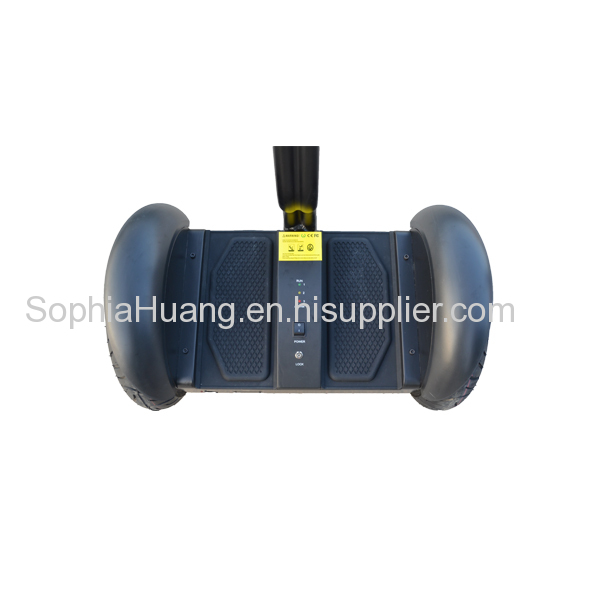 (c).New wheel and tire.
It is made of new wheel and smooth tire.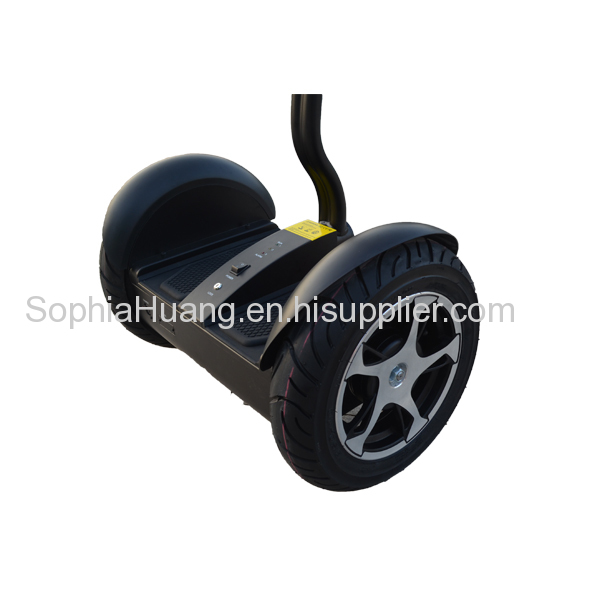 (2)Improved Performance
(a).New imported driving motor and transmission mechanism.
It is more powerful.The capacity of driving is increased by37.5%.It is easy to climb 30 degree slope.
(b).Powerful algorithm,with high power motor,the max load is improved,which make driver more safe.
(c).Imported transmission gear.It has no noise during driving.The noise is the lowest compared with other similar scooter.
(d).New sound alarm function.It has power alarm,over speed alarm,and alert alarm.The driving safety is improved.
3.Features of ESCOOTER
1.New steering mechanism, giving a much more stable ride and a faster response

2.Updated processed motherboard, making it safer and easier to control.

3.Waterproof throughout, an improvement on the old model.

4.Advanced design for steering and handling, the overall look is a big improvement.

5.It has a light exquisite steering mechanism, enabling a more flexible turning circle.

6.The new model has 4 floor detectors, improving the safety and stability, as a result the rider will not fall.

7. Adjusted big power motor.Max power can achieve 1600W overall, making it easy to climb continuously an a 30 degree slope.

8. A siren alarm sounds as a reminder to the rider as of the state of scooter

9.GPS tracking is optional

10.High quality wheel with tires to suit both racing and off road.

4.Frame of ESIII

5.Parameter of ESIII

DESCRIPTION

Green product (Electric, healthy)

No pollution and zero consumption

CE & ROHS &FCC certification

SPECIFICATION

Net Weight

48 kg

Dimension

43*43*68 cm

Max cruise speed

18km/h

Max load

125 kg

Max. Mileage (after full charging)

30-35 km

Max climb capability

30 degree

Min turning radius

0

Charging time

8 h-10 h

Battery

PB,36V,42Ah

Power

Two imported DC Motor,DC servo drives

Voltage

100 v-240 v

Max Power

1600 watts (2*800w/pc)

Lifetime of battery

1-3 years

Tire

17 in / 43 cm vacuum smooth

Wheel

12 in / 26 cm Black Aluminum Rim

Height of handle

80-110 cm adjustable

Height of footplate

10in / 26cm

Specification of footplate

11.5×25 in / 16×40 cm

Max. Height above ground

13 cm

Standard Pressure

250 kpa

6.Applications of ESIII

1.Personal transportation

2.Public security police

3.Metro deployment

4.Airport customs

5.Large venues

6.Tourist resort

7.Golf field

7,Quality & Certification

Quality assurance is extremely important to our company. We have advanced QC and production equipment at our disposal and can provide a consistent high standard for products. Our scooters strictly comply with IQC, IPQC and FQC standards and specifications.Our scooters have been certificated by CE, FCC and ROSH etc. Also we strictly follow the standard of ISO9001.




8.Exporting Customer

Our scooter has been exported more than 80 countries and areas all over the world,such as Europe (Demark, Germany, Sweden,Poland,France,Italy Russia, etc.), Africa (South Africa), Southeast Asia (Malaysia,Philippines) and America (USA,Canada and Brazil),Austria & New Zealand.




9.Package Details

G.W: 58 kg

Dimension:43*43*68 cm

Outside package: carton

Packing list (Standard kits/parts)

Handle: 1 pc

Key: 2 pcs

User manual: 1 pc

Driving handle:1 pc

Pedal mat: 2 pcs

Fender : 2 pcs

Tire: 2 pcs

Battery charger: 1 pc