1.8m Flyaway Carbon Fiber Antenna Datasheet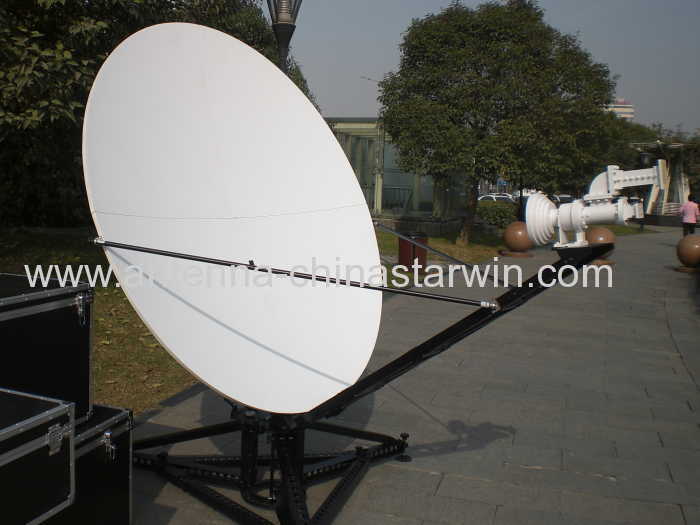 1.General Information
1.8m C and Ku band flyaway antenna is designed and manufactured for swift satellite communication response.The 1.8 meter fly-away antenna is easily deployed, possesses extreme light weight due to its high percentage of carbon fiber material and excellent transportability.
1.8 m C and KU manual carbon fiber portable station antenna using azimuth/elevation structure design.main reflector is offset carbon fiber panel.The rest of Antenna accessories's material is mainly composed of hard aluminum alloy.(A small number of accessories's material selection of stainless steel and copper). Fastener's materials is 304 stainless steel.
Antenna installation and dismounting is convenient, in the case of without any auxiliary tools, 2 engineers in 10 minutes to complete.Antenna turntable use truss support, strong ability to resist wind.Antenna main material using carbon fiber and hard aluminum alloy, light weight.Azimuth, elevation and polarization dial logo is clear, the position of the Level of the bubble and compass is reasonable.Azimuth/elevation can not only rapid rotation, micro operation is also very convenient.Azimuth, lock switch design of the elevation and polarization is reliable and strong .
1.1 Feature :
* The antenna is made of carbon fiber and aluminum. This results in extreme light weight and high strength.
* The antenna is assembly by interlocking of major component parts. The system can be field assembly by two persons in less than 10minutes without any hand tools.
* Flexible Azimuth and Elevation to quickly acquire the satellite.
1.2 The antenna consists of four major parts.
a) Bracket support, Az rotary platform and El adjustment
b) Backspine
c) Reflector
d) Antenna feed and subreflector
e) Carry case
2. Composition of the antenna
As shown in figure 1, the antenna is mainly composed of panel, antenna back frame, turntable, elevation jack screw , pull rod, and feed components.
3. Technical Specification
Antenna Diameter

1.8m

Operating Frequency,Ghz

Ku

C

RX

TX

RX

TX

10.95~12.75

13.75~14.5

3.625-4.2

5.85-6.425

Polarization

Linear

Linear/circular

Gain(dbi)

45.58

46.73

35.9

39.2

Axial ratio




1.3

1.09

VSWR

1.25:1

Beamwidth(-3db)

0.864°

0.789°

2.64º

1.8°

Feed Interface

WR75

CPR229G

CPR-137G

Feed ntertion loss

0.2dB

0.2dB

Cross Polarization isolation

On Axis

Within1dBBeamwidth

35

30

35

30

Port to port isolation Tx to Rx dB

≧85

≧85

Antenna Noise Temperature 2-port feed

10° Elevation

30° Elevation

50° Elevation

43°K

36°K

32°K

39°K

29°K

26°K

Sidelobes

-14

29 - 25 logθ( 1° ≤ θ < 20° )

Materials of Reflectors

CABON FIBER

Antenna net Weight

90kgs

Packing size

The antenna can be packed in four or more cases in according to request of user, so the packing size will be confirmed after getting user's detailed request

Drive Mode

Manual

Antenna Pointing Range

Elevation

Azimuth

0°~90°(Continuous)

360°(Continuous)

Surface Accuracy(RMS)

≤0.5mm

Temperature

-15℃~+60℃

Solar Radiation

1000kcal/hm2

Operational Wind Speed

40km/h no ballasts/anchors, 72km/h with ballasts

Survival Wind Speed

145km/h with ballast/ anchors
4.Package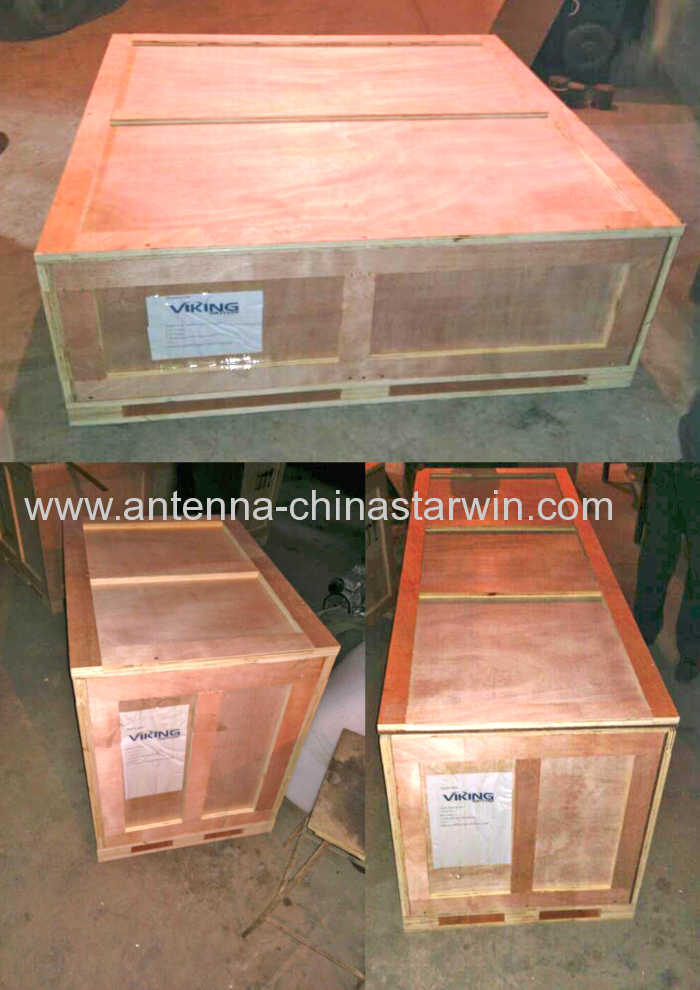 Outer packing:wooden case
5.Our core principles
3S-Superiority,Speed,Service
Faster Speed & Better Tailor-made professional service
6.Our promise to customer:
Our products are all guaranteed,you will have no worry to use.
We will delivery the order strictly te order confirmed!