1.Product Name
The Mess Free Peeler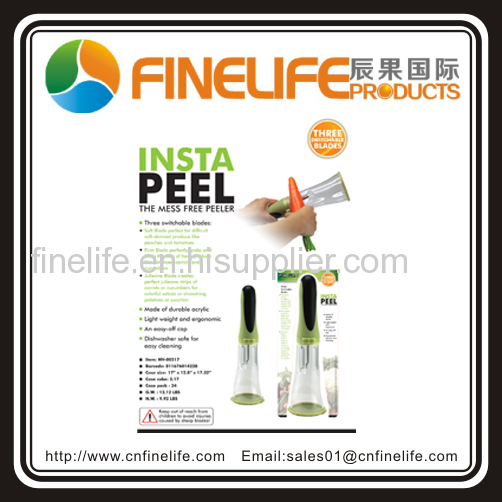 2.Product Description
Our products are provided with excellent quality, beautiful facade, delicate design artwork, safe packaging, competitive price and delivery on time.
Advantages of The Peeler
1. Ergonomic Handle For A Comfortable Grip.
2. Convenient to peel fruit, any kind of melon ,vegetable.It is necessary for kitchen.
3. Suitable for home, restaurant, hotel, office,school.

4. Save time and easy to use.
5. There is no peeling everywhere on the ground when you are peeling, it's easy to keep kitchen clean.
6. There is no worry that the blade will hurt our finger, very safe to use.
7. To keep our hands clean and free from bacteria and dust from garbage basket.
8. It's very easy to use and not waste the fruit and vegetable meat.
3.How to use
First, one hand hold the peeler, one hand hold the fruit or vegetable you want to peel.
Next, make the blade face to the fruit or vegetable and start to peel.
Last, the peeling will fall into the receiving chamber and clean the receiving chamber.
4.Product Image