LED Street Light with Solar Pole
(Skype:yuyaouzing1)
Material characteristics:
1. Light pole: 6 to 12 meters high, high quality steel galvanized coating process.
2. The light source: LED street lamp
3. Solar panels: imported high conversion rate of solar energy battery components, power.
4. Battery, solar dedicated colloid storage battery.
5. Special controllers: solar controller, microcomputer chip, the digital circuit intelligent
control, embedded optical, timing, overcharge, discharge lighting protection measures
such as electricity.
6. Performance: in the case of a fully charged can use 6-8 rainy day.
Special note:
1. Our company will provide customer all the anchor bolts drawing.
2. When installation, must guarantee the lamp body safety grounding.
Other items: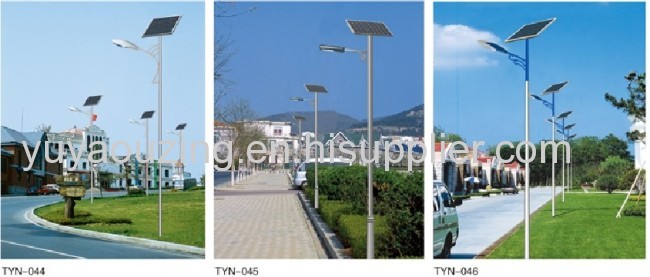 System form and working principle:
Solar street light was formed by following parts: pole, LED lamp, solar panel, battery, controller.