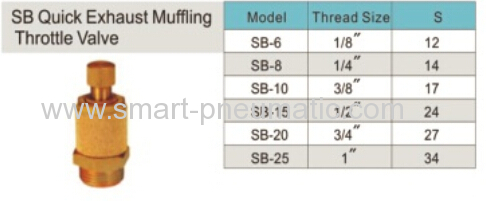 Specifications
pneumatic copper muffler
compact and efficient
corrosion resistant construction
reduce the noise levels of pneumatic equipmen
summary:
A type Muffler according to the different materials are divided into stainless steel muffler, plastic muffler, and pneumatic copper muffler etc.
versatile design
compact and efficient
corrosion resistant construction
reduce the noise levels of pneumatic equipment
High Quality Brass Pneumatic Muffler

Product name: Pneumatic silencer
This silencer is used to reduce the dynamic noise for the pneumatic components or device exhaust.
Compact design allows easy installation in a narrow space.

Feature:
1. Excellent noise suppression effect.
2. Several options of materials(Brass, Stainless, Steel, Plastic, Al)
3. Reasonable price.
4. Different size meet your requirement.
5. High durability and wide applications.
6. Compact design is suitable for installing in confined space.


Company
1: The professional factory of fitting
2: Our factory support OEM
3: High quality and better price
Company frofile
Our company is specialized in manufactuing all kinds of valves,hydro-pneumatic components,alumium parts and plastic parts.Our main products are including pneumatic cylinder,solenoid valve,air filter,air regulator,air lubricator,pneumatic fitting,hydraulic fitting,tubes etc.as below;
*ISO Standard Cylinder:DNC/SI(ISO6431&6432)
*Standard Cylinder:SC/SU,
*Mini Cylinder:MAL,MA,,MI,CJ2B,CDM2B
*Compact Cylinder:SDA,CQ2
*Cylinder:CU,TN,STM,MGP
*Solenoid Valve:3v1,3v,4v,4M,3A,4A ,etc
*Air Source Treatment Unit:A,HA,HNA,T,A/B,etc
*pneumatic accessories:fitting,hand valve,muffler,tube,pressure switch
NINGBO SMART PNEUMATICS' sprit:
we will give you the best quality, the competitive price, the quick delivery, the perfect service. Our goal to customers is "Always Smart Solution for your Automatic System."