galvanized hexagonal wire mesh
Hexagonal Wire Mesh is also known as Chicken Netting, Screw Mesh ,Chicken Cage.
1.Material: Hexagonal wire mesh is manufactured in galvanized iron or PVC coated wire.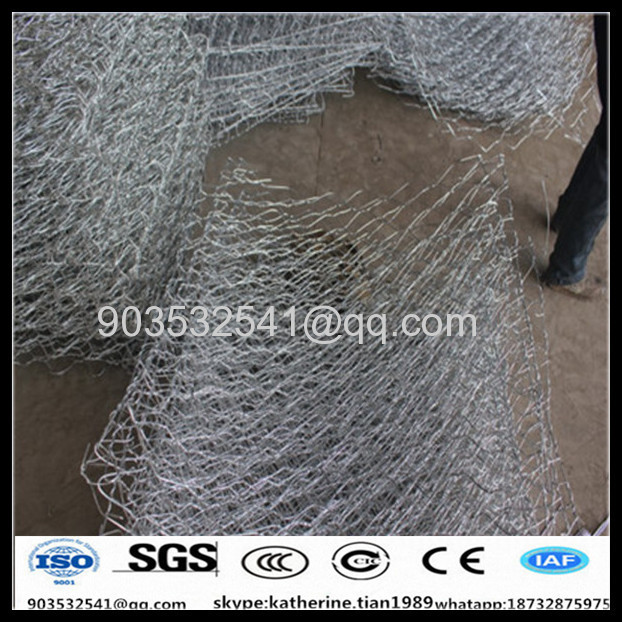 1.basic information
It is widely used in industries and constructions to sieve grain powder, filter liquid and gas, for other purposes like safe guards on machinery enclosures, Besides, it is widely applied for the substitute of wood strips in making wall and celling.
2.popular size:
Gauge: 8# to 26#, BWG8 to BWG26

Mesh size: 3/8, 1/2, 3/4, 5/8, 1, 2 inches

Length: 10m, 15m, 20m, 25m, 30m or any length if possible

Width: 0.9m, 1m, 1.2m, 1.5m, 2m or as to customer's requirement

3.Assortment available:
Hexagonal wire netting electro galvanized before weaving
Hexagonal wire netting electro galvanized after weaving
Hexagonal wire netting hot-dip galvanized before weaving
Hexagonal wire netting hot-dip galvanized after weaving
Hexagonal wire netting pvc coated before or after weaving
Hexagonal wire netting in stainless steel wire
Hexagonal wire netting in normal twist
Hexagonal wire netting in reverse twist




4. specications

Galvanized hex. wire netting in normal twist (width of 0.5M-2.0M)

Mesh

Wire Gauge (BWG)

Inch

mm

3/8"

10mm

27,26,25,24,23,22,21

1/2"

13mm

25,24,23,22,21,20,

5/8"

16mm

27,26,25,24,23,22

3/4"

20mm

25,24,23,22,21,20,19

1"

25mm

25,24,23,22,21,20,19,18

1-1/4"

32mm

22,21,20,19,18

1-1/2"

40mm

22,21,20,19,18,17

2"

50mm

22,21,20,19,18,17,16,15,14

3"

75mm

21,20,19,18,17,16,15,14

4"

100mm

17,16,15,14

Galvanized hex. wire netting in reverse twist (width of 0.5M-2.0M)
Mesh
Wire Gauge(BWG)




Inch
mm
(BWG)




1"
25mm
22,21,20,18




1-1/4"
32mm
22,21,20,18




1-1/2"
40mm
20,19,18




2"
50mm
20,19,18




3"
75mm
20,19,18





Hex. wire netting PVC-coated (width of 0.5M-2.0M)

Mesh

Wire Dia(mm)

Inch

mm

1/2"

13mm

0.9mm,0.1mm

1"

25mm

1.0mm,1.2mm,1.4mm

1-1/2"

40mm

1.0mm,1.2mm,1.4mm,1.6mm

2"

50mm

1.0mm,1.2mm,1.4mm,1.6mm

PVC coated hexagonal wire mesh:




Application: Hexagonal wire mesh with its good corrosion resistance and oxidation

resistance, serves well as strengthening, protection and temperature keeping materials in

the form of mesh container, stone cage, isolation wall, boiler cover or poultry fence in

construction, chemical, breeding, garden and food processing industries.

Package: water-proof paper inside and plastic outside or as require.

galvanized hexagonal wire meshgalvanized hexagonal wire meshgalvanized hexagonal wire meshgalvanized hexagonal wire meshgalvanized hexagonal wire meshgalvanized hexagonal wire meshgalvanized hexagonal wire meshgalvanized hexagonal wire meshgalvanized hexagonal wire meshgalvanized hexagonal wire meshgalvanized hexagonal wire mesh

Anping Haotian Hardware Wire Mesh Product Company

www.apnetting.com www.skynetting.com

1.Our products have passed ISO9001,SGS,IAF,CE certifications.

2.We also attended the world famous fair every year.

3.We have Quality Assurance staff to confirm the quality in the factory:

We agreed to clients to invite third party to check the quality of our products.

Our service

1.Any inquiry will be replied within 24 hours.

2.Professional manufacturer.

Welcome to visit our website: www.apnetting.com www.skynetting.com

3.OEM/ODM is avaliable:

1) Print logo in the products;

2) The size and specification can be produce and design according to your demand.

4.High quality,fashion designs,reasonable and competitive price,fast lead time.

5.After-sale service

1) All products will have been strictly quality check in house before packing.

2) All products will be well packed before shipping.

6.Faster delivery:

Sample order in stock,and 15-20 days for bulk production.

7.Payment:

You can pay for the order via:T/T,Western Union,MoneyGram,L/C etc.

FAQ

Please note the delivery time and the package,and the loading quanties.Please confirm before order or delivery

Katherine Tian

Skype:katherine.tian1989

M:0086-187-328-75975

E:tianyi0209(at)gmail.com