DETAILS OF THIS MODEL,
>Side wind up,more easy to operate.
>18 Note Standard Shared Platform. The same mounting positons,and many shared attachments ,such as Wire-Rod stopper,On-off rotary switch,
>18 Note shared tunes, more than 800 tunes for selection,and customization is acceptable.
DIFFERENCE BETWEEN SIDE WIND UP AND STANADARD WIND UP MUSIC BOX MOVEMENT,
1) Winding shaft position of standard 18 note wind up music box movement. The winding shaft extend down from spring house direclty,refer to following sketch
Advantage,Standard position,more easy to produce and lower cost.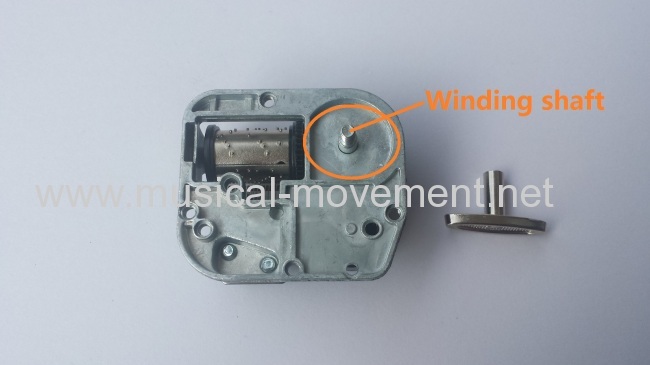 2)Winding shaft position of Side wind up 18 note music box movement. The winding shaft extend side from spring house directly,refer to below sketch,
Advantage,More easy to operate,do not need to take the music box and wind up on bottom.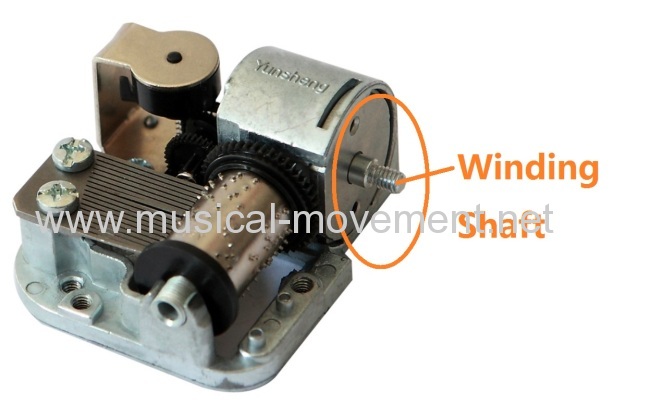 APPLITCATIONS,
Suitable for some big or heavy wind up musical toys,wind up musical gifts, not very convenient to move or take them and wind up on bottom, can use this side wind up musical toys movement, will be more easy to operate the musical gifts mechanism though the cost will be higher than the standard 18 note model.