1.Product Name
Eyelid Trainer double-fold Eyelid glasses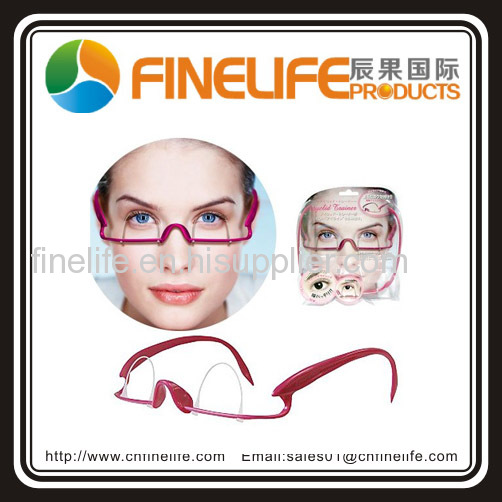 2.Product Description
Product characteristics: small p teacher recommended eyelid trainer double-fold eyelid glasses, full-length W140mm H30mm x x D135mm make perfect double-fold eyelid, without post without tu dongdong, natural show the beauty of the eyes easily, simple to use, according to the shape, the shape of the eye fixed double-fold eyelid, more natural. Once a day, five minutes at a time.
Method of use: 1 to confirm before use JuZi is concave with framework fixed well. Around
2double eyelids line and the center of the frame to adjust the alignment is good.
3 glass frame in the position of the bridge of the nose up and down adjustment, at the best eyeliner.
4 JuZi mobile adjust height, equal to about mobile at this moment, otherwise you will be different.
Note: 1 when using the instruction manual must be used correctly.
2 people must be careful when using long fingernails, might otherwise get injured. World first, just put on, at home doing the housework at the same time, can easily achieve a beautiful double eyelid!
Simple realization of double-fold eyelid because have 3 POINT: POINT1: need not besmear need not stick, just gently put on the eyes.
POINT2: just wear, or to pick a very simple
POINT3: with their own eyes set well, double-fold eyelid line seat is always constant, time can be naturally formed.
4.Product Image