HSMAG, as the leading magnet manufacturer ,currently offers various magnet and magnetic solutions , including :
NdFeB Magnet: Servo motor, Step motor, Brushless Motor, Texture Motor, Vibration Motor, Generator ,VCM ,Pump, special Motor, Wind energy, lifter, speaker, Magnetic Switch , Flow Mere. CDDVD-ROM, watt-hour meter, NMR , Medical devices, separator, Sensor, etc.
Alnico Magnet: Instrument , meters ,Automobile Parts, motors, sensors, speakers, education, etc.
Ferrite Magnet: permanent magnet motors, permanent magnetic separators, driving motors, spindle motors, speakers, magnetic couplings, holding-magnet systems etc.
SmCo Magnet: Space probe,national defense and military ,microwave appliance,communication,medical equipments,motors, instruments, various magnetism spreading devices,sensor,magnetic processor,magnetic lifter,etc.
It can be manufactured by sintering, compression bonding, injection molding, and extrusion. The sintered form holds the highest energy product of up to 51MGOe, while the bonded form holds a lower energy product of up to 10MGOe.Furthermore,The majority of NdFeB magnets are anisotropic and can only be magnetized in the orientation direction.
NdFeB Magnets are prone to corrosion in humid environments, It usually need surface treatment according to customer's requirements to protect magnet. Surface Treatment Methods are Zinc,Nickel,Chrome,Silver or Gold Plating, Phosphor,Spray Epoxy Resin etc.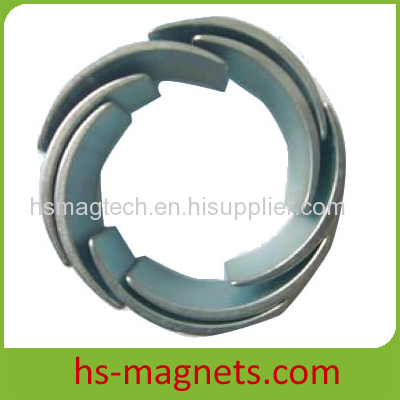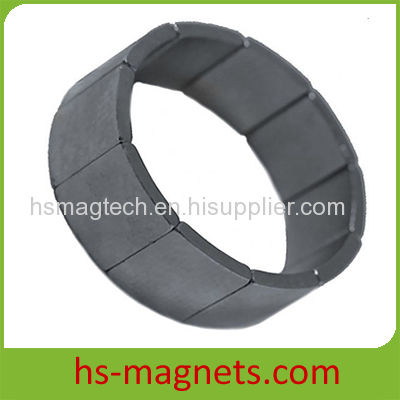 Main features
· Chemical composition Nd2Fe14B,they're hard, brittle and easily corrode.
· High Energy, (BH).max can easily reach 30 MGOe and highest goes up to 52 MGOe.
· NdFeB magnets can replace SmCo magnets in most cases, especially where operating temperature is less than 80 degrees Centigrade.
· Extremely resistance to demagnetization with Hci.
· Density:7.4 -7.6 g/ cm3; Hardness: 600 {Hv}
Common Applications
Sensors, Linear actuators, Microphone assemblies, Magnetic separators, AC DC and servo motors, Speakers, Printers, Computer disc drives, Intelligent toys, MRI/NMR