The PCT series spring operating mechanism of sf6 load break switch is suitable for FLRN36-12D/T100-31.5 and FLN36-12D/T630-20 12KV AC metal-clad switchgear. It has 3 positions: closed, open and earth. This spring operating mechanism has features of with a compact size, easy to install and more applicable.
The Schnerder type series spring operating mechanism meets relevant technical requirements of standards GB3804-2004 "3.6KV~40.5KV high-voltage AC load break switch", GB16926-1997 "AC high-voltage load switch- use combinations" of the relevant technical requirements.
Type and its meaning: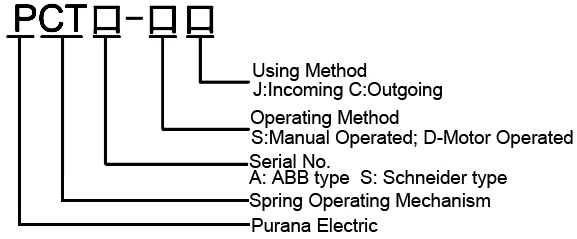 The mechanism has two using method:incoming and outgoing, and erery type has two types of operated methods:manual operated and motor operated.
Advantages:
1. It has similar dimensions with Schneider SC6 operating menchanism, so it can be repalced with Schneider SC6 operating menchanism freely;
2. It has modular construction, compact size, and be easily installed;
3. We developed this mechansim for more than ten years, and have provided a big mount to domestic and overseas markets, and got good feedback from the clients which shows its operating reliability.