Application description of brick making machines
brick making machines is suitable for the production of various kinds of hollow bricks made by coal gangue, shale, fly ash and clay and other raw materials. it is new brick making equipment, which is developed by Mengda machinery according to marketing demand, and all are welded with high quality steel in heat treatment to eliminate welding pressure; our machine has the advantage of reasonable structure, strong adaptability(optional installation), lower energy consumption, high yield and easy to maintain.


The characteristics of brick making machines
1.The device adopted more advanced technology
2.It is with high degree of automation, easy operation, high efficiency, and the price is very reasonable
3.The reamer is strong and durable in use ,which choose the technique of wear-resisting material spray welding with convenient repair.
4.Its first part use Manganese alloy, which can save the cost of repair.
5.It can choose different device structure based on terrain..
6.Compact vacuum brick machine is suitable for shale, coal gangue, high content fly ash, desert soil of low plastic raw materials to produce hollow bricks.
7.It choose pneumatic clutch to control. It is sensitive, convenient and reliable.
The working principle of brick making machines
Booting:
1. Start the mixer to an empty load operation state;
2. Start feeding device to feed the mixer;
3. When the raw material in the gangue brick machine meet the minimum extruding load, start the machine;
4. Start the vacuum pump system
5. Adjust the water amount and feed amount to make the vacuum extruder load operation state;
Monitoring:
1. Keep stable feeding and uniform moisture content of raw materials;
2. Stop the mixing feeding system;
3. The basic mud stirred tank delivered to subordinates, stop the mixer;
4. When clay strips are totally extruded out of the extruder mouth, stop gangue brick machine;
5. Stop vacuum pump system;
6. Turn off the power.
Output 21 Million Gangue Sintered Brick Process Diagram
gangue stock yard----gangue crusher PCW 800*1000----rotary screen GTS1030----feeder machine XGL800*1000----gangue fine crusher DG800*600----double shaft mixer SZJB3000----gangue brick making machine JZK45/45-30----cutting machine----billet machine----code tumbler-----welding furance
1.The above production according to the eight hour per day, 30 days of a month, 10 months of a year
2.if you need other output ,contract us any time.
nicalparameters

specifications model

production(pcs/h)

Motive power(kw)

dimension(mm)

jzk 90-4.0

20000 - 28000

132 + 315

9225x2890x3590

jzk 75-4.0

16000- 24000

110 + 250

8955x3075x3310

jzk 60-4.0

15000- 22000

90 + 200

8655x2450x2820

jzk 55-4.0

14000 - 20000

75 + 180

8360x2800x3590

jzk 50-3.5

13000 - 18000

55 + 132

5350x1800x2100

jzk 45-3.0

10000 - 13000

110 - 132

4960x1680x1750

jzk 40-3.0

8000 - 10000

90 - 110

4750x1500x1650

jzk 35-2.0

6000 - 8000

55 - 75

3750x1340x1550

jzk 30-2.0

4000 - 6000

45 - 55

3450x1220x1320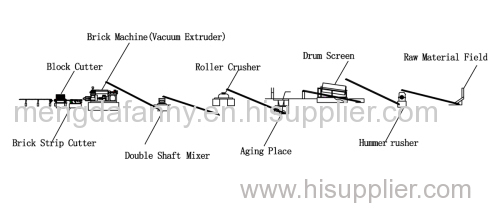 Zhengzhou Mengda Heavy Machinery Factory
No.11 Youyi Street, Gongyi , Henan ,China
Mobel:+8613007548673
Fax:0371-69599779
www.md-brickmachine.com/