Pink Magnetic Memo Push pin, School use, Girls lovely
1) Strong magnetic force
2) High intrinsic coercive force
3) Wide application,high remanence
Specifications:
Neodymium magnet
1.high quality,
2.customized size,
3.competitive price
4.fast and safe delivery,excellent services
The Most Powerful Magnetic Push Pins You'll Ever Need
Forget those bulky magnets you use on your whiteboard, filing cabinet or refrigerator. They are a complete eye sore and are so weak they can barely hold 3 sheets of paper up. Our magnetic push pins are small in stature but made from strong neodymium magnets that are capable of holding up to 13-16 sheets of paper, up to 20LB, with ease. They come in a pack of 24 push pins in a variety of 6 colors, giving you enough quantity and variety. Easily hold up paper work, bills, photos, reminders, certificates, and more. They are perfect for the house and the office. Once you try our magnetic push pins you'll never settle for those other flimsy magnets again.
Our Magnetic Push Pins Are:
- Strong & Made From Rare Earth Mineral Neodymium Material
- Easy to Handle with Two Fingers because of it's Unique Design
- Come with 24 Pieces and Customized Colors in Easy to Open Packaging
- 100% Lifetime Guaranteed - No Questions Asked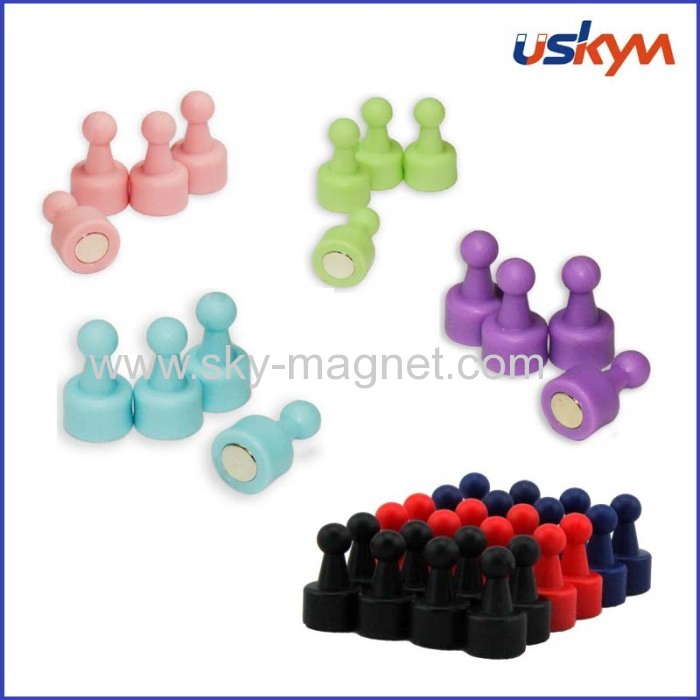 Warnings:
Neodymium magnets attract each other with almost twice the force that they use to attract
steel objects.They also attract each other through very large distances, even small magnets
will attract each other through the thickness of your finger!
Contact us:
Please do no hesitate to contact with us if you have any questions or requests on magnet.
You can inquiry either by email/fax or instant message
We are pleased to offer your service and respond within 12 hours
Contact person:Julia Fung
Skype: julia126126
Tel:+86-574-88229324Ext811
Relevant Shipping Advantage:
1) Appointed forwarder is welcome
2) We can ship by express, air & sea
3) We have big discount on our won forwarder, and mainly world-wide express such as : DHL, UPS, Fedex
Welcome to contact with us!
In order to give you best quotation, please tell us following detail
1 Magnet material: NdFeB Magnet? Grade N35? or other?
2 Max working: Under 80C? or other
3 Magnet Dimension(size)? Diameter x thickness(mm), or Length x width x thickness
4 Surface coating: [A]Zinc; [B]Ni-Cu-Ni; [C]Epoxy ;[D]others
5 Magnetized direction: Thought Thickness?
6 Delivery status :[A].With magnetized; [B]No-magnetized ?
7 Quantity, Destination?
8 Other requirement?