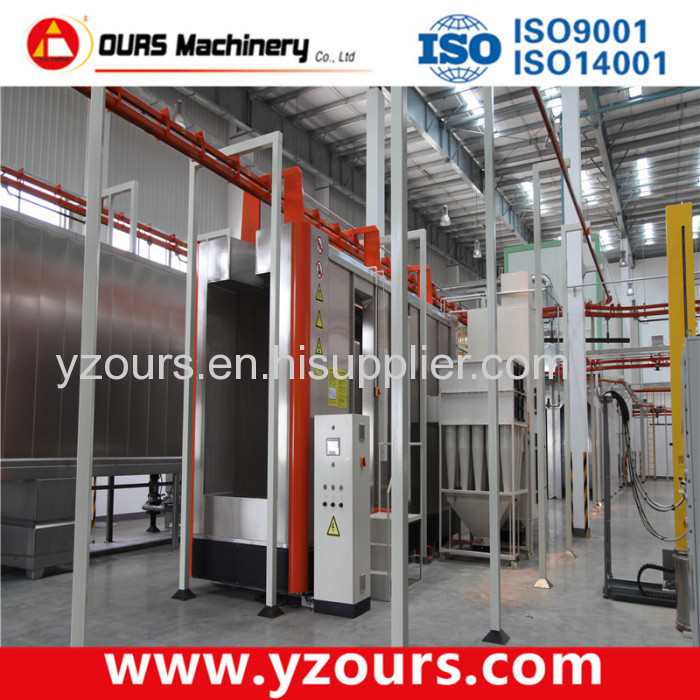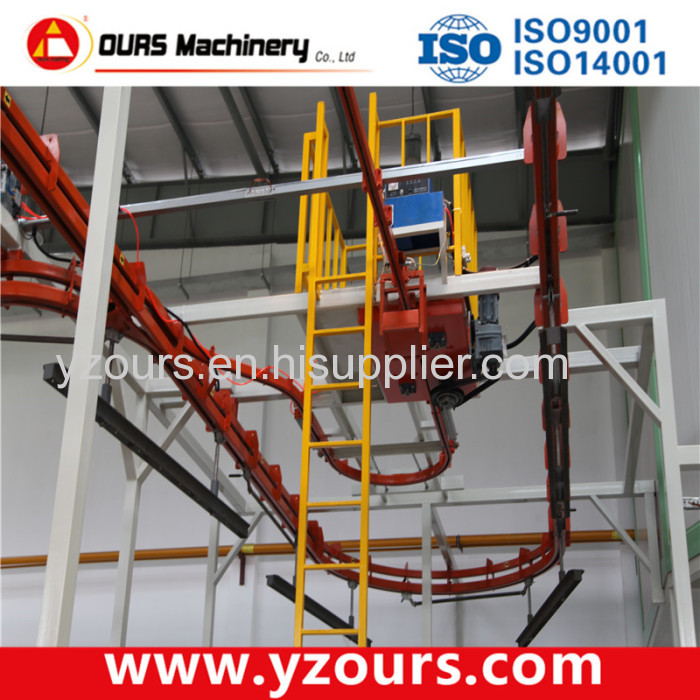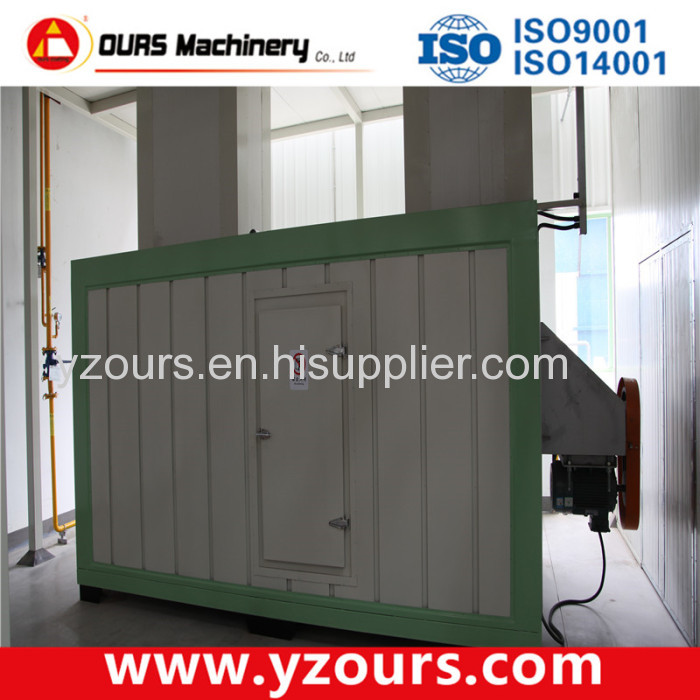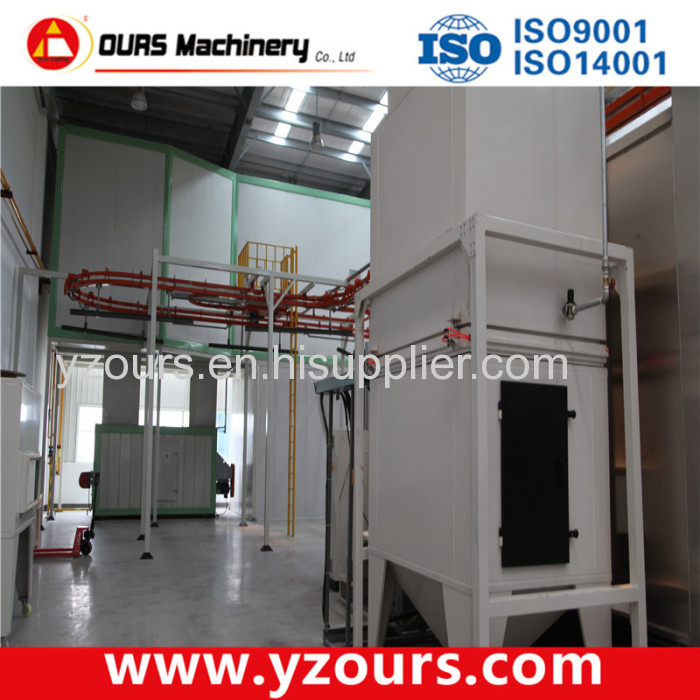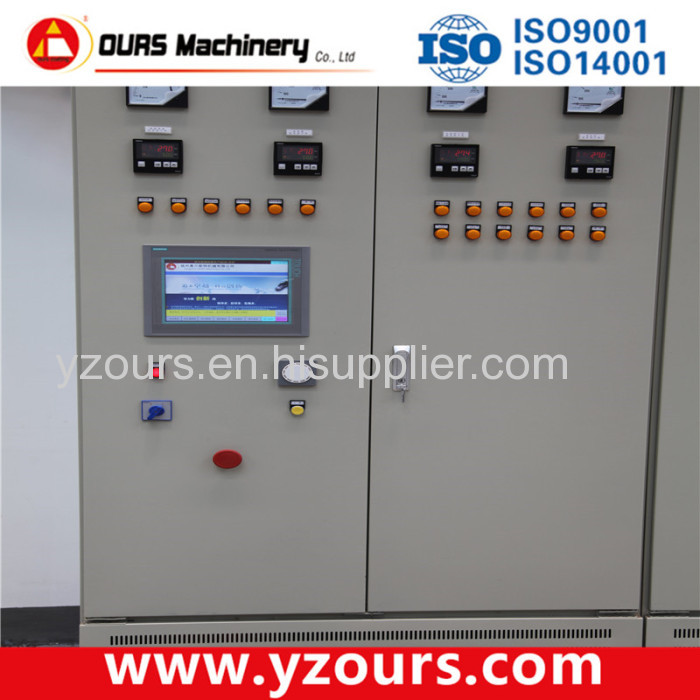 Operating principle:
The powder coating machine sprays the powder paint on the surface of the workpiece which will adsorb on the surface evenly to powder coatings under the effect of static electricity. And the powder coatings will level and solidify under high-temperature baking to the final coating. This technology is superior to others in the field of mechanical strength, adhesive force, corrosion resistance and aging resistance.
Technological process:
Loading--Predegreasing-Degreasing-Water rinsing 1-Water rinsing 2-Surface conditioning-Parkerising-Moisture drying-Natural cooling- -Powder spraying-Powder curing-Natural cooling-Unloading
Main parts of powder coating line:
*Pre-treatment system : Sand-blasting, Shot blasting and dipping pre-treatments are available;
*Drying oven: Drying oven which is used for drying the water after pre-treatment is designed according to customer actual conditions. Electricity, gas, diesel are all available for the heating energy;
*Powder coating spray system: Automatic spray reciprocator , Manual spray equipment and Semi-auto (Auto-spraying with manual repairing spraying) are for your choice;
*Powder recycling system: Cyclone equipment and cartridge filters is customized and introduced according to actual requirement by customer;
*Curing oven: Tunnel curing oven, bridge type curing oven, Electric power heating curing oven, Gas-heating curing oven, Diesel heating curing oven, High-temperature and lower-temperature curing ovens are available for fitting your sole factory;
*Conveying system: Various design according to different requirement by customer on the basis of customers' workpiece and output information, including plate conveyor, chain conveyor, overhead conveyor etc.;
Product Catalog:

*Coating lines

Automatic/Manual/Semi powder coating line; Automatic/Manual/Semi paint spraying line; Electrophoretic painting line; Electrostatic powder coating/painting line etc.

*Coating booths

Powder coating booth with large cyclone; Powder coating booth with small cyclone; Powder coating booth with recycling system; Painting booth; Water curtain painting booth, Sand blasting booth; Shot blasting booth etc.

*Conveying systems

Chain conveyor, Belt conveyor, Plate conveyor, Overhead conveyor and Power and free conveyor are all available according to the clients' requirements.

*Coating ovens

Drying oven and curing oven with various heating energy, like gas, electricity, diesel etc.

*Coating machines

Electrostatic powder coating gun (OURS-808 and OURS-2014); Airless paint sprayer etc.

Our service:




*Free design:

Free drawing designed by our engineer according to the actual requirements of clients.

*High quality and competitive price:

We promise to provide high quality equipment with best price.

*Customized equipment:

Customized equipment completely based on the drawing.

*Overseas installation and commissioning:

On-site installation and commissioning of coating lines.

*Warranty

At least one year after the acceptance of the client.
Company Information
Yangzhou OURS Machinery Co., Ltd. established in year 2006, is an ISO9001 14001 certified company specializing in providing turnkey high-performance, cost-effective powder coating line, liquid painting line, and electrophoresis painting line and equipment solutions with less pollution and better painting quality at affordable price. Products have been sold to more than thirty provinces and cities in China and exported to Russia, Argentina, Venezuela, Iran, Jordan, Ukraine, Bolivia, Germany, Sudan, UK etc.
FAQ
1) What product do you want to paint? May I have some photos of your product?
2) What's the material of your product?
3) What's the maximum workpiece size LxWxH? What's its maximum weight?
4) How many workpiece do you want to produce in 8 hours?
5) What kind of heating energy do you prefer, such as electricity, diesel, oil, or gas energy?
6) What's your workshop size LxWxH? May I have a drawing of your workshop?
7) What's the available industrial and living voltage in your factory?