Radial piston motor axial piston hydraulic pump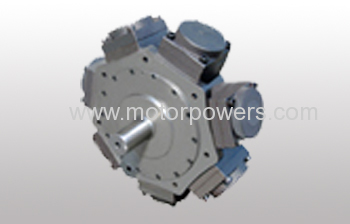 TYPE

DISPLACEMENT
ml/r

PEAK PRESSURE
Mpa

WORKING PRESSURE(Cont.)Mpa

TORQUE(Cont.)
N.m

N.m/Mpa

SPEED RANGE
r/min

MAX POWER(Cont.)Kw

WEIGHT
Kg

JMDG160-12500

13335

25

20

39433

1972

0.3-80

220

1000

JMDG160-16000

16040

20

16

37948

2554

0. 3-63

220

1000

1. Single and low speed, high torque hydraulic motor
2. Completely interchangeable with original
3. Widely applicable for engineering machinery, marine boat and mining machinery etc.
4. High mechanical efficiency and starting torque due to the hydrostatic balance built between the piston, con-rod and eccentric sets which reduces the friction between con-rod and eccentric sets, also reduces the side force of pistons, and increases contact pressure ratio between the ball and socket of piston
5. Good sealing capability,less leakage due to applying hydrostatic balance shaft disributor to prevent the shaft tilted; enables continuous woking in high pressure condition (Max. pressure up to 29MPa)
6. Less leakage and higher volumetric efficiency due to the special seal rings
7. Longer overall service life due to the special materials and advanced treatment process in main driving components

Main features of the motors are as follows:
• high mechanical/volumetric efficency, high starting torque.
• good stability and reliability.
• long lifetime, low noise.
• compact design, light weight.
• good sealing capability,low leakage