TECHNICAL PARAMETERS
Application

granular& powder

(good mobility)

Rated Weighing

5~50kg/bag

Display Resolution

5g/10g

Weighing Speed

360~420bag/hour(granule)

240~300bag/hour(powder)

Precision

2 ‰

Measurement

L860*W1100*H3150mm

Machine weight

approx. 1T

Host Height

approx.3150mm

Air Source

0.5~0.7MPa

Power

approx. 500w

Temperature

-10~40℃

Voltage

AC220V/50HZ
Applicable materials :
STRUCTURES
The unit mainly consists of gravity feed mechanism , weighing bucket, bag clamp mechanism , measurement and control of the feed.
SCOPE OF APPLICATION
Feed , medicine, industrial salt , inorganic salts , rubber, plastics, food, chemicals, light industry , fertilizers , steel etc.
FEATURE
1 High Precision of Weighing : Host using the fast, medium and slow three-speed gravity feeding, effectively solve the contradiction of speed and precision.
2High speed packing: Bagging discharge while not affecting feed metering, saving 1/3 of the working time.
3 Stable and simple operation : Quickly set the parameters of instrumentation and touch screen.
4 Compact structure and easy to install : Floor structure, power from AC and Air source
5 Rational design and easy to maintain : Double-door structure, easy to clean and maintain.
6Single bucket and three speed of gravity speeding.
Working stap
Company style: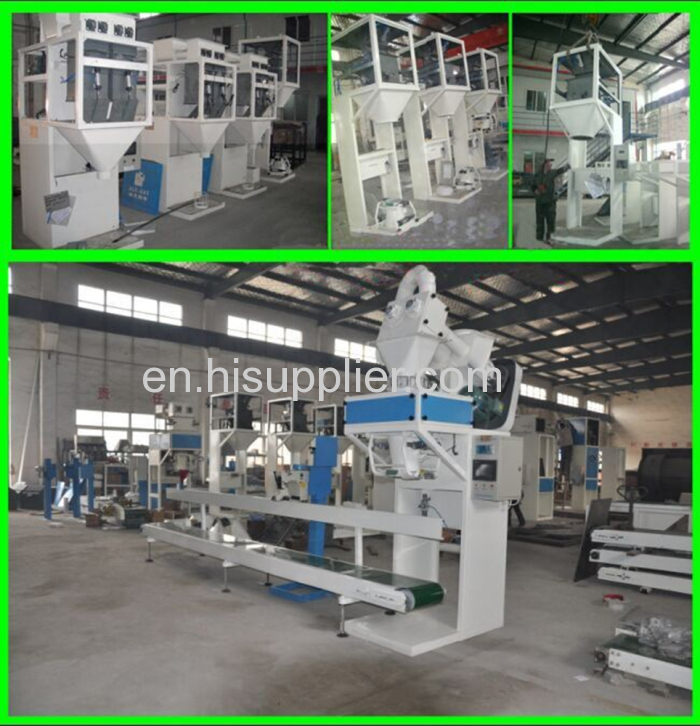 Our service :
1, Warranty:One year
We provide warranty service within a year
2, Free Replacement of Damaged Machine Parts
If the machine parts was damaged machine, please return the damaged component.
Our company will replace it with a new one, and resend it to you without charge.
3,Remote Technical Guidance
If there is anything wrong during the use process, please contact us straightway in phone or other communication.
We surely offer you the guidance of dealing the matter.
4, Engerineer Oversea Service
If there is necessary for oversea service, the engineer should be dispatched to the buyer site.
Our engineer offer service of Machine Commissioning Guidance & Operator Training for Your Staff