Photocell Automatic Glass Door
Specifications
Automatic sliding door motor
a) Quadrate motor
b)Safety&activation sensor
c)Closing force 150N
d)Smart bedis

Detailed Drawing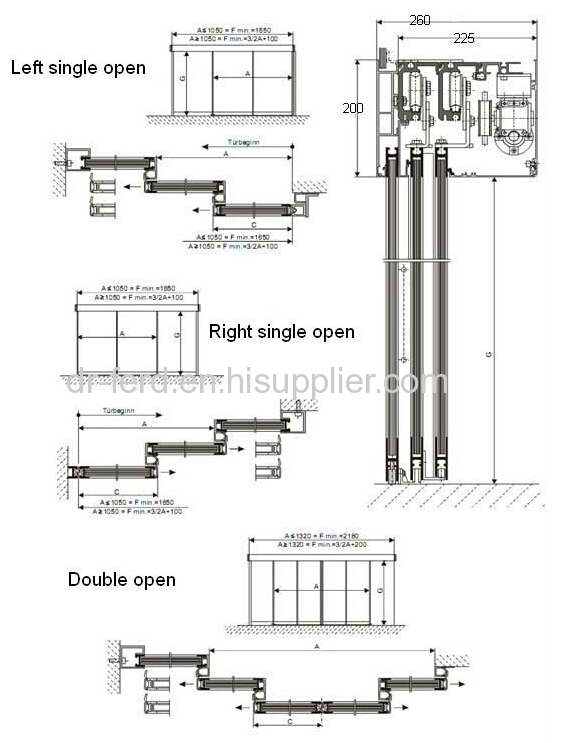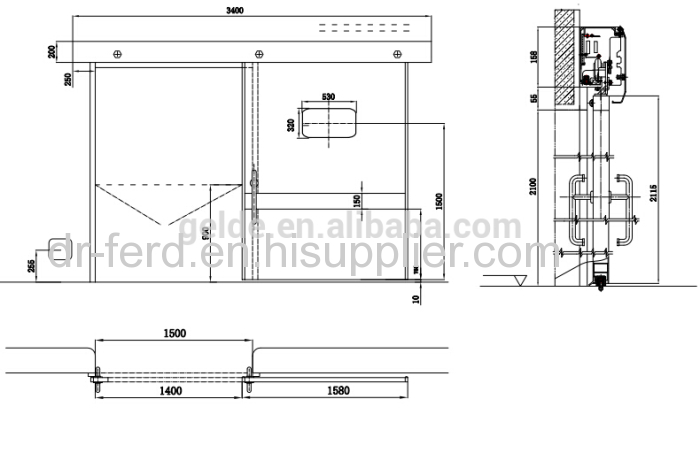 Specifications




One Drive Unite

2 Drive unit




Holding weight

Double open

2 x 250kg

2 x 300kg

Single open

1x 300kg

1 x 600kg

Installation height

Max value

4000mm

4000mm

Passage width

Double open

600-3000mm

600-5000mm

Single open

700-1500mm

700-3000mm

Opening/close width

Double open

500-700mm/s

500-700mm/s

Single open

Profile size

Length

4200mm

42000mm

Height

200mm

200mm

Depth

160mm

160mm

Motor

Dunker motor GR 63 * 55, 60V, SG80K, WL2, i=15:1, RE20S

Microcontroller

CANbus techniques, 32bit philip chip,work with Bedis

Manual force

Max 150N

Application

Supermarket, airport, bus station, hospital,

Design

Modular profile, smart bedis, commercial usage

Electric Characteristics

Power supply

AC230,50Hz/ AC110,60Hz

AC230,50Hz/ AC1100,60Hz

Power consumption

100W

100W

Static power

15W

15W

Fuse

2A

2A

IP protection

IP23

IP23

Working ambient

-15 - 70

-15 -70
Componenets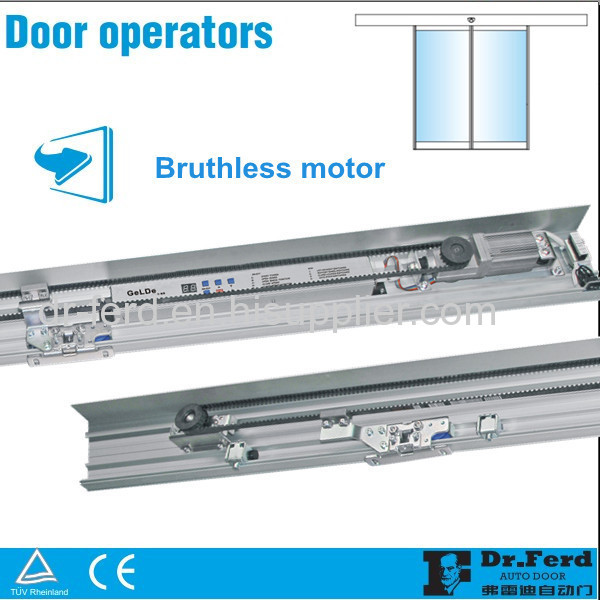 Retro-fit kit

1

Motor & Gearbox

1pcs

GR 63 * 55, 60V, SG80K, WL2, i=10:1, RE20S

2

Encoder

1pc

Optical encoder

3

Microcontroller

1pc

32bit 30Mhz NXP chips

4

Radar

2pcs

Optex OA-203C-2 activation&safety infrared sensor

5

PSA control panels

1set

Intelligent,adjust the whole parameter

6

Carriage

4pcs

2 running and 1 adjusting wheel

7

Tooth belt

1pc

8m, fiberglass tensile elements, nylon surface

8

Belt clamp

2pcs




9

Idle pulley

1pc

Aluminum alloy

10

Stopper

2pcs

Aluminum alloy

11

Main cable

1pc

Insulted&shielded wire

Profile

1

Guide track& rubber

1pc

7mm thickenss, Anodize, rubber to absorb working noise

2

Roller track

1pc

7mm thickenss, Anodize

3

Cover

1pc

200mm height,anodized

Options

1

Safety beam sensor

1set

Bea brand

2

Electro-mechanical lock

1set

Bi-stable

3

Emergency battery

1set

12V,7Ah,contiunously working 1 hours

4

Drive unit

1pc

Dunker motor

5

Floor guide

2pcs

For frame and frameless door

6

Glass clamp

2pcs

1m length, fit to 10mm,12mm glass
Features
1) CANbus & PLC technique
2) Dunker motor GR 63 * 55, 60V, SG80K, WL2, i=10:1, RE20S with optical encoder
3) Germany PEPPERL+FUCHS microwave sensor & OPETEX infrared sensor for European market
4) MCU of Philip, ST, NXP & three layer PCB
5) RECORD 16 STA hardware like profile with rubber to decrease noise
6) Intelligent LED BEDIS which work with microcontrol to adjust the parameter and other function like speed,manual,automatic. You can control the door opening width no matter how wide you need
7) CANbus interface for lock,battery
8) Emergency stop
9) Can connect with anti-panic breakout system
10) Self-learning the door working. No need for you to adjust the parameter, Self-diagnoise the fault and display through LED on the BEDIS
11) Reset button to original parameter & interlock
12) reverse to open when obstruct
Intelligence,
1. Applying the PCL(Programmable Logic Controller microcomputer digital chips(RAM, ROM, CPU) to memory ,detect and modify the data of door working, receive and transit the data to whole parts of the electronic components in order to control the door's working.
2. Equipped with the remote control system, this is can control the door open, close ,one-way open, normally open and lock more conveniently at 100m distance.
Safety,
1. Solo interface for Safety beam sensor which can prevent from clipping of persons when they cross the door
2. Coordinate with the safety beam sensor's working ,the door will move reversely when confront with obstacle and then move slow to detect the obstacle all the time .Finally it doesn't wok normally until the obstacle is removed.
3. Power fails,
1)when don't have the UPS( battery) ,the door will exchange to the manual model and can open the door by hand.
2)when have the UPS, the door will exchange to the battery working model and door can open work through the battery's power
4. When Fire emergency and power off, please confirm it is the normally open ,the door will keep open and aid escape
5. Fuse protection at 3A ,250V
6. Protection when working temperature is over setting value
7. Solo interface for electronic lock in case of thief-protection
Reliability,
1. Track's design is more scientific, firm , and thick to hold more weighted door leaf. European style design.
2. Carriage with three unique plastic roller and anti-lift bracket to work more smoothly ,steady and long.
3. With the help of advanced synchronous belt and perfectly metal idler roller , the door moves very stably
Energy Saving,
1. With semi-open function and the remote control , you can open the door opening width .so this can help to keep the temperature and humidity inside the room and to minimize the costs of the air conditioner as well
2. 24V, 80W motor can utilize the power efficiently compared with others. Thanks to the Europan design , operator can ultilize the power efficiently.
Company Picture