PP Pipe Ring Stiffness Testing Machine
MODEL NO.: UTM-1411 PP Pipe Ring Stiffness Testing Machine
Application:
UTM-1411 PP Pipe Ring Stiffness Testing Machine is applies to determine thermoplastic pipe ring stiffness which with a circular cross section. And it can also be applied to flat experiment, ring flexibility experiment, etc. The instrument meets the requirement of test standards for PE double-wall corrugated pipe, coil pipe and all kinds of plastic.
It is a necessary testing instrument for the scientific research institutes, quality inspection departments and tubing manufacturers.
Related Standards:
| | | | | | |
| --- | --- | --- | --- | --- | --- |
| STANDARDS | ISO 9969 | | BS EN 1979 | ASTM D2122 | GB/T9647 |
Note: this PP Pipe Ring Stiffness Testing Machine can conform to but not limit to all the standards above, for more standards conformance, please contact us.
Features:
1.With overload, over-current, over-voltage and over temperature protection function, and is equipped with pipe inner diameter measurement system, can accurately measuring inner diameter changes of the pipes;
2 PC software control machine, the operation is simple. the transmission system with distributed control system composed of PC and single chip microcomputer control digital ac servo motor, to control the beam move up and down according to standard requirements speed , pressure on the pipe sample by sample clamp.
3. Force value detection part adopts piecewise linear correction method ensures the machine of high precision, high stability;
4. The software provide function: test parameter set, the standard input, measurement, data analysis, experiment curve color Set, process control, print test reports, test reports export to HTML web pages, and other functions.
5. In process of test, you can open multiple test records and can do all operations.
6.The software provide: force - displacement, stress - strain, stress - displacement, displacement - time strain- time and etc. type curve, and provides a curve archived bitmap, curve smoothing, zoom, coordinate system configuration, and many other functions.
7.Free to add or remove regular parameters. Using the latest agreement, data fault-tolerant ability is stronger.
8. Software provides online update, convenient to upgrade your software system, and provide a feedback module, help you solve your problems.
9. This ring stiffness testing machine has passed the European CE product certification.
Key Specification:
1. Maximum load value 30KN
2.Load accuracy <±1%
3. Force display resolution 1N
4. Suitable diameter (inside diameter) range Ф300mm~Ф2000mm
5.Move speed(stepless) 0.5mm/min~200mm/min
6. Return speed 200 mm/min
7.Speed tolerance <±1%
8. Displacement accuracy 0.01mm
9. Instrument dimension (L×W×H) 1360mmX650mmX3600mm
10. Power supply 220VAC 50HZ
11. Need environment temperature 10℃~40℃
12. Need environment humidity 30%—80%
Standard configuration:
| | | |
| --- | --- | --- |
| No. | Item | Quantity |
| 1 | Main Machine | 1 set |
| 2 | Planetary reducer | 1set |
| 3 | Import Ac servo motor and servo system | 1 set |
| 4 | Import load cell | 1 pcs |
| 5 | Clamp for ring stiffness/flexibility | 1 set |
| 6 | Inner diameter measuring system | 1 set |
| 7 | Computer | 1 pcs |
| 8 | software | 1 set |
| 9 | printer | 1 pcs |
| 10 | wireless remote-control unit | 1 pcs |
| 11 | power cord | 1 pcs |
Optional Accessories:
| | | |
| --- | --- | --- |
| No. | Item | Quantity |
| 1 | Software for creep ratio | 1 set |
| 2 | Clamp for creep ratio | 1 set |
| 3 | Clamp for tensile strength of a seam | 1 set |
| 4 | Software for tensile strength of a seam | 1 set |
show Room;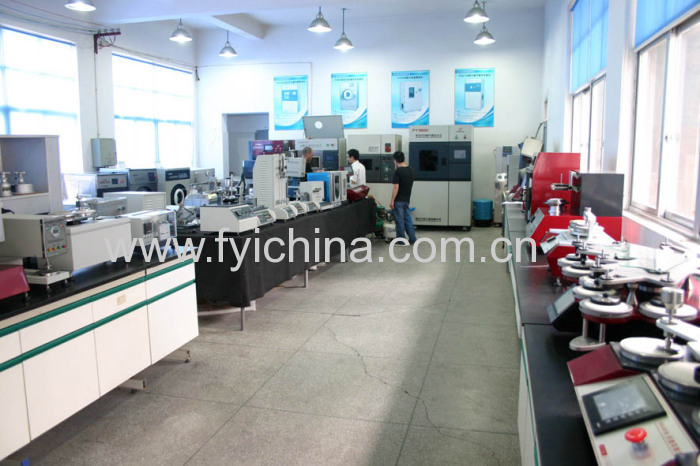 CUSTOMER :
Certificate :