Mobile Phones Digital Products Intelligent Burglar Alarm Security Display Stand
Model No.: DRD-SD003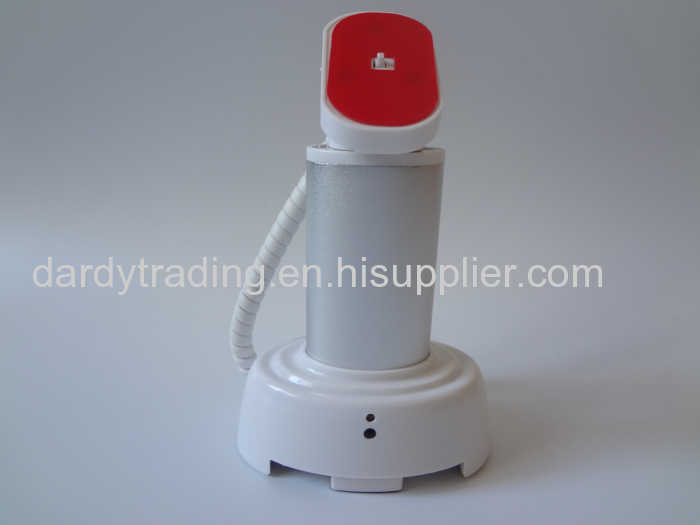 ∨ Digital Password Remote Control-------More Safe
∨ Multi-angle Selection Show-------More Intimate
Specular highlights paint technology

Ergonomic design

Strong smart chip




Application:





Security Display Holder with Alarm Function, is mainly applied to any kinds phones, camera, MP3, MP4, PDA, GPS and so on real machine security display.

Widely used in various types of mobile phones, cameras, MP4 and other Consumer Electronics products for Mobile phone supermarkets, used for loss prevention security of telecom mobile Unicom, digital city, digital camera counters, GPS counters, MP4 counters, appliances hypermarkets, supermarkets and various small electronic products exhibition of digital multi cell phone charger station.

It effects safe, beautiful and neat. Customers can manipulate directly shop soild articles interactively, thereby promoting the sale of the exhibits.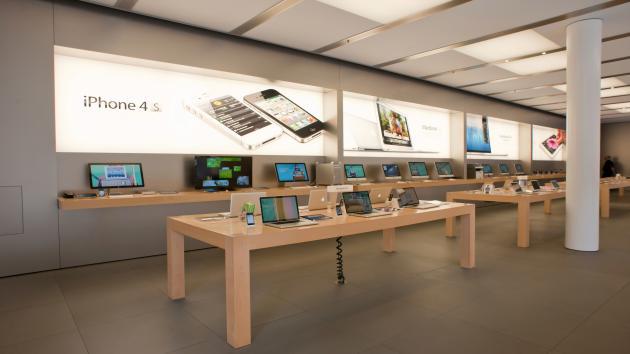 Our Partner:
We are the No.1 brand in Electronic anti-theft products field,the material and quality is higher than others supplier.
We cooperate with many electronic product suppliers and agents, such as state-owned communications enterprise China telecom, China mobile, China unicom. And included the large manufacturers, such as HTC, Xiaomi Tech, Huawei, Lenovo, oppo etc.
We are expanding our products markets`in overseas,and they sell well in overseas.
Our Certifications:
We are a set of product development, production and sales companies,our products Certified by ISO90001, CE, SGS, ROHS Authentication, we also got our own patent products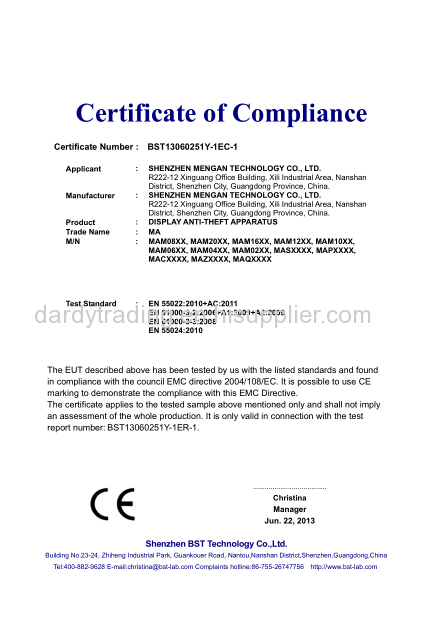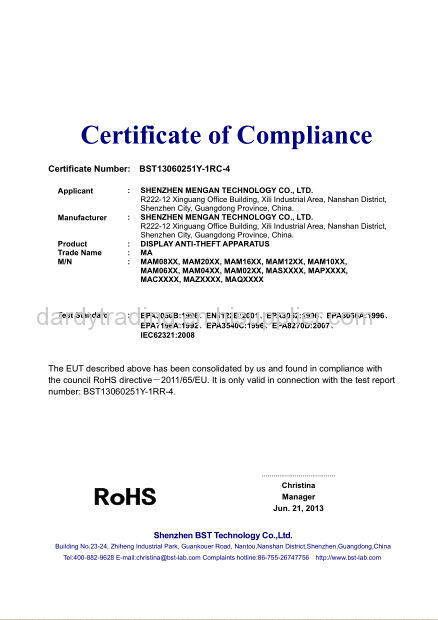 Alarm Product Overview:
This product adopts microcomputer control, each port can be used independently.




After alarm, the discarding alarm is impossible, regardless of restitution or power off and on again. You had to operate the alarm host device or remote control for the alarm reset.




It makes up for the lack of the disconnected alarm/USB Burglar Alarm.

This product, monitors mainly through circuit detection whether your commodities were stolen. As a result, the alarm program device is inspired with the high-decibel alarm reminding.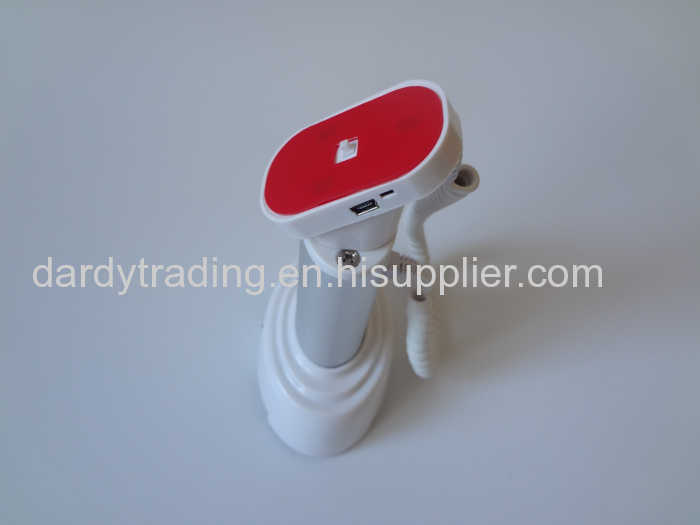 General Introduction:
1. Main Materials: ABS plastic, Aluminum alloy
2. Double Contacts Alarm + Charging Port Security
3. Charging Port Security Alarm: Short Circuit, Snip, Takeoff, Powered Down, External Forced Separation.
4. Charging Function: Charging, security for mobile phone
5. Remote Control: Digital remote control (1pc for 5 sets display holders)
6. Remote control password unlock, Double contacts, Lithium battery, 100db.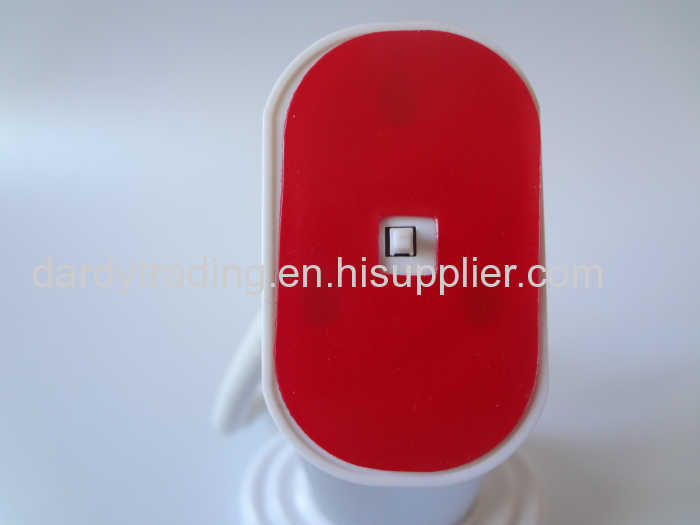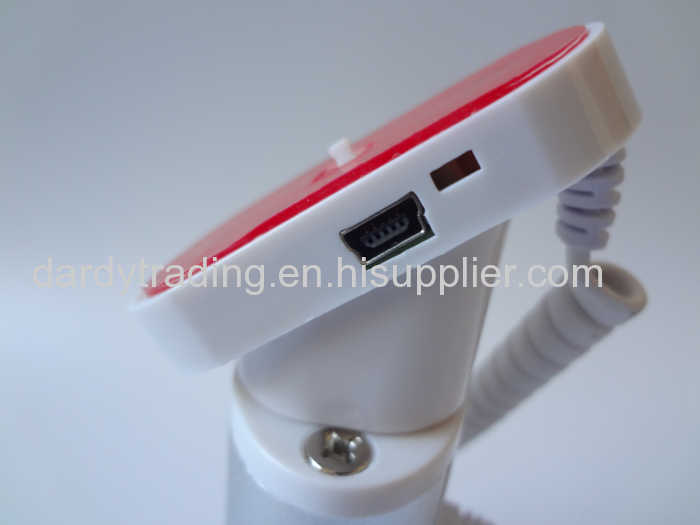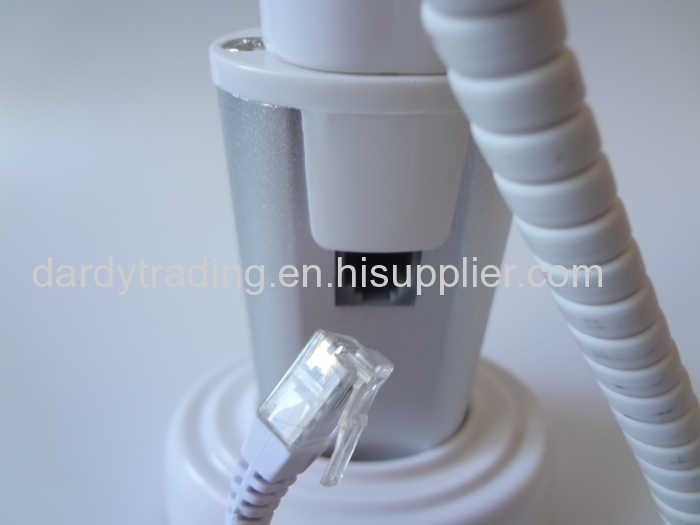 Function Descriptions:
1. Disconnection Alarm: Snip any connection wire, the display holder will alarm.
2. Sensor Alarm: The sensor on the back of the display holder is removed forcibly, it will alarm.
3. Charging Disconnect Alarm: Pull out of the charging port of this exhibit, alarm occurs.
4. Charging Function: Provide the power supply and battery charging to the exhibit.
5. Management Function: Set up the charging interval and fully protect battery life of the display.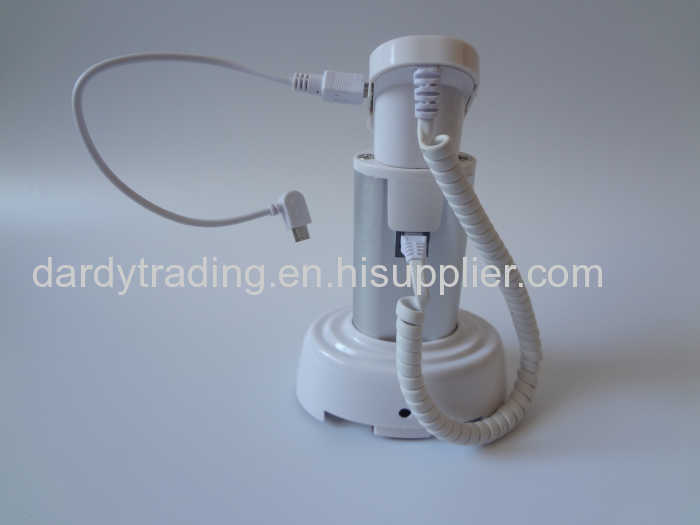 Mobile Security Display Parameters:
| | |
| --- | --- |
| Product Model | DRD-SD003 |
| Product Dimension | 100*66*156mm |
| Package Size | 110*75*165mm |
| Gross Weight | 320 G |
| Materials | ABS plastic, Aluminum alloy, PU wire |
| Operating Range | PU Spring Wire (Stretched length: 1.2 meters) |
| Operating Voltage | 5V |
| Operating Current | 1A |
| Internal Battery Type | 3.7V rechargeable lithium battery |
| Built-in Battery | Polymer Lithium Battery |
| External Power Adaptor | DC5V 1000MA |
| Battery Standby Time | 2 weeks |
| Charge indicator | charging in red , full in green |
| Alarm Sound | 100dB |
| Alarm Indication | LED red flashes |
| Functions | Anti-Theft Alarm+Cell Phone Charging+Double Contact+Remote Control Unlock+Lithium Battery |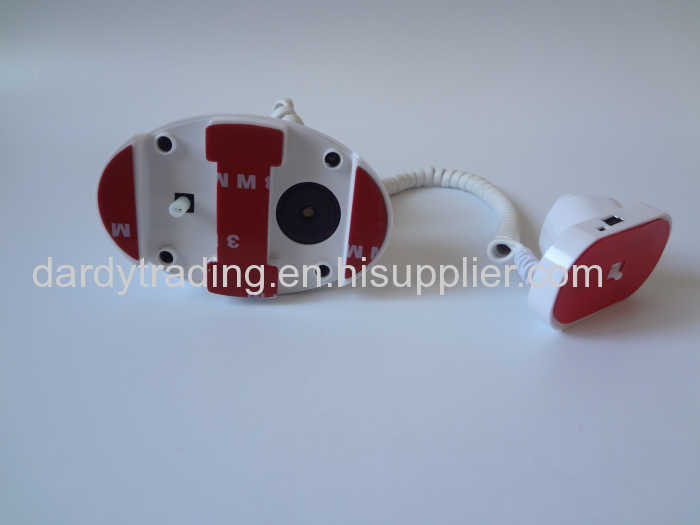 Installation:
1. Clean the display case, then turn on switch on the bottom of Hot security cellphone /mobile phone display holder /stand with charging and alarm host, adhere the bottom of the anti-theft frame with 3M adhesive tape to the exhibit cabinet.
Or use two anti-theft screws to connect the cabinet frame and tighten the exhibition (open f the screw hole cover firstly)
2. Connect the charger of Hot security cellphone /mobile phone display holder /stand with charging and alarm with the alarm host, the other end into the power socket in preparation for a fixed monthly charge.
3. Tear off the 3M adhesive tapefrom the Anti-Theft Terminal product display and paste exhibit's back fastened
4. Tear off 3M adhesive from the sensor probe, stick tight with the obverse of the product
5. Take out the Infrared remote control board , tear off the battery insulation sheet underneath. Press the ON key , the host switch on, enter the preset alarm status.
6.The installation is set up
Components:
Display Holder

1 pc

Mobile Phone Charging Adaptor Cable


1 pc

MICRO USB Port Mobile phone charge cable

(Choose different models for different connectors)

1 pc

Infared Remote Control


1 pc

Additional 3M Adhesive

1 pc

Operation Manual

1 pc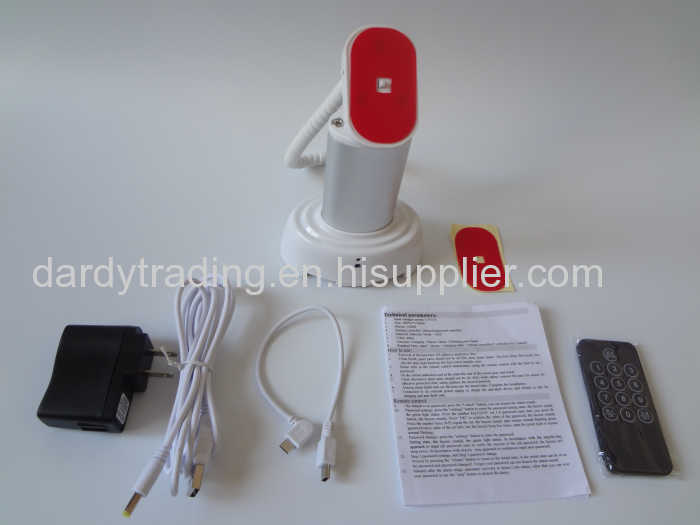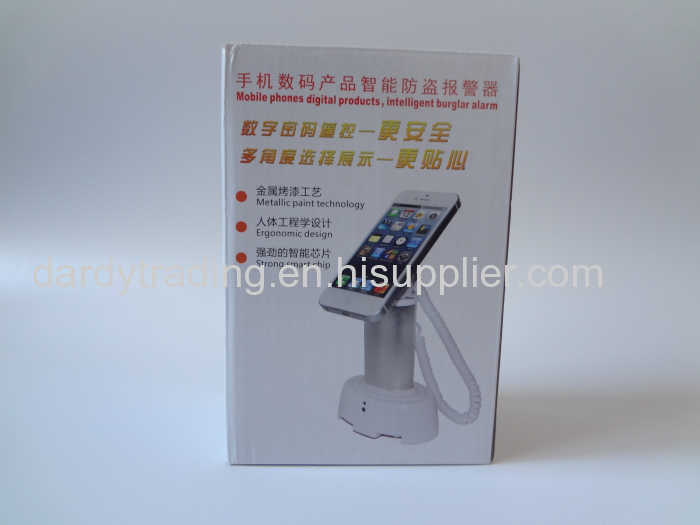 Remote Control Instructions:
1. Acquiescence, no password.
Press "STOP" button, the alarm sound is disarmed.
Alarming after the password is set up, then press [original password (0-9)" + [OK" button, the alarm sound is disarmed.
2. Password Setting Method:
1> Press "SET" button to enter password setting, the buzzer beeps once, and the status green light on.
2> Press "Number Key (0-9)" to set up (1-6) digits code, and every time press this number key, buzzer sounds once.
3> Press "OK" to confirm the above password, then buzzer beeps once.
4> Press "Number Key (0-9)" to repeat the last password.
5> Press "OK". If the password is the same twice, this time, the setup is successful, the buzzer beeps three times.
6> Status green light restores normally blinking. If the password is different twice, this time, the setting is failed. And the buzzer beeps five times, then, status green light restores blinking normally.
3. Password Modification Method:
Press "SET" to enter into password setting status, the buzzer beeps once, and the status green light on.
According to the second step method, enter the old password. After it is successful to test the old one, buzzer beeps two times.
4.Consecutive input the new passwords twice according to the second step.
During this procedure of [Password setup for the second step" and "Password modification for the third step", pressing "STOP" to restore the initial state. On this initial state, you can reset the password the modify it.
5. While forgetting the password, and the alarm sound couldn`t be disarmed, the alarm sounds for 5 minutes later, it will restore NO PASSWORD state.
Hereafter, you can reset password, and use "STOP" to disarm alarm.
Installation indirection: Malfunction analysis and elimination, please see the instructions for details.
Payment Term:
Bank Transfer, Paypal, Western Union
Shipping way:
Express (DHL/UPS/FedEx/TNT/EMS), Air, Sea, ePacket (small package, only support United States)
Lead Time:
1. 7-10 days for pre-production samples
2. 25-30 days for mass production after confirmed the sample
We are ready to be your partner. Any questions, or sample order, just let me know. Thanks.