Performance characteristic

The series can cool the water ranging from 7 to 35 ℃
The low cooling temoerature can be customized as per customer's needs the micro computer controls the system running and the temperature can be to 1℃
The overload protection device is used for compressor and pump to prolong the service life.
The multi protection device (antifreeze protection, high and low pressure protection and flow protection) ensures the system safety.
The water tank is made from the stainless steel and has a heat insulation layer. Freeze pipelines have the insulation layer to improve freeze efficiency. The shell and tube condenser has a high efficiency of heat exchange.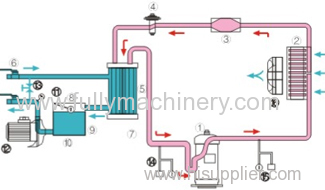 del


20W
Refrigeration
KW
60
Kcal/h
51600
Comperessor inputpower
HP
20
Rerigerant Type
R22

Filling quantity
Kg
10
Water tank capacity
L
350
Evaporator type
Serpentine pipe type
Freeze water pipe


2.0"
Freeze water flow rate
L/min

315
m³/h
16
Condenser Type
Shell type
Condenser water pipe


3"
Cooling water
flow rate
L/min
350
M³/H
21
Safeguard
Protection of high &low pressure,compressor overload,pump overload
Power
AC3+N+PE50/60Hz
Dimensions(mm)
L

1800
W
950
H
1700
Weight
Kg
600
pecifications
Water-cooled Chiller
Please note:
1 The working conditions for refrigeration:
Freezing water inlet temperature is 12℃; , and the outlet temperature is 7℃;
Air side inlet (environmental temperature) is 35℃;
2 If the technical parameters will be changed, please forgive us that we won't make the further notice
we reserve the right to change specifications without prior notice.