Copper lightning rods on tall buildings
Technical Specification
| | |
| --- | --- |
| Material | Pure copper or copper clad steel |
| Air rod height | 0.5M or 0.75M |
| Air rod diameter | 15mm |
| Protection angle | 65° |
| Corresponding protection radius | 2.14h |
| The hx height from ground | 2.14(h-hx) |
| Average discharge current | less than 7KA |
| Current gradient | less than 5KA |
| Grounding resistance | less than 10 ohm |
| Resistibel wind speed | over 50m/s |
Specification

Product Photo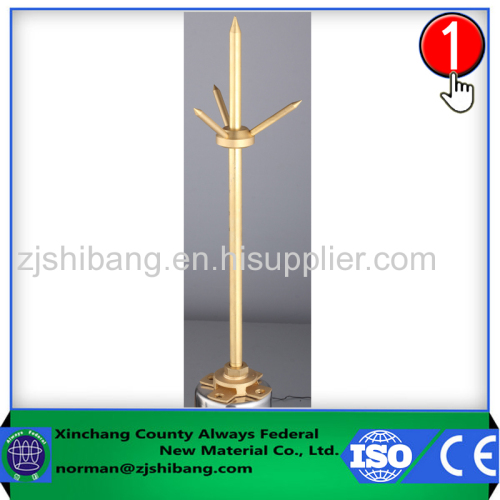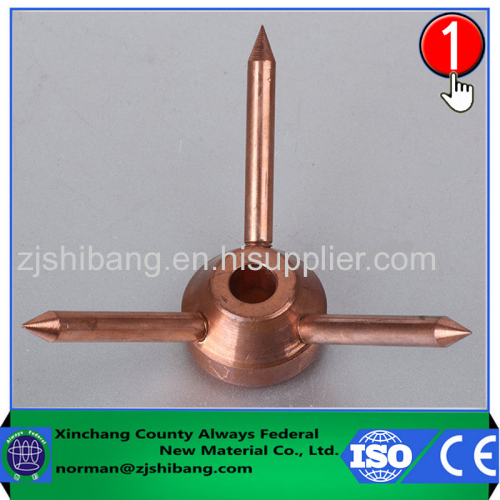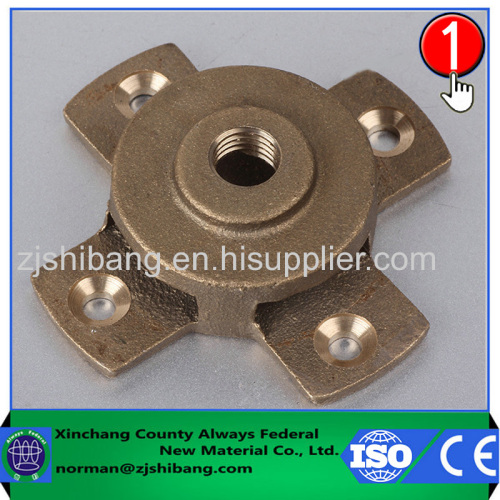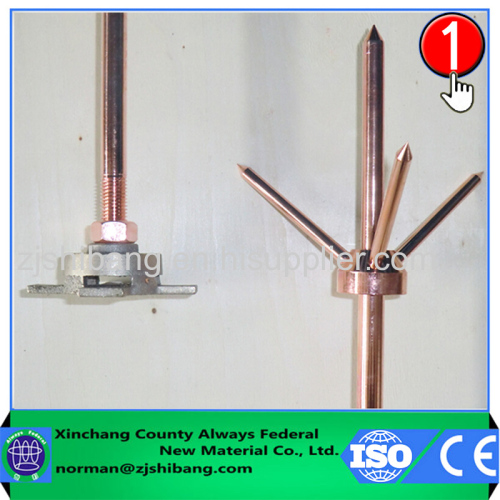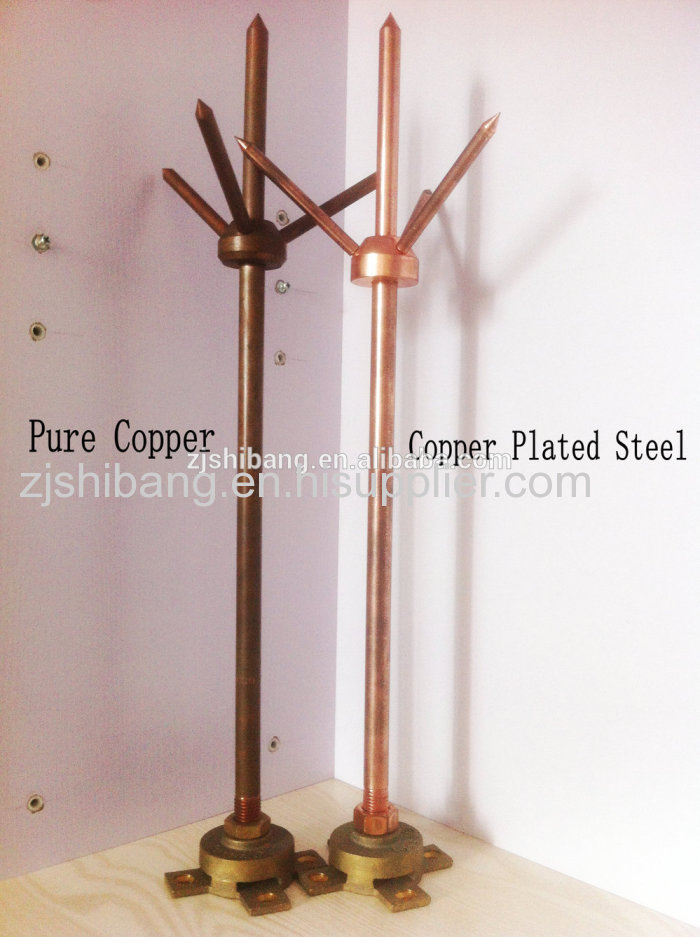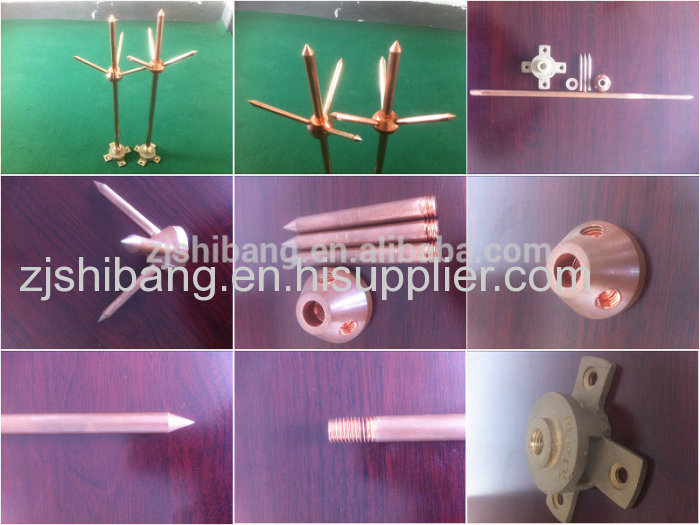 Packing
Operation theory of Copper lightning rods on tall buildings
When the thunder clouds formed, the bottom of thunder clouds will cause a lot of negative charge
and the negative charge in the general strength of 7 to 15 kA. There is a strong magnetic field between
the negative charge of thunder clouds and ground. The positive charge of ground released charge
through the needlepoint of lighting rod, so that keep balance with the CB negative charge of aerosphere.
The controllable lighting rod constantly absorbing and storing energy, to some extent, it releases the
positive charge into aerosphere and neutralizes with the negative charge of CB. So it reduce the negative
charge in the CB clouds, as well as reduce the discharge current and greatly relief the voltage sensors in
order to avoid lightning intensity, and the purpose of protecting the construction.
Characteristics
1. Winding: There is a large protection area without winding. For example, when the winding
rate less than 0.001%, (Apparently at such circumstance, the object protected has little opportunity
to be winded.) and the protection up to 55 ° angle, compared to the traditional real lightning rod,
controllable discharging lighting rod almost has no opportunity to be winded.
2. Scope of protection: When the protected object attacked by around 0.1%, (currently a point of
order under the allowable value), controllable discharging lighting rod up to 66.4 ° angle, but traditional
lightning rod is much more smaller than that. (Take the traditional lightning rod is more economical at
strong intensive thunder area, while there still has opportunity that be struck by lighting).
3. Efficiency and application prospects: Controllable lightning rod is a widely used protection
device with wide application prospects, with a high using value.
Quality Control
1.IQC (Incoming check )
2.IPQC (Process quallity control )
3.First Piece quality control
4.Mass products quality control
5.OQC (Outgoing quality control)
6.FQC (Final Quality Check)
Certifications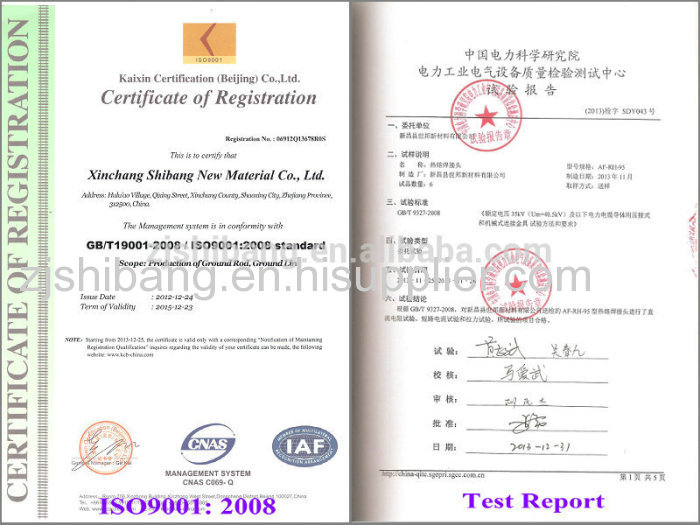 Our Services
1. Providing professional advises and operation.
2. Customer service online with 24 hours.
3. Full inspection on all the products before shipment.
4. Free logo embossing.
5. Shipping & Price Term: EXW my factory; FOB any Chinese port; CIF any destination port;
DDU your warehouse.
6. OEM and ODM are all available
Our Customers

The Other Types of Lightning Rod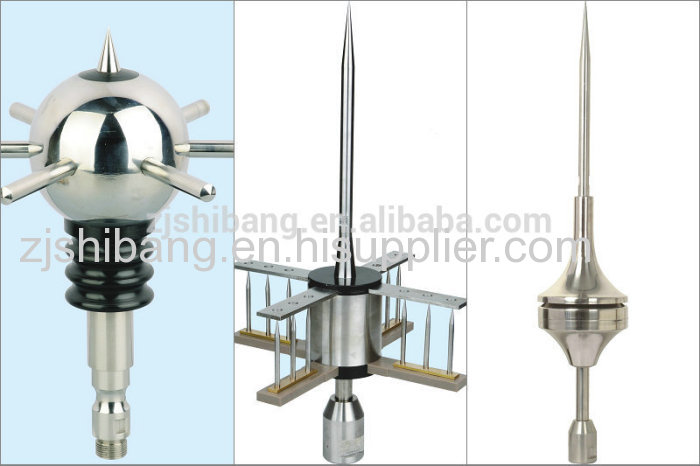 Company Information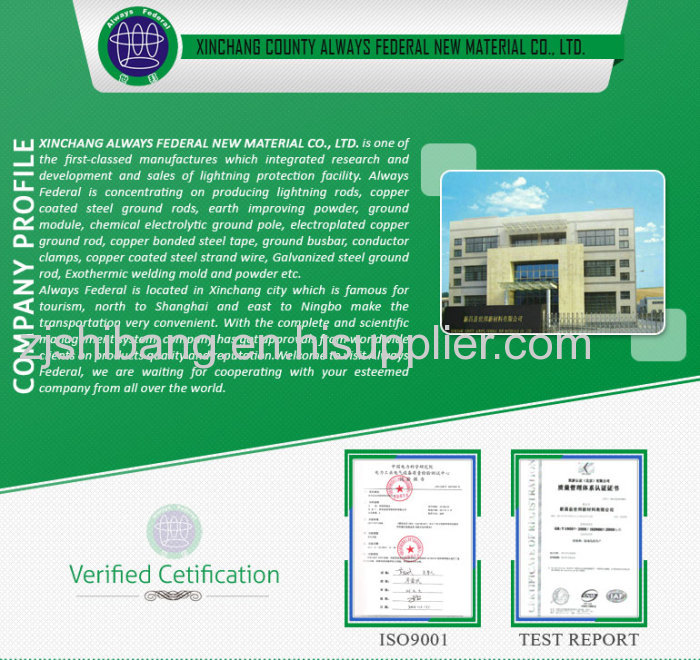 Our Main Products

Why Choose A-federal? ADVANTAGES
1. Professional operation experience.
2. The sizes all can be customised.
3. Sample for your reference available.
4. Low MOQ, Low Price.
5. Safe packing and prompt delivery
6. Quality guaranteed: ISO9001 2008 Standard
Welcome to Contact US:
Name: Norman Chen
Company: XINCHANG SHIBANG NEW MATERIAL CO., LTD.
Address: Huluao Village, Qixing Street, Xinchang County, Zhejiang.
Tel: +86-18106895500
Email: norman@zjshibang.com
WhatsAPP: 0086-15088653814
Fax: +86-0575-86289966
Skype:normanchen5