Model NO.:KVN Control Valve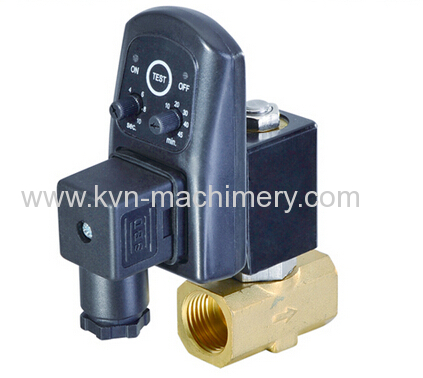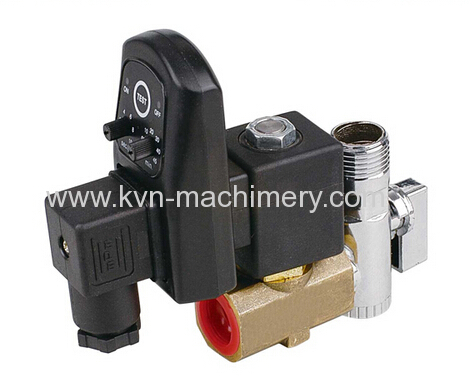 | | |
| --- | --- |
| Timer | |
| Interval Time | 0.5~45 Mins |
| discharge time | 0.5~10 Sec |
| Manual test Switch | Micro switch |
| Supply Voltage | AC110, 220V, DC12V, 24V |
| Current consumption | Max 4ma |
| Envrionmental Protection | -40C~60C |
| operationg temp | IP65 |
| | |
| This air compressor control valves | air compressor control valves |
| In & out port size | 1/2" |
| Max working pressure | 16bar |
| Min & Max temperature | 2C/55C |
| Seals | FPM or Viton |
| operating temperature | 200C |
| mountable position | random |
| | |
Pay attention to:
To avoid unnecessary damage and destroy of machine and equipment, so pls read this carefully:
1.Before u assemble the product, u should know its working condition and necessary protection procedures.
2.Pls use the product according to appliance instruction, especially when u use it for gas, or petal which is easy tp explode, and use it in the condition with high temp or high humidity or corrosive, u should choose suitable items.
3.It is important to choose suitable items, right power, right voitage, right specification is the premise of long life of product.
Company Info:
Established in 1991, Ningbo Kveina Electronic Science & Technology Co., Ltd (the former Fenghua Kai Ri Pneumatic Machinery Manufactory Co., Ltd) is a science & technology enterprise. Solenoid coil,solenoid components,pneumatic solenoid valve,ex-proof coil, hydraulic solenoid coil, hydraulic valve and kits of automation equipments.- Professional Manufacturers, the company constructed a new modernized production base in Jiangkou Private Science & Technology Park, Fenghua, Ningbo, with a plant area of 15,000 m2. After years of development, was one of the largest electromagnetic coil manufacturers and the product specifications.
In 2002, the company successfully passed the ISO9001 QMSC and the Conformité Européenne (CE), so its product quality is well guaranteed. Taking "satisfy the clients and win the market" as its core management principle, the company constantly expanded the market. Its products have been supplied to famous domestic and foreignmanufactures and have won their recognition and trust.
The company has a strong R &D Team, and keeps strengthening its R &D ability. It established its own Testing Center, Laboratory and High-tech Product R&D Team, and introduced world-advanced production and testing equipments to guarantee a scientific, systematic and automatic production flow for the company. The company strives for perfection, pays attention to every detail, and keeps providing perfect after-sales service, in order to make sure that it can provide perfect quality products to the market.