Polyglycolic Acid(PGA) Suture Medical Suture
Specification
Absorbable Polyglycolic Acid(PGA) Suture with Needle
1.CE&ISO approved
2.OEM welcomed
3.Violet Color
4.Absorbable Suture
Product description
Polyglycolic Acid (PGA) Suture composed of medical suture needle and the suture polyglycolic acid(PGA). The suture needle is made up of the high quality stainless steel material which conforms to the standards stipulated, and with good elasticity and toughness.
Characteristic
Two weeks after sutures' implantation, it retains the original tensile strength about 70%; Three weeks after sutures' implantation, it retains the original tensile strength about 35%; Basically, it can be resolved completely within 60 to 90 days.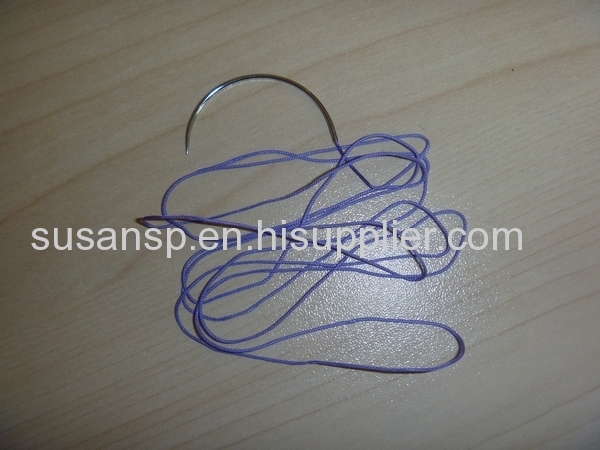 Suture material:
· Absorbable Surgical Suture
Plain Catgut Suture
Chromic Catgut Suture
Polyglycolic Acid (PGL)
Polyglactin 910 (PGLA)
Polydioxanone(PDO/PDS)
· Non-absorbable Suture
Silk Braided
Nylon Suture
Polyprogylene
Polyester Suture
Stainless Steel
About our chromic catgut with needle:
1) Needle Point Type:Tape Point, Blunt taper Point, Cutting Edge, Reverser Cutting Edge, Tapercut, Micro-point Spatula Curved.
2) Shapes:1/2 circle , 3/8 circle, 1/4 circle, 5/8 circle, straight
3) Suture Length:Any size you want.
4) Suture Size:USP 2/0, USP 0, USP 1, USP 2 or others you want.
5) Needle Length:12mm, 22mm, 30mm, 35mm, 40mm or others.
About our products
According to U.S.P. standard, all specifications are available.Needles that we use are from trusted producers and all size, shape, diameter are available.
We deeply understand thar our products' quality and safety are critical to the health of patients and the fame of our clients, thus we devote ourselves to the quality control and make sure that every piece of our products is in safe and good condition.
About our company:
We are a professional and innovating surgical manufacturer and exporter.our products include absorbable suture made of sheep/bovine gut and synthetic South Korean materials PGA/PGLA and Non-absorbable sutures made of silk, nylon, polypropylene, polyester etc.
We have modern-tech production lines as well as well-trained workers working in clean room that covers over 2000 square meters,CE/ISO certified.Provide OEM service.
Our quality principle is"For The Safety Of Patients'Lives".Our service aim is "Continuously improve the customer's satisfactory according to the domestic and local law". Our target is " To speed up the pace of development of science and technology, to realize the target of scientific and modern management and contribute for the development of Chinese Medical Device".
If you are interested in our products,please contact me directly. We promise that you are assured to be provided with high quality products and perfect service from us.