PVC sheet production line (PLC Control)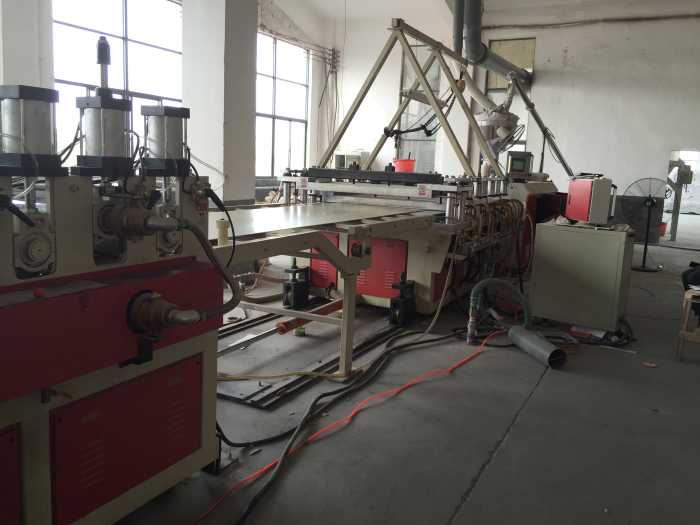 Main Technical Parameters
| | | | | | |
| --- | --- | --- | --- | --- | --- |
| Model | Unit | SJSZ80/156 | SJSZ92/188 | SJSZ80/156, SJ65/132 | |
| Product width | mm | 1220 | 1600 | 1600-2050 | |
| Product thickness | mm | 3-20 | 5-30 | 3-20 | |
| Max. extrusion capacity | Kg/h | 350 | 500 | 600 | |
| Power of extruder | KW | 75 | 110 | 120 | |
1.SJSZ 80/156 Conical twin Screw Extruder
2.Calibration unit
Calibration Plate:1500mm×500mm 4couples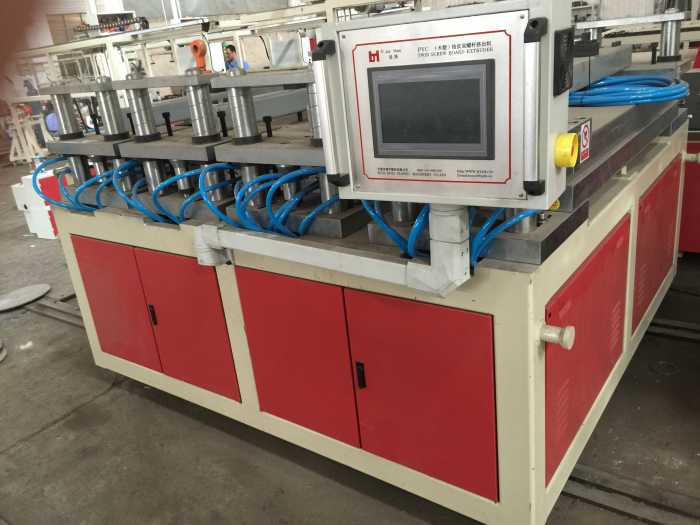 3. Cooling Tank and Bracket
Length:6000mm
Trimming Knife:3 sets
4. Haul-off Unit 8 Couples Cylinder Clamping and Loosening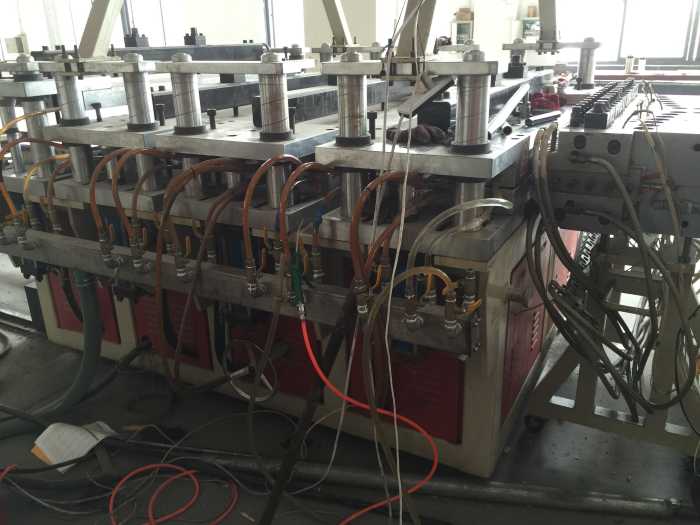 5. Cutting unit
6. Stacker
7. Mould (T-Die )

Origin and brand of electric appliances of BOYU Extrusion Line
1) Main motor: Siemens
2) Contactor: Siemens
3) Inverter made: ABB

4) PLC Control Automatic system
WPC Foam board Introduction

First, This is a completely waterproof material, because it is plastic, it is widely used in the place of the outside balcony, Plank Road, a swimming pool, lake, beach, ship deck and so on.
Secondly, this is a completely anti-termite, anti-moth-eaten material, because it does not contain fibrin.
Third, this is a material with a good performance of flame retardant. We have done experiments. This excellent fire retardant property of foam boards foam is much better then wood and wood-plastic materials.
Fourth, it is one that does not decay, is radiation-free and non-toxic and in line with national testing standards. It is maintenance-free, and the maintenance of pollution can be avoided.
Fifth, the bending resistance of this material and a surface hardness are higher than that of wood, wood materials. The grip nails is stronger than the wood-plastic which is flat with wood.
Sixth, price levels of this material in the current market has the promotion conditions, it is definitely cheap and fine.
Company Information & Professional Service
About BOYU Plastic machinery co ltd
WUXI BOYU Plastic Machinery Co., Ltd., located in Wuxi city of Jiangsu Province, China, is a professional manufacturer of PVC Celuka Foam Board production line. With more than 10 years' research and development, WuXi BoYu now are proud of these production lines: PVC/WPC (Wood Plastic Composit) crust foam board extrusion line, PVC crust foam board extrusion line, PVC wood plastic foam board extrusion line, PVC building board extrusion line and PVC free foam board extrusion line,PE/PP WPC Profile Extrusion line ,PVC Wood sheet/board/profile extrusion line ,PVC imitation Marble sheet/profile extrusion line and so on .
Our main products:
1, WPC/PVC foam board extrusion production line;
2, WPC/PVC hollow board extrusion production line;
3, PVC imitation marble extrusion production line;
4, WPC(PE/PP/PVC+wood) profile extrusion production line;
5, PVC ceiling panel profile extrusion production line;
6,Plastic auxiliary equipment.
Pre-sale service:
To provide information and market research,to provide consultation,to provide many kinds of conveniences and market service,etc. Products: PVC Foam Board Machine...
The main purpose of pre-sales service is to help customers make the project planning and system requirements analysis. Make our products maximum to meet clients' requirements. Also play the greatest overall economic benefits of customers' investment.
After-sale service:
To install products and test products freely for customers.
To provide the formulas and technologies of relevant products and the information of chemical materials manufactories.
To direct technology aspect of relevant use according to customers' requirements
To provide technical training for clients' employees.
To be responsible for maintenance service, door-to-door service under the necessary circumstance.
Technology support:
To provide installation and test for the machine.
To provide formulas and technology of relevant products.
To provide information of chemical material manufactories.
To provide technical training for clients' employees.