HD5 Webcam Android Smart TV Box Manufacturers / China Suppliers
WASUN Manufacturer Group Limited specialized in Webcam Android Smart TV Boxes. We are a professional Webcam Android Smart TV Box Manufacturer in China
COMPANY PROFILE
Established in 2006 in China, WASUN Manufacturer Group Limited engaged in manufacturing and processing all kinds of electronic products. With nearly 10 years development and innovation, WASUN Manufacturer Group has become a noted and professional OEM manufacturer in the electronics OEM Industry.


We have SMT workshop, COB bonding workshop, DIP workshop, Assembly workshop, Packaging Line for finished products etc.. In SMT workshop, there are 4 production lines and 8 Auto Chip Mounters from Panasonic, Fuji, SAMSUNG brands, which can meet the maximum capacity of 1,000,000 points per day.

We also have advanced manufacturing facilities and testing equipments, such as AB series bonding machine, Signal Generator, Shielding Room for various signal testing, Signal Spectrum Analyzer, ICT In-circuit tester, AOI (Automatic Optic Inspection), CLIO Audio Analyzer, Power Meter, Salt Spray Testing Machine, and Aging Testing Machine etc..
Our hot Product:
Android TV Box, Webcam Micro Microphone Wifi Wireless Smart TV Box, Air Mouse Keyboard ,Car charger, Portable power bank, LED auto bulbs, LED car fog lights,3D Active Shutter Glasses, Computer Peripherals , etc..
SPECIFICATIONS OF Webcam Android Smart TV Box
HD5 Webcam Smart TV Box is the first patent pending interactive media player that has a Full 1080p HD Webcam. It transforms any TV into a "Beyond Smart" TV that can now provide the same experience we enjoy from our computers and mobile devices every day. Any TV can now become an intelligent, interactive portal to entertain and communicate with the world.

The HD5 Webcam Smart TV Box has a quad core processor which provides a desktop quality experience and is powered by Android giving you access to over a million apps, movies, TV shows, music and more through the Google Play Store. This along with full internet browsing capabilities provides limitless entertainment options, but the key feature is the 1080p HD webcam, bringing live video communication to the living room, forever changing how we use the TV.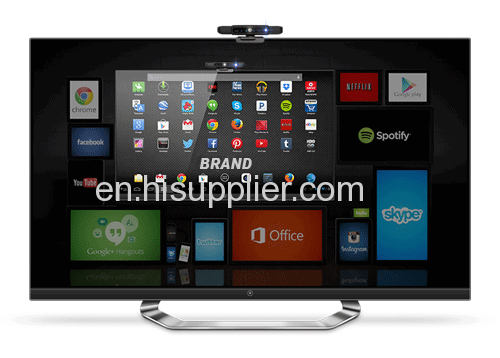 HD5 Webcam Smart TV Box Overview

The full 1080p HD webcam has a wide 90 degree viewing angle to allow multiple participants to conference at one time or provide a field of view for someone to complete dynamic movements. Most typical webcams have a viewing angle of 40 to 60 degrees which usually only captures one participant and not in full view.

*Dual noise cancelling microphones provide improved audio quality to suppress echoes and ambient sounds for any home or business video conferencing applications.

*Integrated speakers provide an independent audio solution to allow it to be placed away from the TV to enhance the conferencing experience.

*Google Voice Search

*1080p HD streaming

*Expandable Micro SD storage up to 32GB.

*Bluetooth Enabled to easily connect headphones, keyboards, wearables and any compatible devices.

*WiFi and LAN Ethernet connections

*Miracast, DLNA and XMBC support which allows you to wirelessly send photos, videos and other media from compatible devices to the HD5 Webcam Smart TV Box.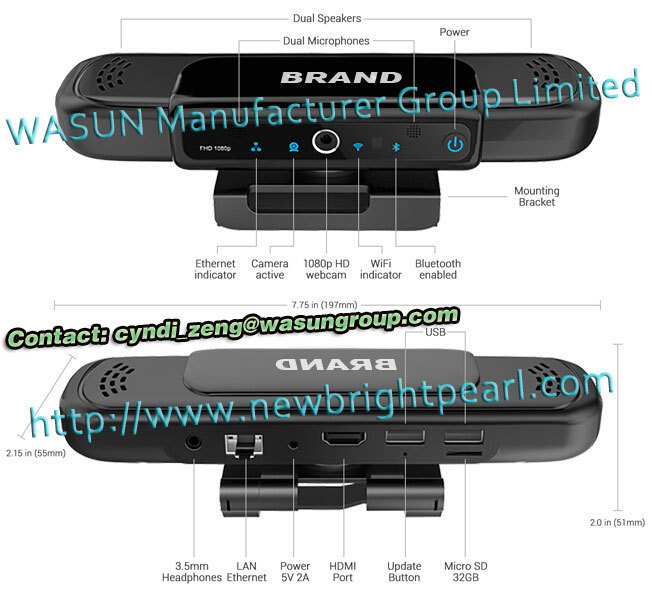 HD5 Webcam Smart TV Box Air Mouse Remote


The 2.4 GHz dual-sided full keyboard air mouse remote is a universal controller that makes the HD5 Webcam Smart TV Box a turnkey solution. With a full keyboard and TV control IR learning, the air mouse is designed to be a functional remote providing a seamless and easy experience. Having a high quality air mouse remote with these features was essential in making this an intuitive interface for all users to control the TV just like a computer.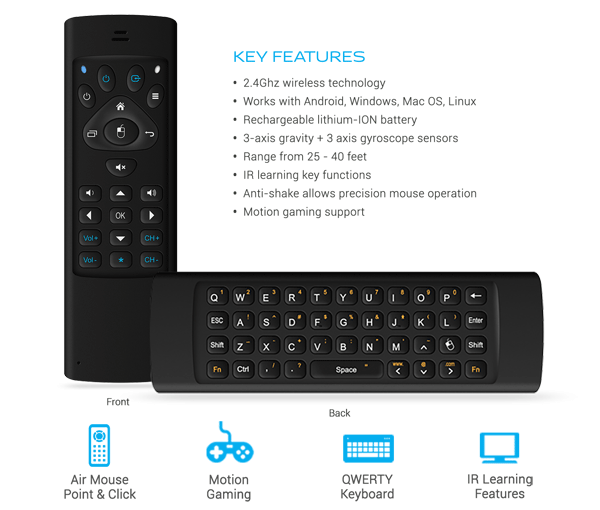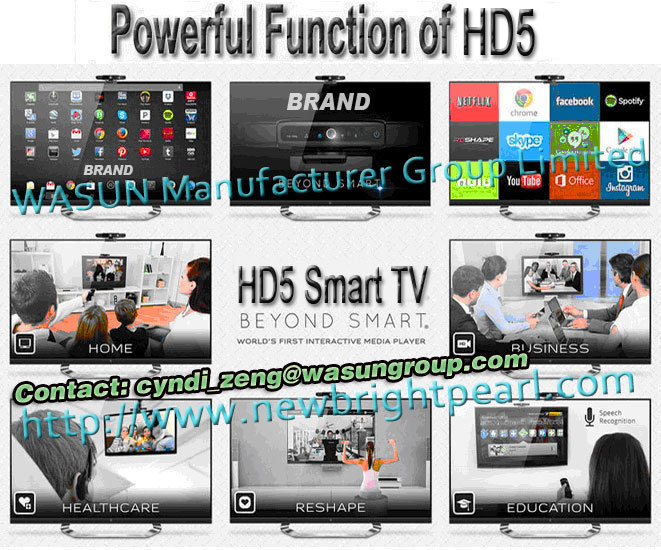 CONTACT INFORMATION
WASUN MANUFACTURER (GROUP) LIMITED

Address: No 2, NanLing Industrial Zone, Baiyun District, Guangzhou, Guangdong Province, China.

Website: http://www.newbrightpearl.com

Tel: +86(20)-29825876 (Sales Depart.)
Fax: +86(20)-28990395
E-mail: sales@wasungroup.com 

Overseas Marketing Manager: Cyndi Zeng
Mobile: (+86)13533326216
E-mail: cyndi_zeng@wasungroup.com
Skype: selina_zeng0625
WhatsApp: +86 13533326216