Powder metallurgy sintered stainless steel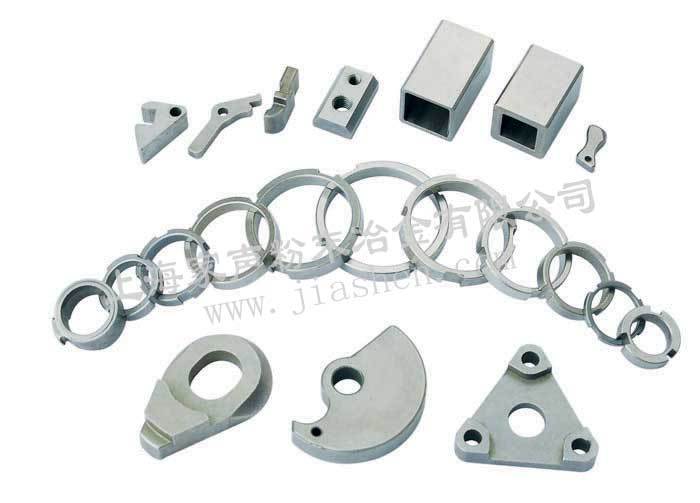 Powder Metallurgy is a continually and rapidly evolving technology embracing most metallic and alloy materials, and a wide variety of shapes. PM is a highly developed method of manufacturing reliable ferrous and non ferrous parts. The European Market alone has an annual turnover of over Six Billion Euros , with annual worldwide metal powder production exceeding one million tonnes.
Created by mixing elemental or alloy powders and compacting the mixture in a die, the resultant shapes are then heated or "sintered" in a controlled atmosphere furnace to bond the particles metallurgically. The high precision forming capability of PM generates components with near net shape, intricate features and good dimensional precision pieces are often finished without the need of machining.
By producing parts with a homogeneous structure the PM process enables manufacturers to make products that are more consistent and predictable in their behaviour across a wide range of applications. In addition the PM Process has a high degree of flexibility allowing the tailoring of the physical characteristics of a product to suit your specific property and performance requirements. These include:
Powder metallurgy (PM) is a term covering a wide range of ways in which materials or components are made from metal powders. PM processes can avoid, or greatly reduce, the need to use metal removal processes, thereby drastically reducing yield losses in manufacture and often resulting in lower costs.
Powder metallurgy is also used to make unique materials impossible to melt or form in other ways. A very important product of this type is tungsten carbide (WC). WC is used to cut and form other metals and is made from WC particles bonded with cobalt. It is very widely used in industry for tools of many types and globally ~50,000t/yr is made by PM. Other products include sintered filters, porous oil-impregnated bearings, electrical contacts and diamond tools.
The advantage of powder metallurgy:


Eliminate or reduce the secondary operation.
Eliminate or reduce the cutting loss.
Precise size.
Be widely used on alloy system.
Smooth surface.
Enhance the strength and abrasion resistance after heating treatment processing.
Can manufacture complicated and unique parts.
Mass production.
Providing function reliability.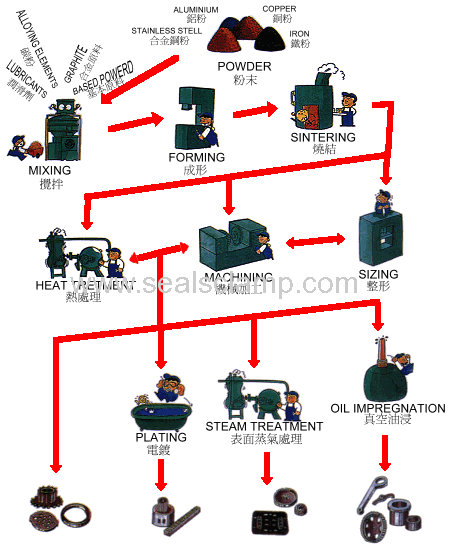 Compacting machines
5 tons,15tons,20tons,30tons,40tons,60tons,80tons,150tons,200tons,350tons,400tons:30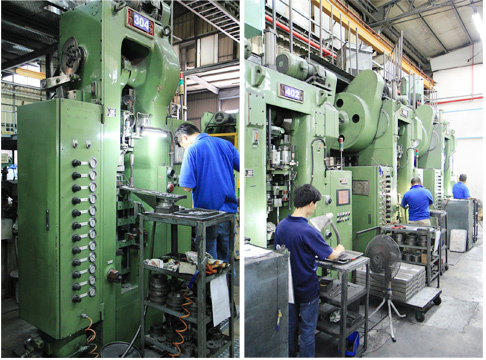 Sintering Fruances:4



Sizing macnines
20tons,30tons,35tons,60tons,110tons,200tons,400tons:10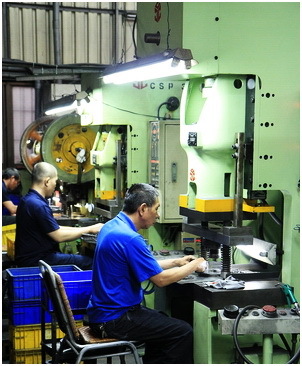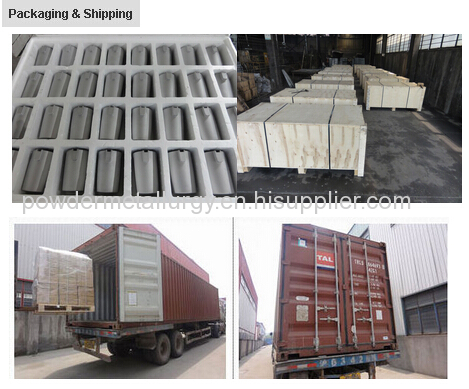 Product Introduction:
Motorcycle&Automobile parts:Shock absorber. Piston.
2. Electrical Home Appliance parts:Compressor. Sewing machine.
Extraction fan. The bearings of the fan
3. Agricultural Machine Compnents:Gear drive. The component of bearings
4. Business Machine Components:typewriter. Photocopier.etc.
5. Hardware components:Locks.the other components of stainless steels.
6. New Development of any new parts:
Shanghai Jiasheng Powder Metallurgy Co Ltd is the powder metallurgy parts of the professional manufacturers, with nearly twenty years of powder metallurgy products research and development experience. The company has strong technical force, complete production equipment configuration. The company covers an area of 20000 m2, the production capacity of more than 2000 tons / year.
Company's main products are: various specifications and types of copper base, iron precision oil bearing and high strength precision machinery parts, stainless steel products. Products are widely used in automobiles, motorcycles, electric tools, office equipment, medical / fitness equipment, household electrical appliances, textile machinery, environmental protection machinery, instruments and other industries.
The company obtained the ISO 9001 international quality system certificate in 2002, in 2008 through the ISO/TS 16949 certification system. The company has always been adhering to the "people-oriented, winning with quality, sincere hospitality, to survive the letter" business philosophy, and for many years was assessed in Shanghai City Administration for Industry and Commerce Shou contract re credit enterprises AAA level.
In 2012, the company's "Shanghai family Beijing Great Automotive Components Company Limited" to apply for and obtain "high-tech enterprises in Shanghai city" title.
Business philosophy: people-oriented, winning by quality, sincere hospitality, to survive the letter.
Quality policy: the quality of refinement, customer satisfaction, innovation, sustainable management.