qc12y-6x3200 fabrication guillotine machinery
Features:
Machine frame
Steelwelded plate, high rigidity. Two cylinders are fixed on left and right vertical pole. Installed vice cut-board on worktable conveniently adjust low-cut board. Keep the gap between up-cut and low-cut coincidence. Install feed ball on worktable, operation convenient and fast.
Cutting frame
Welded plate, high rigidity, is support at eccentric socket (9), by left and right cylinders and stroke cylinder drive, finish cutting by pendulum repeat. (See Fig. 1)
The vertical surface of up-cut support is curve, keep the gap between up-cut and low-cut coincidence.
General
Cutting thickness: 6mm Cutting Angel: 1°30'
Cutting length 3200 mm Travel Times: 9 times/min
Motor: 7.5kw
Main Equipments:
Hydraulic system: Omega
Pump: gear pump
Electrics: Siemens, Germany;
O-rings: Taiwan DZ;
Connectors: Germany EMB;
Foot switch: Korea Kacon
Other standard equipments:
Segmented upper blade 1set
Lower blade 1set
Front supporting arms 3pcs
Emergency stop button;
Back, and front safety fence
Shadow line lighting
Safety foot switch
Foundation bolts 1set
Manuals and diagram 1book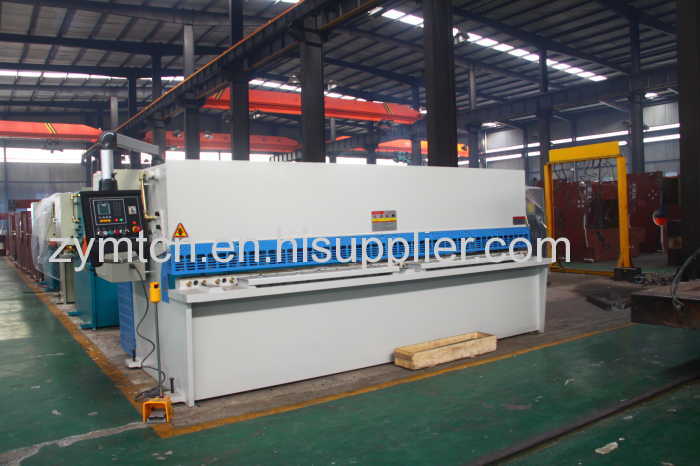 Why choose ZYMT as your partner & supplier-- As the real professional manufacturer specially for the metal-working machines, we are having the great confidence to provide the machines you need as the following advantages:
1) We have more than 8 years exporting experience. Our main customers from 5 continents, more than 30 countries as Portugal, Germany, France,
Belgium, USA, Canada, Argentina, Colombia, Algeria, South Africa etc;
2) Our main machine capacity: press brake from 20Tx999mm to 6000Tx20000mm, shear from 4x2000mm to 30x10000mm;
3) Our factory is about 130000 sqm, with 50000 sqm workshops;
4) We have a engineer team who had worked for LVD for several years, and another engineer who had worked for HACO for ten years.
5) We keep attending the best professional shows like Euroblech and EMO fairs every year, we give the great support to our sales partners in promotion and after-sales service.
All of our machines under ISO9001, CE certification, provide good equipments, fast delivery, high tech design, competition prices and long time after-sales service.