3.5g Silica Tube Ozone Generator for Spa Tub
Specification:
Voltage: 110V/220V ± 10%;
Frequency: 50Hz/3.1KHz;
Ozone Yield: 3.5g / h;
Power Consumption: 33W;
Net/GrossWeight: 1kg/1.5kg.
Package: the ozone generator is protected well in the form box.
110V: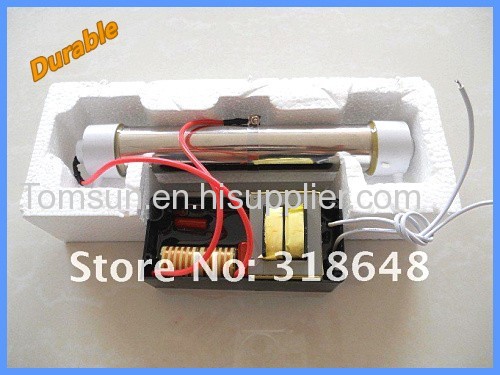 220V: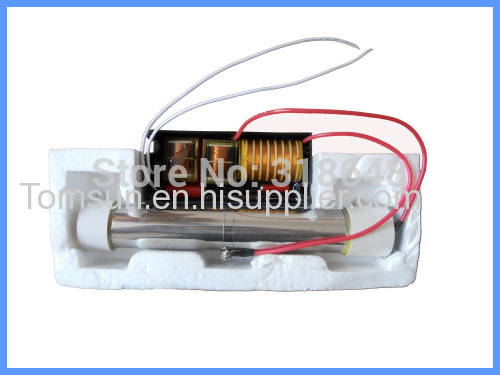 Working Principle:
Take advantage of high voltage, use oxygen in the air as raw material to produce O3.
Function:
a. The residual hormones, antibiotics, bacteria and germs on the surface of fruits and vegetables can be fully degraded. Having it, you can rest assured that eat fruits, vegetables, fish, meat, seafood, the flavor will be even more delicious.
b. It can also be used in drinking water, tableware, daily necessities, for disinfection and prevention of many diseases.
c. It can clean the room air, and quickly remove smoke, odor, and a variety of formaldehyde, benzene and other toxic gases distributed by decorative materials, to protect you and your family's health.
d. It is also to sterilize the tableware tea sets, put them into the water storage container, turn on the machine, keep it working for 5-20 minutes. Used for hepatitis B patients with contaminated items
Application:
 Spa Tub 
 Dryer
 Dishwasher
 Refrigerator
 Electronic shoe cabinet
 Air purifier
 Car Purifier
 Fish Tank
 Washing Marchine
Attention:
When using this ozone generator, better to use an electrical fan. and strictly forbid people working in the room with ozone in high concentration. The output high voltage is dangerous. you are strictly forbidden to touch it in any way when it is working.