High power battery charge and discharge testing system 5V40A-8 channels, and more channels can be customerized.
Testing Items: current, voltage, DCIR, Pulse Test, HPPC, Rate, Static capacity, cycle life and etc.
Similar model:5V10A, 5V20A, 5V30A, 5V50A, 5V100A, 5V200A, and etc.

Different Specifications could be customized, Ranging from 1mA-3000A, 5-800V;
Our equipment is mainly used for high rate discharge, to see the performance and stability of the battery.

Specification: High power battery charge and discharge testing system 5V40A

Description

Product Specification

AC Input

AC 220V±10% 50Hz

Power

2835

W

Resolution

AD: 16bit; DA: 16bit

Impedance Input

≥1MΩ

Voltage

Measuring Range

Charge: 25mV~5V

Discharge: 25mV~5V

Discharge Min Voltage

2.5V

Accuracy

± 0.1% of FS

Stability

± 0.1% of FS

Current

Range

Charge: 0.2A~40A Discharge: 0.2A~40A

Accuracy

± 0.1% of FS

Stability

± 0.1% of FS

Power

Output Power Per Channel

200W

Stability

± 0.2% of FS

Time

Rise Time

20ms (0~Full Range)

StepTime

≤ (365*24) hour/step

Time Format 00:00:00 (h:min:s)

Data Acquisition

Intervals

Time interval Δt: (1s~60000s)

Voltage interval ΔU: (25mV~5V)

Current interval ΔI: (20mA~40A)

Frequency

10Hz

Charge

Modes of Operation

CCC, CVC, CC & CVC,CPC,CC&CCC

End Conditions

Voltage, Current, Test Time, Capacity

Discharge

Modes of Operation

CCD, CPD

End Conditions

Voltage, Current, Test Time, Capacity

Pulse

charge

CCC ,Constant power mode




Discharge

CCD,Constant power mode




Min Pulse Width

500ms

Automated Switch

Automated swith from charge to discharge for each pulse

End Condition

Voltage, Test Time

DCIR testing

Support DCIR testing

Cycle

Loop Measure Range

1~65535 times
Battery charging station Production line

Battery charging station Battery clamp type: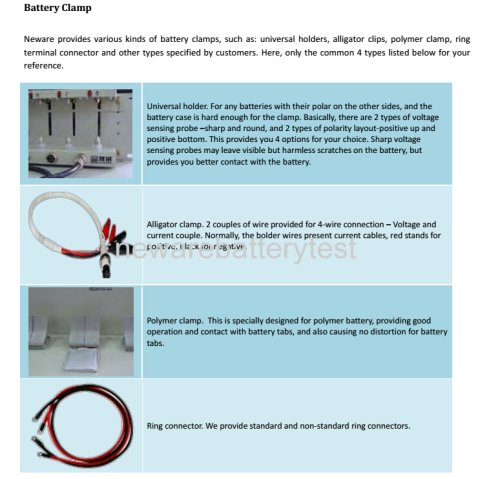 Our Customers all around the world: