Applicable industry
It can carve on metal and a variety of non-metallic materials, more suitable for application to some more fine and higher accuracy occasion for example electric vehicles, electric vehicle chassis frame and motor industry products metal uniform printing code. Widely used in automobiles, integrated circuit (IC), electronic components, metal products, tools, accessories, integrated circuit (IC), electrical appliances, mobile communications, precision instrument clocks and watches, glasses, silicon wafers, electronics, electrical appliances, communications, computer, clock and watch, glasses, jewelry, craft ornaments, jewelry accessories, auto parts, plastic buttons, building materials, PVC pipe, medical equipment and other industries.
Function brief

(1) pump mode:
Semiconductor pump laser marking machine, as the high-end products, with the highest cost-effective, can greatly save the cost in the process of using electricity and consumables, get better marking effect, and improve equipment reliability, reduce the maintenance of the system.

(2) optical design.
Laser cavity model with new design ideas, make good laser mode, output stability, with imported Q nozzle, ensure the marking fine, the characteristics of the background is exquisite.

(3) all module design.
Each module has its independent operation space, mutual connection is simple, direct, minimize electromagnetic interference and thermal interference guarantee the stability of the system to work long time.

(4) super optical cavity design.
Professional laser resonator design, to ensure that get the most out of light efficiency and the best laser mode, reduce the dependence on the temperature at the same time, can be installed on the assembly line, marking precision and high performance.
Technical parameter
The laser output power: 50 w
Laser wavelength: 1064 nm
Beam quality M2: < 4
The laser repetition rate: 50 KHZ or less
Standard carving range: 110 mm * 110 mm
Matching scope of sculpture: 50 mm x 50 mm / 150 mm * 150 mm / 300 mm * 300 mm
Engraving depth: 0.3 mm or less
Engraving line speed: 7000 mm/s or less
Minimum line width: 0.015 mm
Minimum 0.1 mm characters
Repeat accuracy: + / - 0.003 mm
The machine power: 1.5 KW
Electricity demand: single-phase / 220 v / 50 Hz / 15 a
Debug Q frequency: 200 Hz to 50 KHZ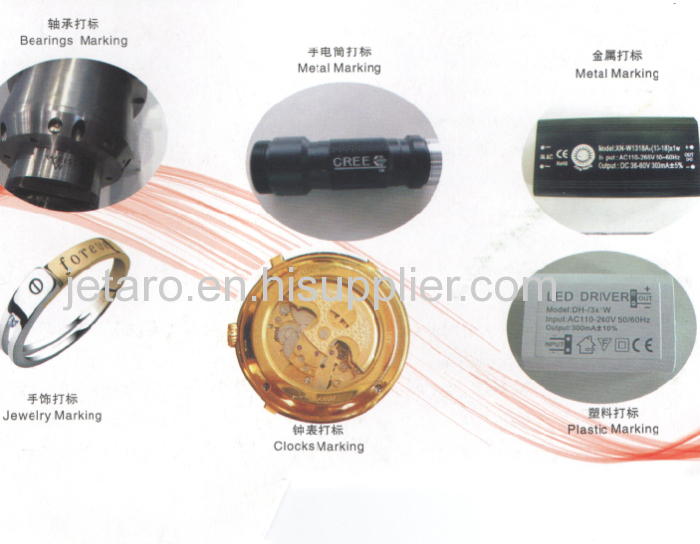 [Contact Us]
TEL:0769-85335188
FAX:0769-85339258
ADD:Wusha Number.553 Changan Town Dongguan City Guangdong Province
Website:www.inkjet-machine.com
Skype:aro-jet
arojet0025