High performance automatic epoxy resin pressure gelation injection APG molding machine for insulator
Product Overview
APG-888 It is large and medium-sized equipment, dimension of clamping plate is 800*800mm,
length of upper and lower core-pulling stroke can be determined according to the product
(it needs lower core-pulling foundation pit when the lower core pulling exceeds 300mm).
It is mainly used for transformer, 12KV-1250A, 3150A insulating cylinder, contact box,
40.5KV bushing, bending plate, upper and lower shell of SF6 insulating cover, etc
Main Technical Diameter
| | | |
| --- | --- | --- |
| Serial No. | Item | Technical Parameters |
| 1 | Model | APG-888 |
| 2 | Clamping plate | 800*800mm |
| 3 | Upper and lower core-pulling stroke | 800mm,500mm |
| 4 | Mould clamping force | 200KN |
| 5 | Mould clamping speed | 3.2m/min |
| 6 | Max mould clamping distance | 1450mm |
| 7 | Min mould clamping distance | 250mm |
| 8 | Power of hydraulic station | 5.5KW |
| 9 | Heating power | 16KW |
| 10 | Inclination angle of complete machine | Vertical 0~5° Horizontal 0~ 5° |
| 11 | Weight of complete machine | 5900KG |
| 12 | Mould-filling weight | 6T |
| 13 | Outline dimension | 5100*3420*1300mm |
Feature
APG equipment is made of main engine, hydraulic station,power
distribution and mixing device. It applicable for transformer, insulators, contact boxes and other epoxy resin casting products.
The products looks smooth, without bubbles. Meet different requirements well.

● Easy operation,only need 1-2 workers operate the machine
● The molds can be used frequently,shorten the curing time
● Good product quality,fine surface finish of products without air bubbles
● Chemical resistance,electrical insulation,strength resistance greatly improved

23 years experience, Engineers are available to service overseas for installing, debugging and technical training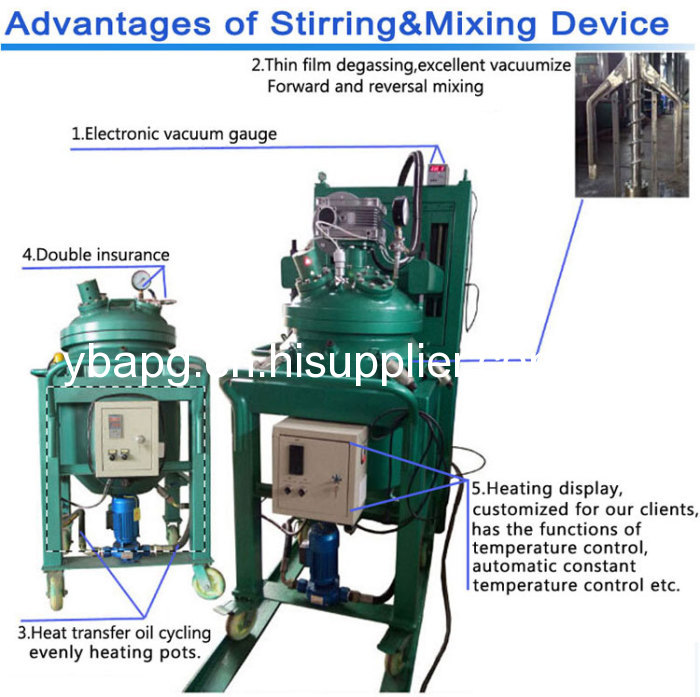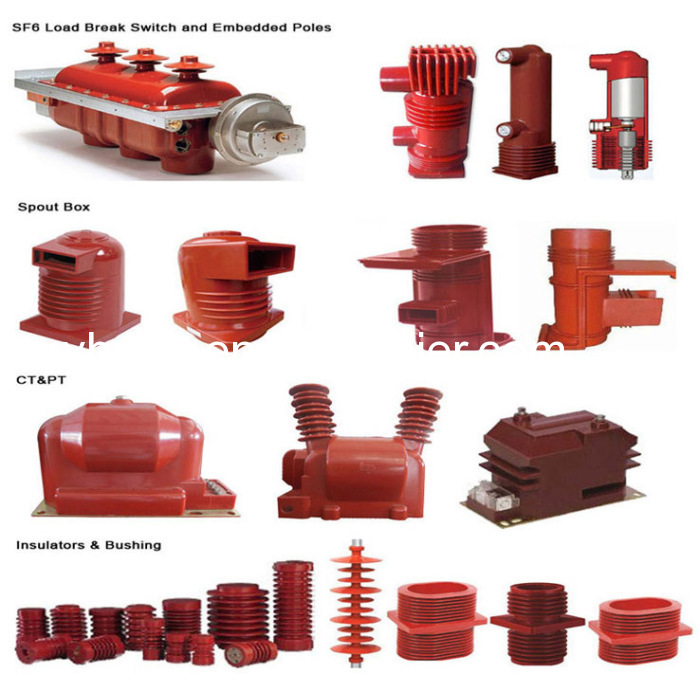 Our advantage

YIBO VS Other Suppliers

Items

YIBO

Other Suppliers

Set the machine start time

√

×

Offer electronic vacuum gauge
(For the vacuum stirring mixing device)

√

×

Offer thin film de-gassing, excellent vacuumize
(For the vacuum stirring mixing device)

√

×

Offer oil cycling heating surround pot, heated evenly

(For the vacuum stirring mixing device)

√

×

Pressure setting and safety valve improve safety coefficient

(Double insurance for the vacuum stirring mixing device)

√

×

Offer matched APG mold

√

×

Offer free APG technique training

√

×
Steps of Quality Control
1.Strictly control the purchase standard of raw materials.
2.With high precision equipment and rich experience workers to process components, make each process up to standard.
3.Assembly process, recheck the quality of the components, the machine appearance etc.
4.Before shipment, test all operating procedures by winding the core to ensure the machine work normally.
Company information
1.The only manufacturer who can supply one-stop complete solution service for electric
industry of resin products such as CT,PT,insulators,SF6 shell.with best factory price and fast shipment.
2.Professional rich experience engineers and research team, we offer free APG technique training.Our engineers have 23 years experience who serviced many years in ABB.
3.100% promise to teach APG technique to you even you are newcomer.
4.Have a line and lab special for producing CT and PT.we can winding samples and test in our lab.
Contact Information
Website:www.ybapg.com
Tel | What's App | Wechat:+86 188 24102415
Email | Skype:laura(at)ybapg.com