Aluminum die casting company,Aluminum die casting process
Part material: AZ91D
Part weigh: 46g
Surface: none
Produce machine: 180T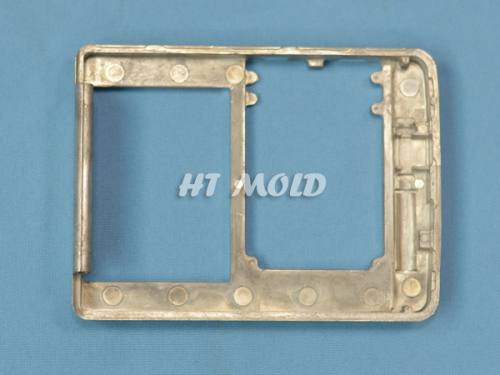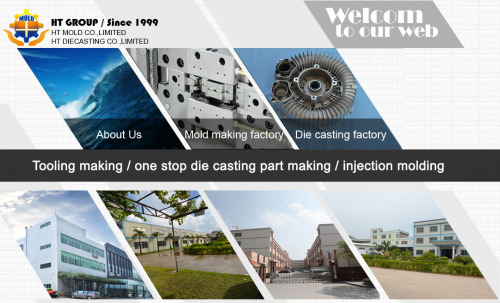 Our die casting factory was founded in April, 2010, occupies 8600 ㎡ with 90 employees.
We own hot chamber machine 138T, Cold chamber machines 180T, 280T 400T, 650T,800T

Die Casting alloy part type:
Magnesium die casting alloy parts
Aluminum die casting alloy parts
Zinc die casting alloy parts

Raw alloy materials as follows:
Mg: AZ91D, AM50A, AM60B
Al: ADC10, ADC12, A380
Zn: Zamak-3, Zamak-5, Zamak-7

Secondary machining:
CNC milling CNC lathe
Drilling Tapping
Multi-head drilling
Multi-head tapping

Surface treatment for alloy parts:
Deburring Brass Plating
Chrome / Nickel Plating Anodizing
Painting Powder Paint
Shot blasting Polish

Please feel free to contact us for any questions, whether it is about die casting mold or alloy parts. We are able to provide you professional solution.

If you have new project on hand, please feel free to send us inquiry.
We will send quotation to you in 24 hours.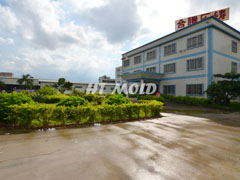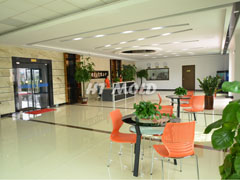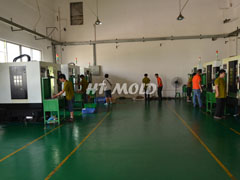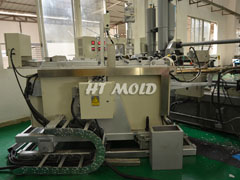 Hot chamber machine 138T,
Cold chamber machines 180T, 300T 400T, 650T,800T
Secondary machines include: CNC, CNC lathe, Drilling, Tapping
Multi-head drilling, Multi-head tapping, sand spray machine, etc
Part radius are extremely important in die castings and often neglected by component designers.
To avoid high stress concentrations in the component and the die casting tool, fillet radii of the appropriate size must be
used in all internal and external component edges.
The exception to this rule is where the feature lands on the parting line of the tool.
Another important aspect concerning fillet radii is that they assist in filling the part die.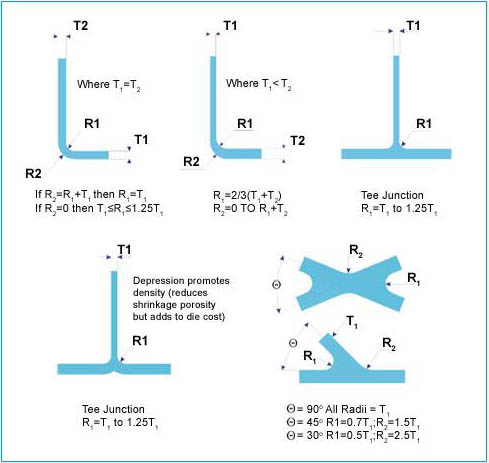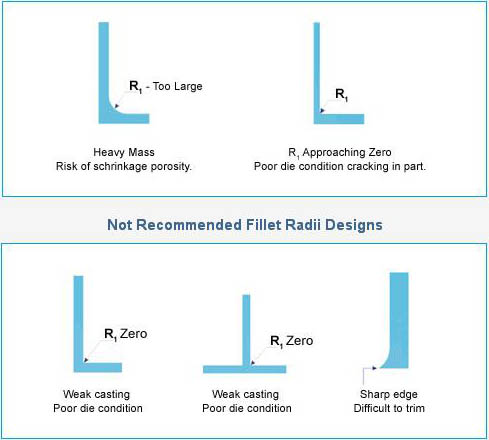 Die casting ribs are used to:
* Increase the stiffness of a component.
* Add strength to a component.
* Assist in the production of a sound casting.
If the component in question is a structural part, careful consideration must be given to the design of casting ribs, especially in areas of high stress. Properly proportioned fillet radii must be used to avoid high stress concentrations at the junction of the rib and the main component. This can also assist in producing a sound casting by providing a means of distributing the metal. Current die casting technology permits thinner and deeper ribs than were previously possible. However the ratio of width to depth does have a significant bearing on the design of the tool and the processes used to manufacture it.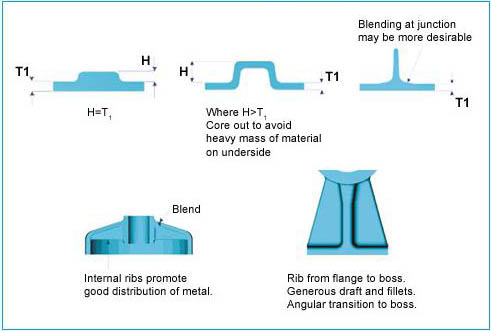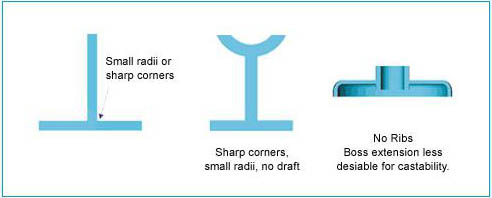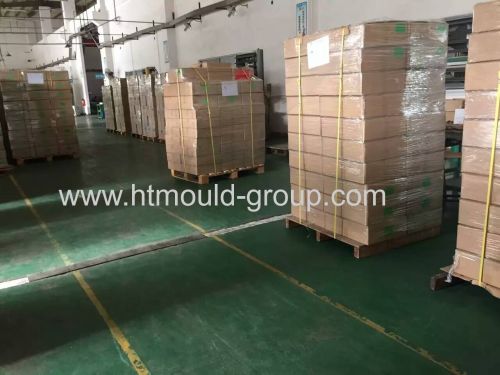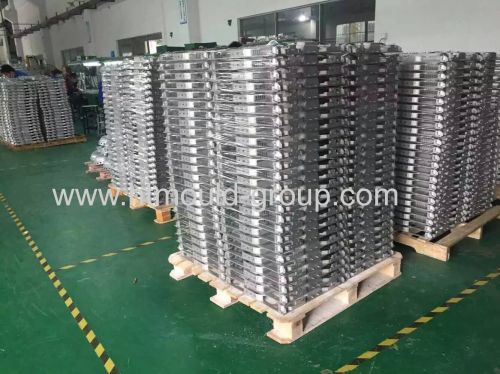 Headquarters: ZhenAn east road, ChangAn, DongGuan city, GuangDong province, China
HT Die casting factory: Xintang road-1, Datang, DalingShan, DongGuan city, GuangDong province, China
HT-Mold making branch: Maozouhe Industrial, Shapuwei, SongGuang, ShenZhen city, GuangDong province, China
Marketing Dept: Diwang 2106, ChangQing road, Changan Town, DongGuan 523845, China
E: Info@htmould.com