Fuel Tanker Manhole Cover
Manhole Cover is installed on the top of the tanker to prevent the inside fuel from leakage when the
tanker is over rolled. With P/V vent inside to adjust the pressure. When there is pressure differences
inside and outside the tanker, it will automatically inlet or exhaust air to adjust the pressure so that
it can ensure the safety andenvironment protection. It is suitable to transpore petroleum, diesel,
kerosene, and the other light fuel, etc.
Specification
1. Whole diameter: 20"
2. Nominal diameter: 10"
3. Emergency open pressure: 21kpa -32kpa
4. Material: Aluminum Alloy
5. Installation mode; Flanged Type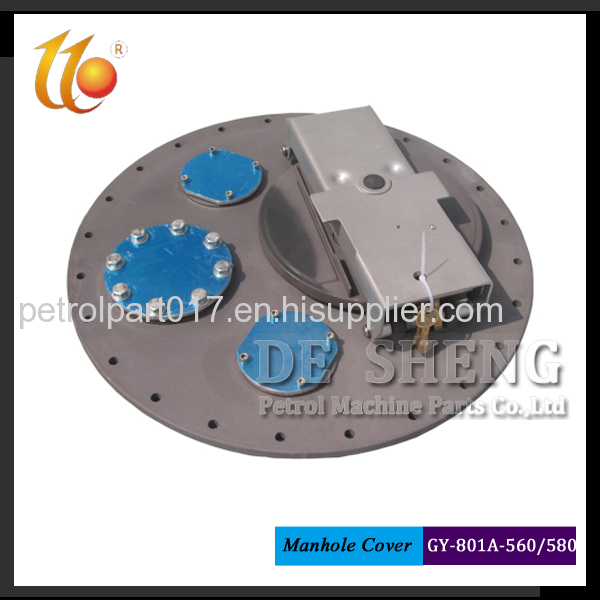 Features
1. Emergency Exhausting Design
When the tanker truck is in high temperature condition, the manhole will automatically exhaust the
air inside to release the pressure, ensuring the safety of the tanker.
2. With P/V Vent inside
When there is pressure differences inside and outside the tanker, it will automatically inlet or exhaust
air to adjust the pressure so that it can ensure the safety and environmental preotection.
3. Secondary Open Design
When open the up binder plate, it will release the pressure out to prevent the workers from pushing
over.
4. Blinding Holes Design
In the main plate of the Manhole, there are three blinding holes can be installed with Vapor Vent Valve,
Optic Sensor, DIP Tube or Exernal Vacuum Valve according to the user's demand.
Other Related Products