Product Desciption

The link cable for Nintendo GBA and GameCube connects the Game Boy Advance with the GameCube for interchangeable playing of games.compatible with Game Boy Advance, GameCube, Wii, Game Boy Advance SP, Game Boy Player, and e-Reader only.it allows game players to unlock secret levels and game secrets.in some cases swapped in games such as Pokemon, friends can battle each other without needing additional networking equipment.6 feet long, allowing some roaming room while playing games.
Specification
| | |
| --- | --- |
| Connector End Material | Gold-plated plug, plastic injection head |
| Fiber Core Diameter | 1.0 mm |
| Outer Diameter | 5.0 mm |
| Jacket Material | PVC |
| Jacket Color | Black/Bule/Pink ...... |
| Cable Length | 1.7 M,length could be customized |
| Attenuation | ≤180dB/km |
Electrical Test

1. 100% open & short test
2. Hi-Pot: DC 300V 10ms
3. Insulation resistance: 0.01OHM Max/300V Min
4. Contact resistance: 0.01 OHM Max
5. Shield up to 65% braid
6. Working temperature: -25°C~+85°C
Detailed Images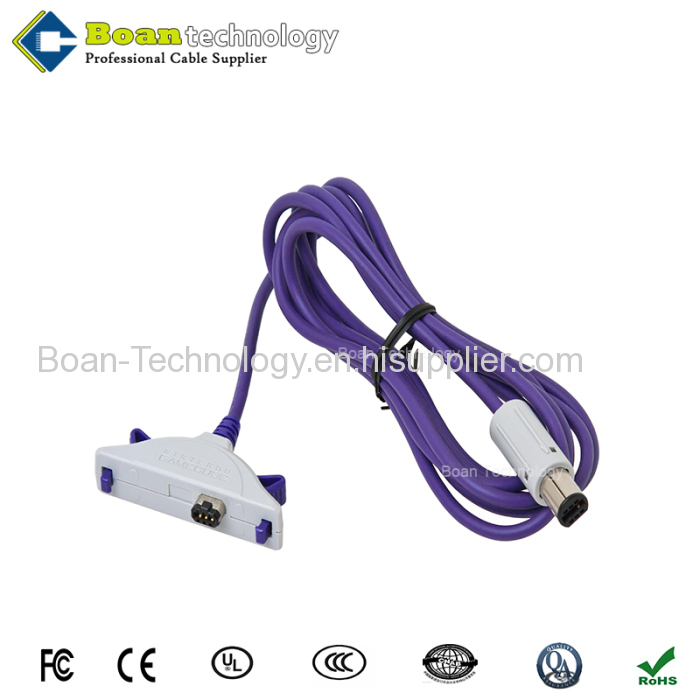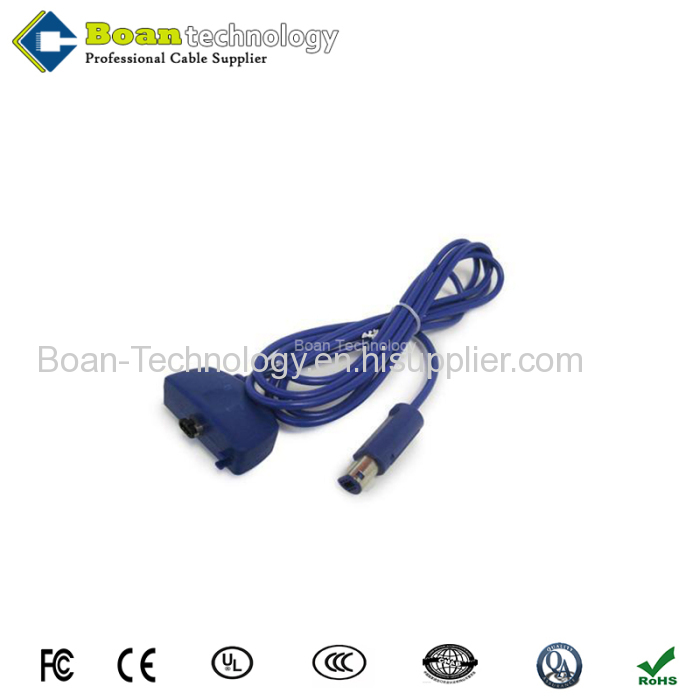 Our Factory
Boan Technology Co.,Ltd. is the cable manufacturer located in China.It is an enterprise mainly specializing in the OEM,ODM,manufacture,sale and service of various types of cables , professional in design and manufacture all kinds of special cables,have accumulated rich experience in development and production for kinds of cables and its related connector and adapter.
We are able to provide high quality cables which maches different environmentally friendly standards in all countries.Our products have been adopted by numerous well-known manufacturing companies.

Logistics

The unrelenting effort of the logistics department results in consistently prompt deliveries, and all custom cable products are inspected and packaged to align with the specifications of clients.
We have created a custom cable production and distribution protocol and can assist clients by furnishing them with a checklist of items to consider upfront. We help our clients avoid missing crucial details.
In today's economy most manufacturers are looking for ways to reduce inventory levels. Our logistics department is well aware of this demand and we help our clients to maintain low inventory levels of wiring components, delivering needed quantities in time for production.
This is a delicate balancing act which takes in the consideration of shipping costs, delivery time and production scheduling but we always do our best to find most cost-effective solution.
Collaborating with Boan Technology will save you more than just money. It will also save you in the priceless areas of time and effort when it comes to outsourcing custom cable and wire harness. As a leader in custom cable manufacturer for more than 10 years, we are confident in guaranteeing unmatched quality and service that consistently surpasses expectations.

Payment Methods

Our usual payment term is Wire transfer ( T/T or Paypal)
T/T (this will depend on the order status, Mostly pay in advance)
Paypal (When payment is less than 1000USD,Most used for customized sample order )
Alibaba Secure (Paymentt more than 3000USD)
We also accept:
1). Western Union payment, (special for urgent and critical order)
2). L/C payment for large order, (this will depend on the order status)
Please note:Always remember that our T/T company account name is Boan Technology Co.,Ltd before make payment .Do not trust anyone using any similar email who said account has been changed or provide a fake account.
Our Services


Custom Cable Manufacturing:We manufacture a vast array of custom cable assemblies for a multitude of industrial and consumer product applications.
Wire Harness Manufacturing:Our wiring harness manufacturing capacity allows us to satisfy most demanding engineering and production requirements.
Cable Design:We offer cable design to all OEMs. This involves creation of a digital mock up of a cable which satisfies your specifications.
Cable Engineering:Our experienced cable engineering specialists can help you to transition your cable design to a mass production stage.
Cable Assembly Manufacturer:We manufacture both complex custom cable assemblies and standard cable assembly products.
OEM Cables:We manufacture a full spectrum of custom cable and wire harness assemblies for a multitude of industrial and consumer product applications.
High quality well built products .
Absolute competitive prices.
Real SHORT lead time .
Good after-sale service .
Green products eco-friendly.
We look forward to cooperating with you. Contact us today! We will be at your service sincerely!
Contact us
Telephone:86-755-89610660
Mobile Phone:18676366302
Fax:86-755-89610660
E-mail:boan6@cablesec.com
Company Name :Boan Technology(Shenzhen) Co,Ltd
Operational Address:Floor 2, Bldg. 3, Nanhe Ind. Zone, Busha Road, Longgang Dist., Shenzhen,Guangdong,China (Mainland)