CE approved advanced ring die wood sawdust pellet mill
Pellet Mill Machine Application
Tony wood biomass wood pellet mill machine is mainly used for medium and big process plant. Wood pellet mill machine is a new generation of energy-saving green power products, researched and developed by our researcher newly. Wood pellet mill machine is mainly used to compress crushed wood, corn straw, plant waste, bamboo powder, grass, straw, rice husk etc. into pellets. Machines adopt bipolar speed adjusting, and have the characteristics of low power consumption, reasonable structure, economic and durable.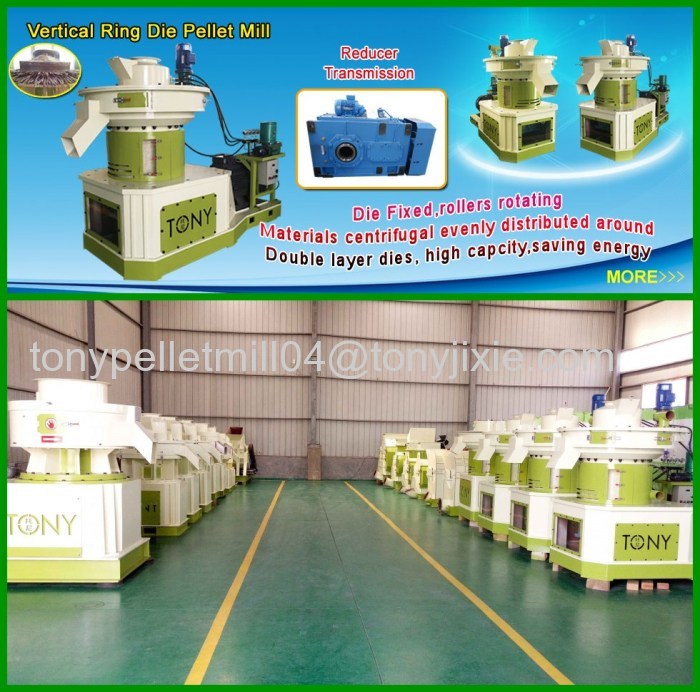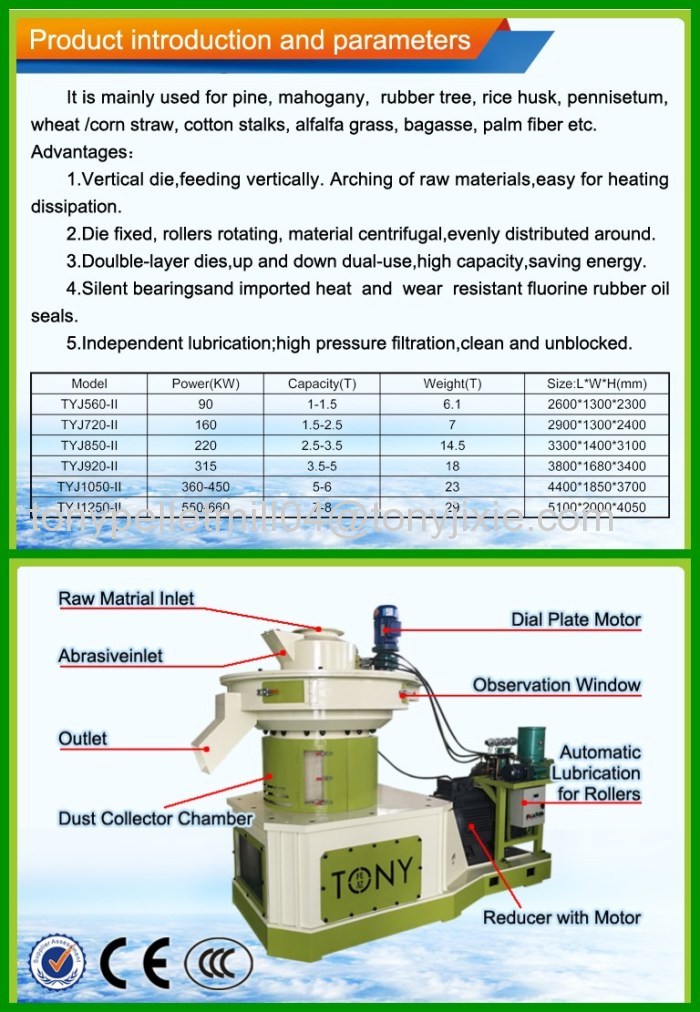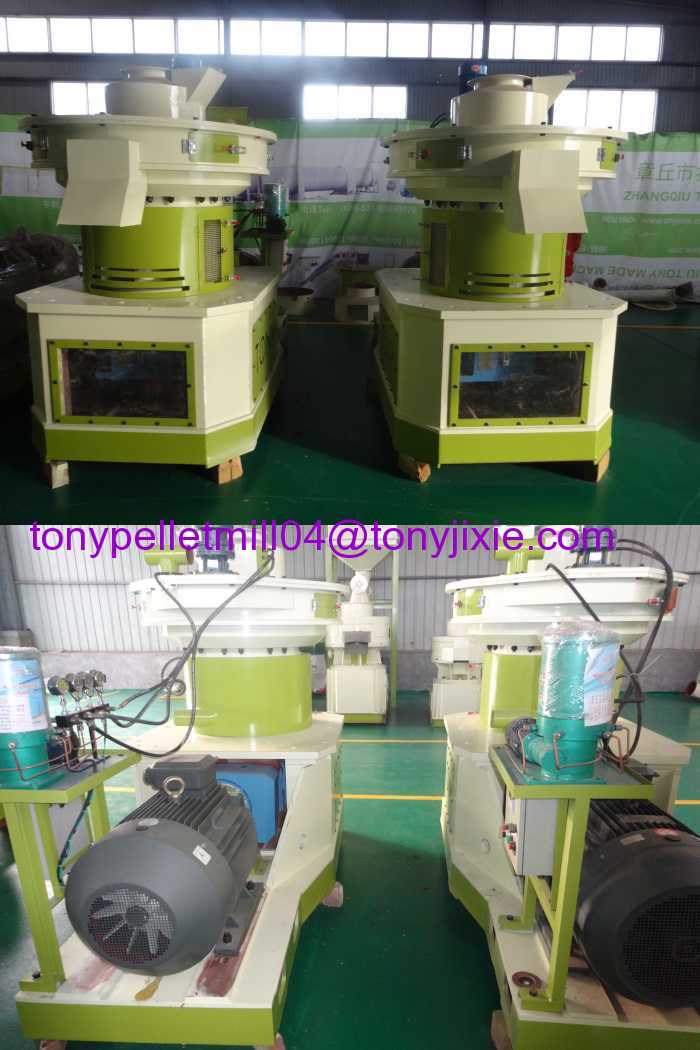 Main Features for wood biomass pellet mill machine



1). TONY wood biomass pellet mill machine price are mainly used for pelletizing all kinds of biomass pellets, such as wood sawdust, straw, rice husk and coffee husk etc.

2). The main drive adopts high precision gear driving and the capacity is increased by 20% than belt drive.

3). Super quality bearing and oil seal to ensure high efficiency, stability and low noise.

4). Vertical die ,feeding vertically;No arching of raw materials ,easy for heating dissipation.

5). The pellet press adopts double-layer dies ,up and down dual-use ,high capacity ,saving energy.

6). Die fixed,rollers rotating ,materials centrifugal ,evenly distributed around.

7). TONY wood biomass pellet mill machine price adopts independent and frequency changeable cutting device,ensure formation rate of pellets.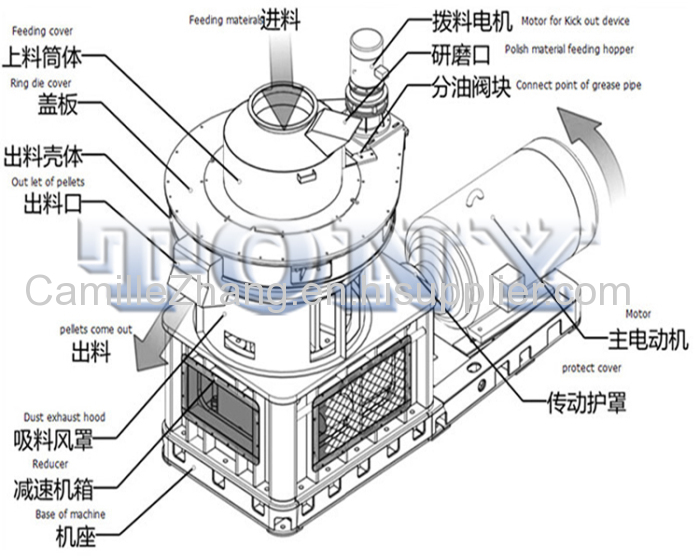 Rollers




Be made of alloy steel and stainless steel with longer service time:3000-4000 hours.


Ring Die
Double layers with longer service time: 1000-1500 hours;
Be made of alloy steel and stainless steel with professional heat treatment tech.

Main Shaft

Be forged three times by traditional handcraft to reach best toughness and hardness, not easy to broken.

Vertical motor

working vertically; Mounting hole is centered with shaft and equally distributed, offering more power and working stability for the pellet machine.

Driving method

drived by reduction box.

Working method

pressing from the inside to outside, centrifugal force with eatrusion

Automatic lubrication


A.Spindle automatic lubricatin system
B.Roller automatic lubricatin system :it can keep the pellet machine in maintenance for 24hours
Requirements for raw materials of wood biomass pellet mill machine
Raw material: wood, waste wood and straws, etc. such as woodchips(palm, pine white pine, mahogany, pinus sylvestris, rubber tree), bamboo shavings, rice hust, seeds shells, peanut shells, halm, pennisetum, wheat straw, corn stalk, cotton stalks, alfalfa grass, bagrass, palm fiber, waste paper, non-physical material

Size: Less than 5mm (All the raw materials must be crushed into sawdust before going to wood pellet machine.If not, you may need a wood chipper, wood crusher.)

Moisture:Generally, 10-15% is best for producing good quality wood pellet.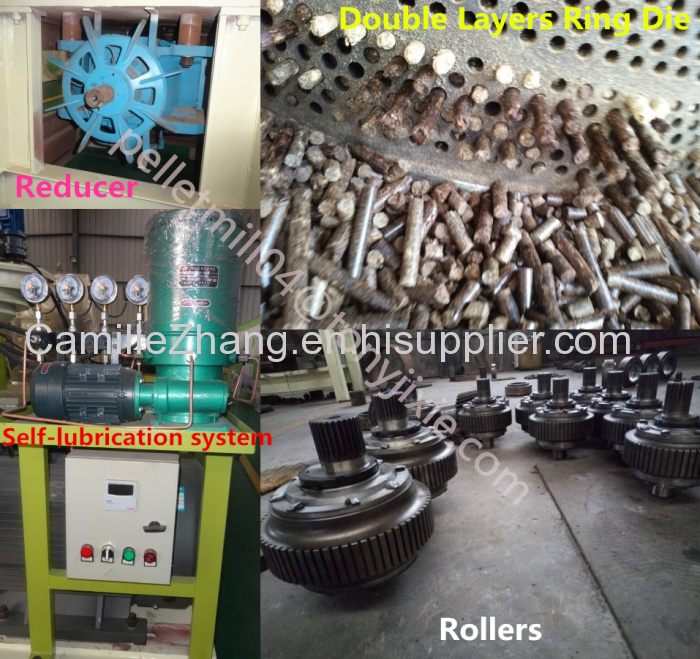 Double-layers Ring Die
All kinds of pellet machine only have 1 die(ring die).
Material: alloy, stainless steel
Life time: 3000-4000hours
1,The professional heat treatment processing technology can make its hardness above HRC62.
2. Vertical Ring die, feeding vertically.
3,. Double-lay die, dual use. When one side is damaged, turn over and use the other side.
4,the compression ratio can be custom made
Rollers of biomass pellet mill machine

1.Number of rollers:2 pieces
2,Die fixed, rollers running, materials centrifugal and evenly distributed around.
3,Structure:roller shell and bearing
4,Working life of rollers:1500-2000 hours
Spindle of biomass pellet mill machine
1,Our main shaft is forged.

2,no air insde the main shaft while being forged

3,hard to be broken while high-speed running
Motor of biomass pellet mill machine
Efficiency high overload capacity, low noise, small vibration

reliable structure.
Rated Voltage 380V Rated Frequency 50HZ
400V 415V 420V 440V 690V 1140V and 60HZ ect.
Can also be made according to customers' requirements.
Reducer
1.Reducer transmission.

2.High efficiency,easy maintain and repair.
Self-lubrication System
Lubricating rollers to make the pellet press machine continuously run for 24 hours(using lubricating grease).


It also has the warning function when high pressure/temperature or low pressure/temperature appear.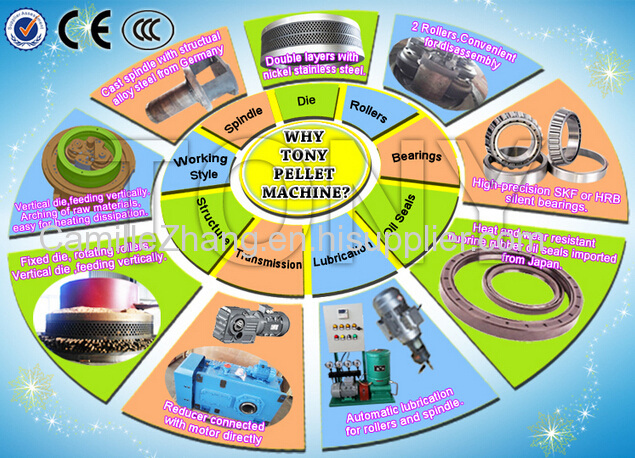 Parameters of the pellets produced by TONY biomass pellet mill machine:

calorific value: >4500~4800 kcal/kg
density: >1.1~1.3t/m³
moisture: <=10%
combustion ratio: >=98%
heat efficiency: >=81%
ringelman emittance :<1
discharged dust consistence: <=80mg/m³
ash content: <=2%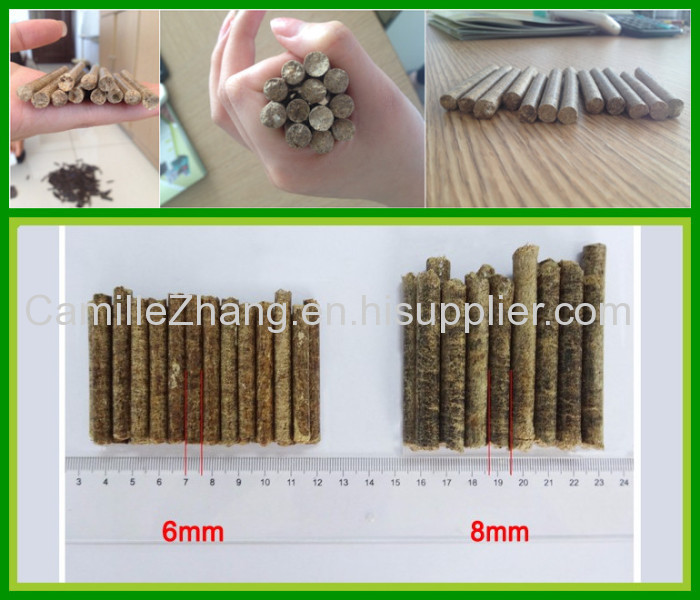 Our Service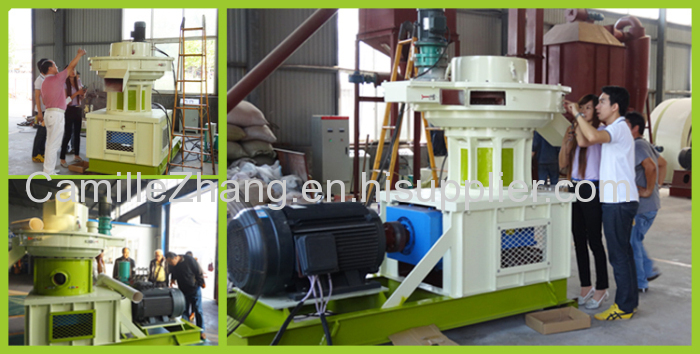 ZHANGQIU TONY MADE MACHINERY CO., LTD is a professional manufacturer and exporter engaged in the research, production, sale and service of Biomass wood pellet line, wood pellet mills, feed pellet mills, grinding equipment, crushing equipment, drying equipment, cooler and other screening, conveying equipment.

We can supply the machines as following:

1.The SKJ Series flat die pellet mill with the volume 100kg per hour to 4 ton per hour.
2.The TYJ Series ring die pellet mill with the volume 800kg per hour to 5 ton per hour.
3.The SKJD Series Pellet Mill with Diesel Engine with the volume 100kg per hour to 400kg per hour.
4.The SKJT Series Pellet Mill with Tractor Engine with the volume 80kg per hour to 400kg per hour.
5.Straw Hammer Mill
6.Wood crusher
7.Wood chipper
8.Drum dryer
9.Packing machine

10.Whole pellet making production line from the volume 0.5 ton to 20 T/h.
| | | | | |
| --- | --- | --- | --- | --- |
| model | power(kw) | capacity(T) | size(mm) | weight(T) |
| TYJ560-II | 90 | 1-1.5 | 2600*1300*2300 | 6.1 |
| TYJ720-II | 160 | 1.5-2.5 | 2900*1300*2400 | 7 |
| TYJ850-II | 220 | 2.5-3 | 2150*1180*1950 | 14.5 |
| TYJ920-II | 315 | 3.5-5 | 3800*1680*3400 | 18 |
| TYJ1050-II | 360-450 | 5-6 | 4400*1850*3700 | 23 |
| TYJ1250-II | 550-660 | 7-8 | 5100*2000*4050 | 29 |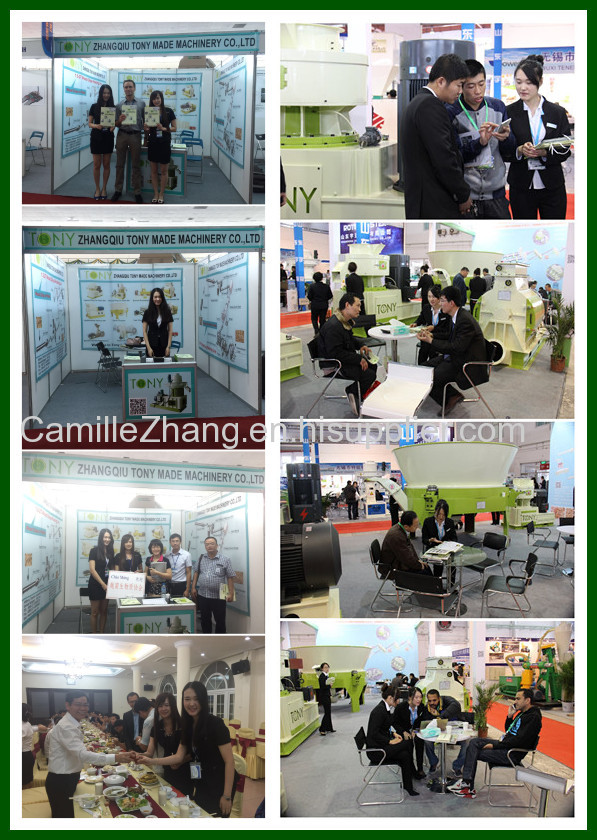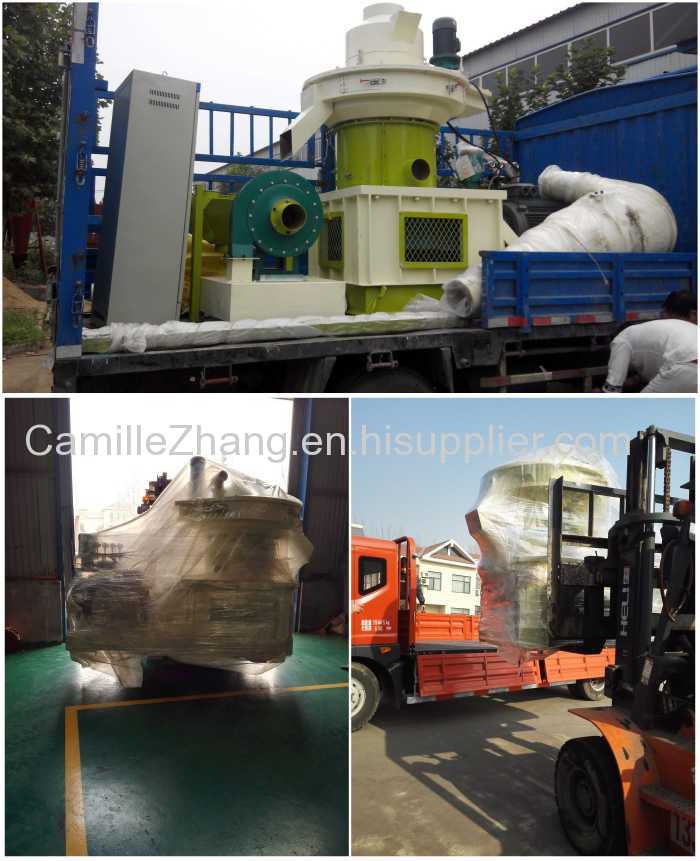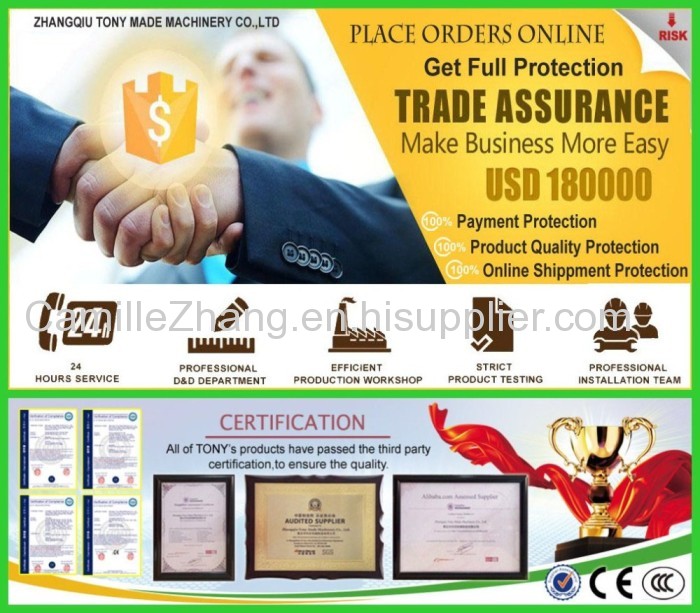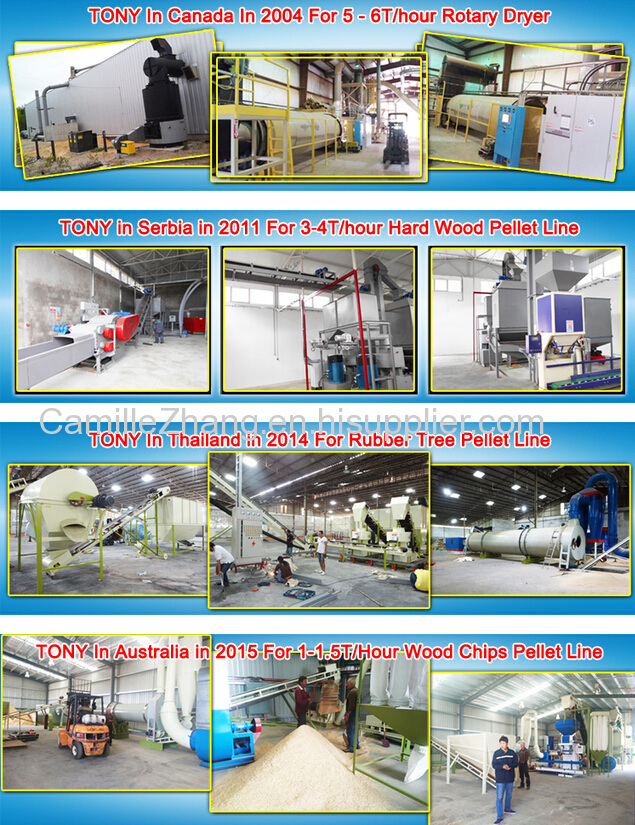 Contact Information
For information about the discount, the price, the payment terms, the delivery time, etc, pls just contact me without any hesitation , and my contact information is :

Camille Zhang
QQ:1493192119
Skype:tonypelletmill_03
Email: pelletmill04 at tonyjixie.com
TEL:+86 15854105988