Quick Detail:
Type:Station anode x-ray tube
Application: For intra-oral dental x-ray unit
Model: XD4-2,9/100
Integrated high quality glass tube
Description:
This tube, XD4-2,9/100 is designed for general medical diagnostic x-ray unit and available for nominal tube voltage with self-rectified circuit
XD4-2,9/100 tube has two focus.
The integrated high quality tube with glass design has one super imposed focal spot and a
reinforced anode.
The high anode heat storage capacity ensures a wide range of applications for general diagnostic x-ray application. A special designed anode enables an elevated heat dissipation rate which leads to a higher patient throughput and a longer product life. A constant high dose yield during the entire tube life is ensured by the high density tungsten target. Ease of integration into system products is facilitated by extensive technical support.
Applications:
This tube, XD4-2,9/100 is designed for general medical diagnostic x-ray unit and available for nominal tube voltage with self-rectified circuit
Specifications:
Nominal Voltage:...........................................................................................................................................................100kV
Nominal Inverse Voltage.............................................................................................................................................110kV
Nominal Focal Spot...................................................................................................................1.8, 4.2(IEC60336/1993)
Filament Characteristics....................................................................................................................small 4.5A, 5±0.5V
...................................................................................................................................................................large 4.5A, 10±1V
Target Material .......................................................................................................................................................Tungsten
Target Angle........................................................................................................................................................................19°
Max. Anode Heat Content ........................................................................................................................................55000J
Continuous Rating.......................................................................................................................................................450W
Permanent Filtration............................................................................................Min. 0.6mmAl/50KV(IEC60522/1999)
Nominal Anode Input Power.....................................................................................................................small: 2500W
........................................................................................................................................................................large: 10000W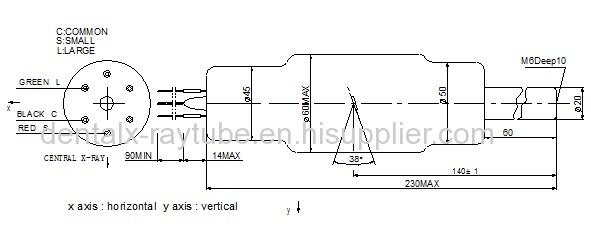 Competitive Advantage:
Elevated anode heat storage capacity and cooling
Constant high dose yield
Excellent lifetime
Detailed Images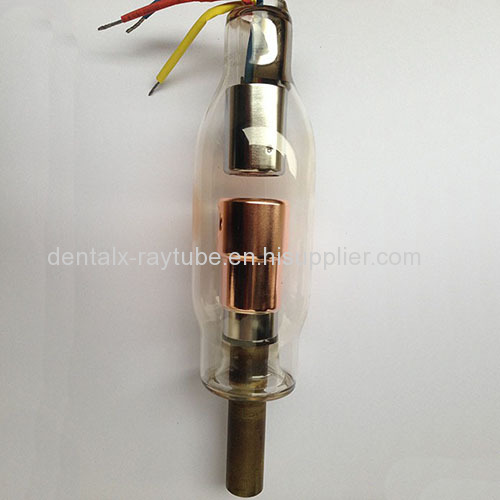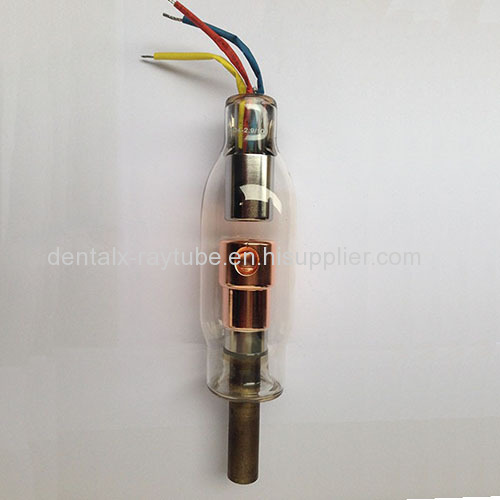 For more type of our x-ray tube, please see the following chart:
BRIEF SPEC.OF STATIONARY ANODE X-RAY TUBE

Type

Equivalent

Nominal Focal Spot Value

Max

Rating

(W)

Max.

Voltag

(kV)

Filament Characteristics

Target

Angle

( °)

Anode

Heat

Content(KJ)

Dimension

Length

×Diameter

KL1-0.8-70

CEI OX/70-P

0.8

840

70

2.2A 3.6V

19

7

80×30

KL2-0.8-70G

CEI OCX/65-G

0.8

560

70

2.8A 4V

19

7.5

80×30

KL5-0.5-105

OPX/105

0.5

950

105

3.5A 5.5V

5

35

140×42

KL10-0.6/1.8-110

CEI 110-15

0.6/1.8

600

/5200

110

4.5A 5V/
4.5A 6.3V

15

30

155×50

KL11-0.4-70

Toshiba D-041

0.4

430

70

3A 3.2V

12

4.3

67×30

KL12-1.5-85




1.5

1800

85

2.5A 2.8V

23

10

105×30

KL13-2.6-100




2.6

3500

100

4.5A 7.8V

19

30

180×50

KL20-2.8-105

CEI OX105-6

2.8

6000

105

5A 10V

19

30

145×50

KL22-1.8-90

CEI OX90-2

1.8

2200

90

4.3A 6.5V

19

20

140×42

KL25-0.6/1.5-110

CEI 110-5

0.6/1.5

600/
3500

110

4.5A 5V/
4.5A 6.3V

12

30

145×50

KL27-0.8-70

CEI OX/70-M

0.8

840

70

2.1A 2.8V

19

7

72×30

XD2-1.4/85




1.5

1800

85

2.6A 3.0V

23

10

105×30

XD3-
3.5/100




2.6

3500

100

4.5A 7V

19

30

180×51

XD3A-
3.5/105X

CEI OX105-4

2.6

3500

100

4.5A 7V

19

30

178×51

XD4-
2,9/100




1.8/4.2

2500/
10000


100

4.5A 5V/
4.5A 10V

19

55

230×60

XD6-1.1,3.5/100




1.0/2.6

1100/
3500


100

4.5A 3.7V/
4.5A 7.8V

19

30

180×50

XD9-
3.1/100




2.2

3100

100

4.5A 8.5V

19

30

147×50