Automatic Power Tool Motor Armature rotor Winding Machine Rotor Assembly Line
Nide produces a full range of rotor production machine. It can be customized as per different requirement. This rotor assembly line consistes of armature winding and fusing machine, armature wedge inserting machine, commutator turning machine, rotor balancing machine and armature testing machine.
The autoamtic motor armature manufacturing line Process:
insulation paper inserting --rotor winding ---commutator fusing---wedge inserting-commutator turning-----armautre balancing-----armature testing.

This automation rotor manufacturing assembly line is consisted of below machines, insulation paper inserting machine, rotor winding machine, commutator welding machine, wedge inserting machine, and rotor testing machine. The rotor will be carried by mechanical arm and converyor to the next machine.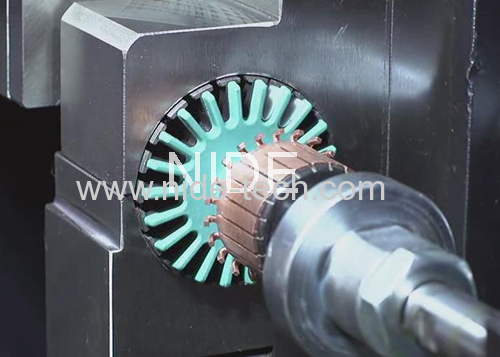 Insluation paper inserting machine

This machine is used to inserting paper into rotor slot. The insulation material can be as per customer's requirement, DMD, DM, polyester film are all can be used in this machine.
Main technical data:
| | |
| --- | --- |
| Speed regulation range: | 0~60Hz |
| Insulating paper: | provide by the purchaser:PET,DMD and DM, ect |
| Insulation length: | 15~60mm adjustable |
| Insulating paper shape: | Insulating paper shape: V type or flanged V type |
| Insulation thickness: | 0.17~ 0.3mm |
| Efficiency: | 0.5 ~ 0.8S/per slot,loadingclampfeedingunloading |
| Air pressure: | 4~6kg/cm2 |
| Tooling/fixture: | fast changing integrity forming wheel structure |
| Machine power: | 1KW |
| Power: | AC220V±10%(Voltage fluctuation range is less than 10%) 50/60Hz |
| Machine weight: | About 300Kg |
| Dimension: | 1350mm(length) x480 mm(width) x 1720mm(height)3 |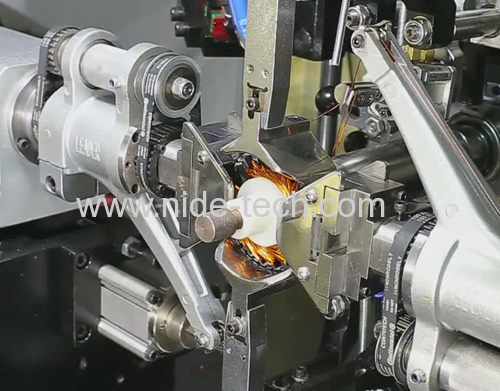 Rotor winding machine
After doing paper inserting machine, mechanical arm and converyor will carry the rotor the rotor winding machine position. The machine is equipped with touch screen and PLC, winding parameter could be set and modified on the screen.

Commutator welding machine
It can weld both riser and hook type commutators. This machine is applied to DC motor and universal motor. It is controlled by PCL, all the data setting can be done on the touch sreeen. There are four power control method, namely secondary constant current, secondary constant voltage secondary constant frequency.



Wedge inserting machine
The wedge material can be as per customer's requirement, DMD, DM, polyester film are all can be used in this machine.

Rotor testing machine
It is suitable for testing less than 72 segments armature. The Voltage withstand test time could be set as per different requirements. Testing items could be screened.Testing data saved automatically, and could be traced and printed at any time


Applications:
It is suitable for power tooling motor armature production, especially with a great production valume.

Information needed for rotor production line inquiry
It will be better if customer could send us detailed drawing including below information.
1. Rotor lamination drawing
2. Rotor assemble drawing
3. Rotor stack drawing
4. Rotor winding diagram drawing: with rotor wire diameter and turn number
5. Commutator drawing
6. Shaft drawing
7. Required residual unbalancing volume and initial unbalancing volume
8. Wedge and insulation paper material
9. Required productivity
10. Other technical requirement
If possible, it will be better if customer can send us samples.