Switchable Magnet Welding Holder
with Different Angles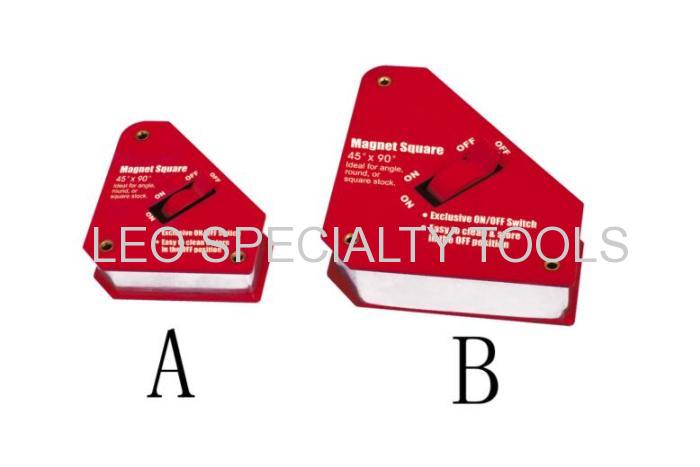 Description:
These strong and compact magnets provide a fast and easy way to hold two pieces of steel together at 45°, 90° while they are welded, soldered and assembled.
Every magnet has a mechanical switch – when turned off there is no external magnetism so they can be freely and accurately positioned then when turned on the magnets clamp in place.
In addition, the switching mechanism allows the magnet to be quickly and easily cleaned, for when it is switched off any metal swarf can simply be wiped off.
The strong clamping force makes these magnets ideal for flat pieces, round and square tubing.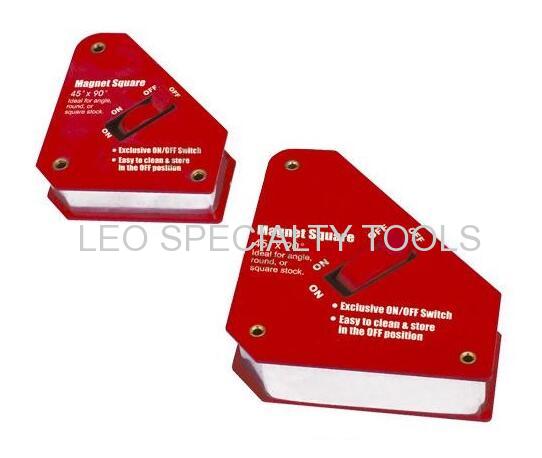 Specification:
| | | | |
| --- | --- | --- | --- |
| Item No. | Size | Description | Pull force |
| LT2002A | 4-3/8"×3-3/4"×1" | 45°,90° | 30lbs |
| LT2002B | 6"×5-1/8"×1-1/2" | 45°,90° | 55lbs |
Features:
MAGNETIC - This welding piece holder is magnetic so it can hold work pieces at multiple angles while leaving your hands free to work more safe and efficiently.
DURABLE - These welding holders are made of a heavy duty construction that can hold material without any wear whatsoever and will last through years of use.
ARROW SHAPE - The Arrow shape design of this allows you to work with different angles while welding pieces. Can be used for 45, 90 degree angles.
CONVENIENT- compact design of magnetic holders make them super convenient and portable to bring around in any work environment.