1.Description
This part was made in first grade Steatite material. It was white or yellow ceramic block or spacer, which was designed per customer request. Color was white or yellow.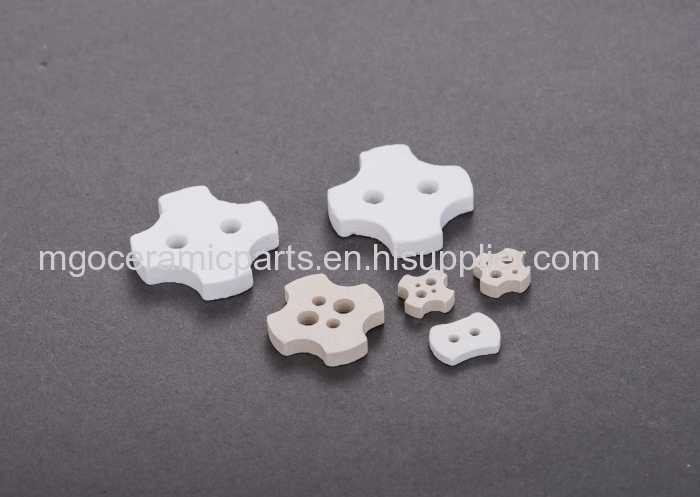 Steatite ceramic block
We also can design the parts per your detail request, where they can be used well. The follow was the standard
dimensions:
2. Physical performance

This part had very good physical performance in resistance high temperature in their working condition. Also, they had the very good insulation ability. They were widely used in industrial mechanical equipment components and some other home electric appliance. The block or spacer can resist the very high temperature and good performance in insulation. It will be
very helpful to make the appliance works well.
3. Process
We can make the precise hot pressing mould per customer drawing dimension request. And choose the first grade steatite material formual to meet customer actual request. Using automatic machine to form and advanced pushed slab kiln firing the half-finished part with accurate and stable temperature to gurantee the parts good quality. After finished parts, we will arrange 100% inspection for the parts appearance to avoid the crack or other defects. We also arrange the
dimension inspection before shipment. And finally we will arrange the careful packing, then on time shipment.
4. Capacity
Each month 60,000pcs
5. Quality and shipment
We will inspect all our parts before shipment to gurantee the dimension was OK and the appearance without any defects.
Our quality system was ISO 9001. We will always supply customer ontime shipment service.
6. Quality feedback
If you found out any defects in the shipment, we will send you the addtional quantity to you soon as we can. And i will give
you the 8D report to find the root cause to avoid this next time.
7. Payment
We can accept TT. And if you have concerning, we can have discussion
8. Customer service
We can design the parts per customer request and parts working conditions. We also can make the parts per customer
drawings request.
10. Advantage
We were not trading company. We were professional manufacturer. We can control the whole process from
material to finished parts and shipment and business process. We can export the parts ourselfves and can
save so much cost and keep the prices competitive.