FYI offers Pipe Ring Stiffness Tester is designed to measure the ring stiffness,ring softness and creep rate for plastic pipe.
MODEL NO.:
UTM-1411 Pipe Ring Stiffness Tester
Application:
UTM-1411 Pipe Ring Stiffness Tester is applies to determine thermoplastic pipe ring stiffness which with a circular cross section. And it can also be applied to flat experiment, ring flexibility experiment, etc. The instrument meets the requirement of test standards for PE double-wall corrugated pipe, coil pipe and all kinds of plastic.
It is a necessary testing instrument for the scientific research institutes, quality inspection departments and tubing manufacturers.
Pipe Ring Stiffness Tester is controlled remotely from a PC that can be placed a safe distance away from the frame. The easy to use software is included with the frame and can be installed on any newer PC.
Related Standards:
| | | | | | |
| --- | --- | --- | --- | --- | --- |
| STANDARDS | ISO 9969 | | BS EN 1979 | ASTM D2122 | GB/T9647 |
Note: this Pipe Ring Stiffness Tester can conform to but not limit to all the standards above, for more standards conformance, please contact us. ISO 9969-2007, ISO9967
Features:
1.With overload, over-current, over-voltage and over temperature protection function, and is equipped with pipe inner diameter measurement system, can accurately measuring inner diameter changes of the pipes;
2 PC software control machine, the operation is simple. the transmission system with distributed control system composed of PC and single chip microcomputer control digital ac servo motor, to control the beam move up and down according to standard requirements speed , pressure on the pipe sample by sample clamp.
3. Force value detection part adopts piecewise linear correction method ensures the machine of high precision, high stability;
4. The software provide function: test parameter set, the standard input, measurement, data analysis, experiment curve color Set, process control, print test reports, test reports export to HTML web pages, and other functions.
5. In process of test, you can open multiple test records and can do all operations.
6.The software provide: force - displacement, stress - strain, stress - displacement, displacement - time strain- time and etc. type curve, and provides a curve archived bitmap, curve smoothing, zoom, coordinate system configuration, and many other functions.
7.Free to add or remove regular parameters. Using the latest agreement, data fault-tolerant ability is stronger.
8. Software provides online update, convenient to upgrade your software system, and provide a feedback module, help you solve your problems.
9. This Pipe Ring Stiffness Tester has passed the European CE product certification.
Key Specification:
1. Maximum load value 30KN
2.Load accuracy <±1%
3. Force display resolution 1N
4. Suitable diameter (inside diameter) range Ф300mm~Ф2000mm
5.Move speed(stepless) 0.5mm/min~200mm/min
6. Return speed 200 mm/min
7.Speed tolerance <±1%
8. Displacement accuracy 0.01mm
9. Instrument dimension (L×W×H) 1360mmX650mmX3600mm
10. Power supply 220VAC 50HZ
11. Need environment temperature 10℃~40℃
12. Need environment humidity 30%—80%
Standard configuration:
| | | |
| --- | --- | --- |
| No. | Item | Quantity |
| 1 | Main Machine | 1 set |
| 2 | Planetary reducer | 1set |
| 3 | Import Ac servo motor and servo system | 1 set |
| 4 | Import load cell | 1 pcs |
| 5 | Clamp for ring stiffness/flexibility | 1 set |
| 6 | Inner diameter measuring system | 1 set |
| 7 | Computer | 1 pcs |
| 8 | software | 1 set |
| 9 | printer | 1 pcs |
| 10 | wireless remote-control unit | 1 pcs |
| 11 | power cord | 1 pcs |
Optional Accessories:
| | | |
| --- | --- | --- |
| No. | Item | Quantity |
| 1 | Software for creep ratio | 1 set |
| 2 | Clamp for creep ratio | 1 set |
| 3 | Clamp for tensile strength of a seam | 1 set |
| 4 | Software for tensile strength of a seam | 1 set |
Good service and quantity .
A. We supply one year warranty and 12 hours service per day .
B. Our skilled engineer can go to your company for installation service
C. Our Pipe Ring Stiffness Tester adopts top quality material including imported parts, most of the critical component are adopting first class brand .
D. Our company passed ISO and have strict quality control before delivery goods
E. We can customized and also supply OEM service
F.. We also can supply different language user's manual . The
user manual of Pipe Ring Stiffness Tester can help you operate our machine easily.
G ; we supply operation video if customer need it . .
Payment and delivery :
A..We accept payment such as TT , Western union, and L/C,DP etc . you can contact with us if you need
B. Normally we can delivery time in 3-4 weeks it depend on we have stock or not .
FAQ
Q: Are your company a trading one or a factory?
A:Factory + trader , 30 years focusing on test instruments field
Q What's about delivery time ?
A: Generally about 2-3 Weeks , If we have stock , we can arrange shipment within 3 days after re-tester in our factory , Some machine need customized. Deliver time is longer .

Q: What about the warranty with after - sales services?
A: The testing machine is guaranteed for 12 months by Hefei Fanyuan Instrument
of course .we can help you to repair your problem controller freely ,even it's not from our factory.
After the warranty, the professional after-sale service team will provide perfect technical support and help customer solve problems encountered while using our product, handles guest problems and complaints in a professional and timely.
Q:What about services and quality?
A:Each Pipe Ring Stiffness Tester must be carried out 100% quality examination and test when shipping and delivery goods.
Each of our product provide video training to show you how to install & operate.
We can arrange engineer to train the operation of equipment to customer's company when you need.
our products are widely recognized and trusted by users.
Related photeos :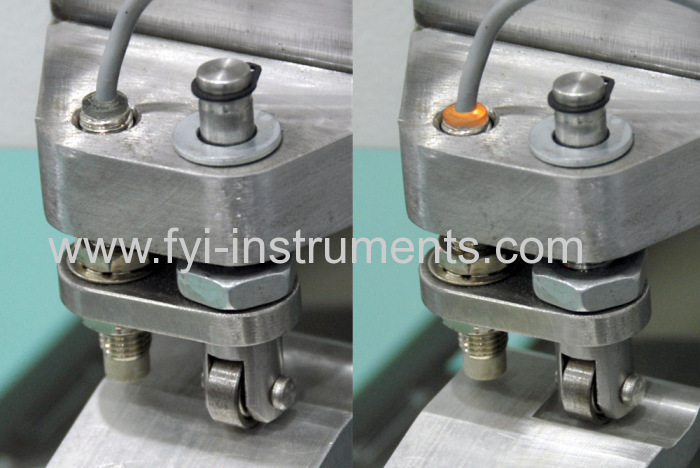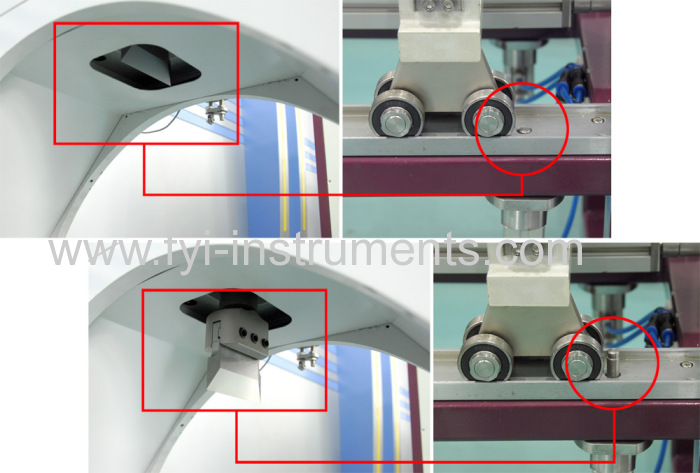 Notched Izod Impact Strength Tester
MODEL NO.
DW5410A/B Notched Izod Impact Strength Tester
APPLICATION
DW5410A/B Notched Izod Impact Strength Tester . This instrument is used for impact toughness testing of nonmetal material, such as rigid plastic, reinforced nylon, glass fiber reinforced plastics, ceramics, cast stone, insulating material, etc. The tester is common testing equipment, which widely used in education school, scientific research units and factories.
STANDARDS
STANDARDS

ISO180:2000

ASTM D256

GB/T 1843-2008

JB/T 8761-1998
Note: this Notched Izod Impact Strength Tester can conform to but not limit to the standards above, for more standards conformance, please contact us.
FEATURES
l Simple structure, easy to operate;
2 High accuracy, high precision;
3 In full compliance with standards;
KEY SPECIFICATION
l Impact energy
DW5410A 1J, 2.75J, 5.5J
DW5410B 11J, 22J
2 Moment of pendulum
DW5410A 0.5155Nm (1J); 1.4177Nm (2.75J); 2.8355Nm (5.5J)
DW5410B 5.671Nm (11J); 11.3419Nm (22J)
3 Min. division value of scale
DW5410A 0.01J (0~1.0J), 0.025J (0~2.75J), 0.05J (0~5.5J)
DW5410B 0.1J(0~11J), 0.2J(0~22J)
4 Impact velocity 3.5m/s
5 Angle of pendulum 150゜
6 Distance between jaw and impact edge 22mm±0.2mm
7 Corner radius of impact edge 0.8mm±0.2mm
8 Dimension 830×300×890mm
9 Weight about 80kg
STANDARD CONFIGURATION
Model

Item

Main machine

Pendulum

Weight

centering plate

DW5410A

1 set

2 pcs

1 pair

1 pcs

DW5410B

1 set

1pcs

1pair

1 pcs
OPTIONAL ACCESSORIES
No.

Item




Good service and quantity .

A. We supply one year warranty and 12 hours service per day .

B. Our skilled engineer can go to your company for installation service

C. Our ASTM D256 Notch Impact Test adopts top quality material including imported parts, most of the critical component are adopting first class brand .

D. Our company passed ISO and have strict quality control before delivery goods

E. We can customized and also supply OEM service

F.. We also can supply different language user's manual . The

user manual of ASTM D256 Notch Impact Test can help you operate our machine easily.

G ; we supply operation video if customer need it . .

Payment and delivery :

A..We accept payment such as TT , Western union, and L/C,DP etc . you can contact with us if you need

B. Normally we can delivery time in 3-4 weeks it depend on we have stock or not .

FAQ

Q: Are your company a trading one or a factory?
A:Factory + trader , 30 years focusing on test instruments field

Q What's about delivery time ?
A: Generally about 2-3 Weeks , If we have stock , we can arrange shipment within 3 days after re-tester in our factory , Some machine need customized. Deliver time is longer .

Q: What about the warranty with after - sales services?
A: The testing machine is guaranteed for 12 months by Hefei Fanyuan Instrument
of course .we can help you to repair your problem controller freely ,even it's not from our factory.
After the warranty, the professional after-sale service team will provide perfect technical support and help customer solve problems encountered while using our product, handles guest problems and complaints in a professional and timely.

Q:What about services and quality?
A:Each Notched Izod Impact Strength Tester must be carried out 100% quality examination and test when shipping and delivery goods.
Each of our product provide video training to show you how to install & operate.
We can arrange engineer to train the operation of equipment to customer's company when you need.
our products are widely recognized and trusted by users.






RELATED PHOTES :







RELATED PHOTES :




ISO AND CE certificate :