Popular Outdoor used Wooden aluminum stage for Christmas Event Performance
Our stage can be assemble to be achoral satge, seated riser, catwalk, mobile stage,
custom satges & stage builder,stage ramp etc. Your any iquiry will be highly apprecitaed.
protable stage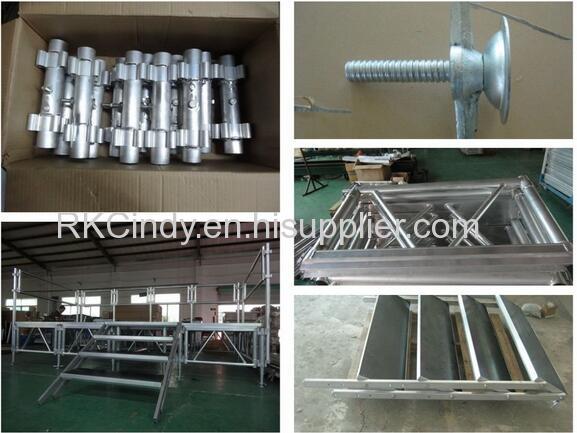 Features:
1. Design for the outdoor & indooor events, shows, conference, competition, exibition, auto show, carnival and so on.
2. Heavy duty capacity, sturdy and strong to set up and remove, Convenient transportation and save time, Smooth running, reduce vibration.
3. The colour and stage size can be changed.
4. It is very popular use in project, match with lighting truss, stage truss, spigot truss
5. Surface of plywood is non-slip, carpet, rubber, paint
Dimensions:
Specification

Dimensions(Set up) m

2.44m*1.83m

2.44m*1.22m

Dimensions(Storage) cm

183(L)*156(H)*60(W)

122(L)*156(H)*60(W)

Weight

160kg(40cm~60ccm,170kg(60cm~80cm)

117kg(40cm~60ccm,127kg(60cm~80cm)

Dual Height

40~60cm OR 60~80cm

Surface

Black OR Grey Carpet

Black OR Grey Carpet

Step(20cm Step)

1.2M X 0.36M

1.2M X 0.36M

Gudrail(Width)

W = 0.9M//1.0M/1.2M

W = 0.9M//1.0M/1.2M

Skirt

2m (W) * 40cm/60cm/80cm

2m (W) * 40cm/60cm/80cm
Load Capacity: 750kg/sqm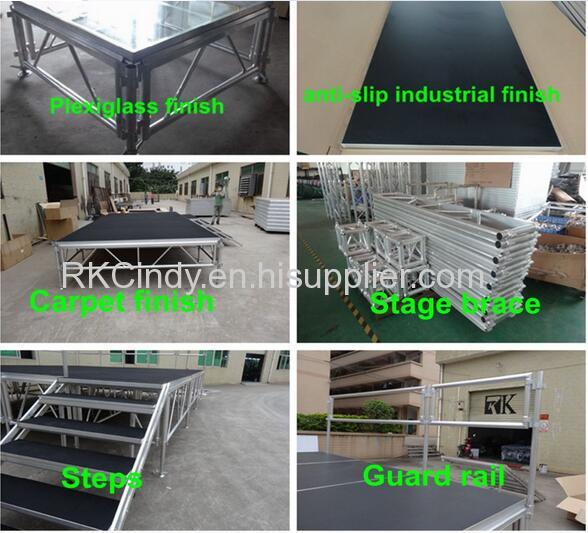 RK aluminum stage brace:
protable satge
1. High quality folding technics with aluminum tube,copper tube and ABS plastic base
2. Height:
0.4m,0.6m, 0.8m, 1m, 1.2m,1.5m, 2m
3. One riser can stack on another to make another height(the toppest height can not past 2M)
RK Aluminum stage:
protable satge