We have all range of Pneumatic and hydraulic components in SANMINSE store ,cylinder with MXQ.MXS.MXF.MXW.MXH.MXP.MXJ.CY1L.CY1S.CY3R.CY3B.CXSJ.CJP2.CJP.
All the models of cylinder. Any size or special design are welcome!
We can customize as customer request M:+86 15168536055 Desk phone: +86 88915660
Our products are high quality with 12 month warrant,and support paypal payment.
Wholesale trade are welcome!
Support by sea ,by air ,by courier
We will reply to your mail within one working day
If the product defective you can mail it to us to replace a,But you
need to provide additional postage
We are not responsible for any customs or import duties
Model : Pneumatic (non-lube) type
Action: Double acting, Single rod
Fluid : Air
Proof pressure : 1.5MPa
Maximum operating pressure : 1.0MPa
Ambient and fluid temperature : Without auto switch : -10℃ to 70℃(No freezing)
With auto switch : -10℃ to 60℃(No freezing)
Cushion : Rubber bumper on both ends
Stroke length tolerance : +1.0mm*
0mm
Mouting : Through-holes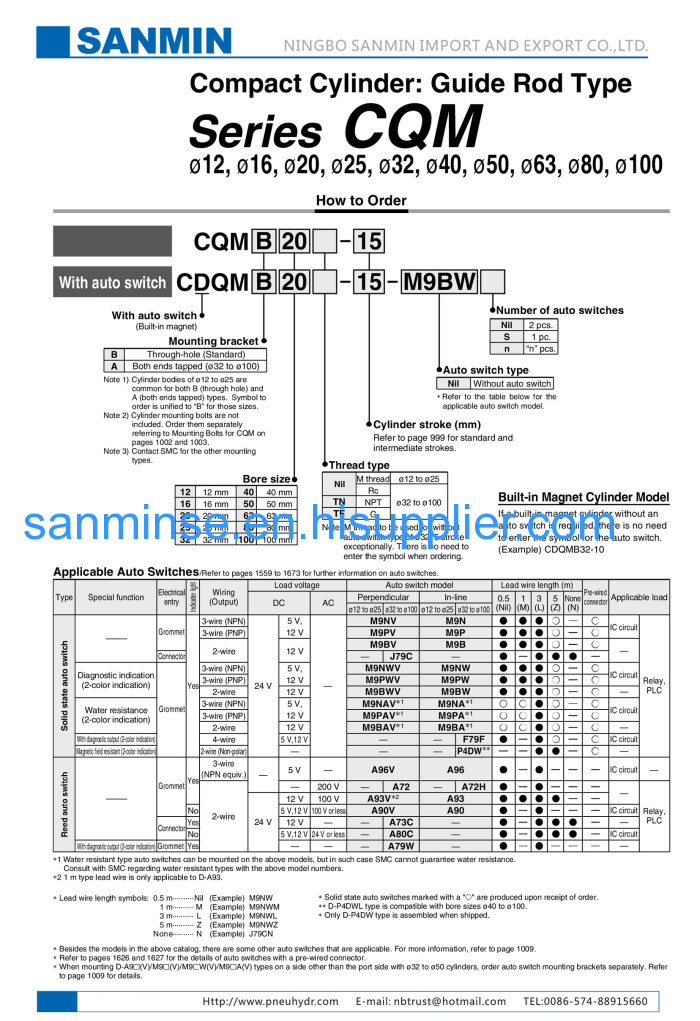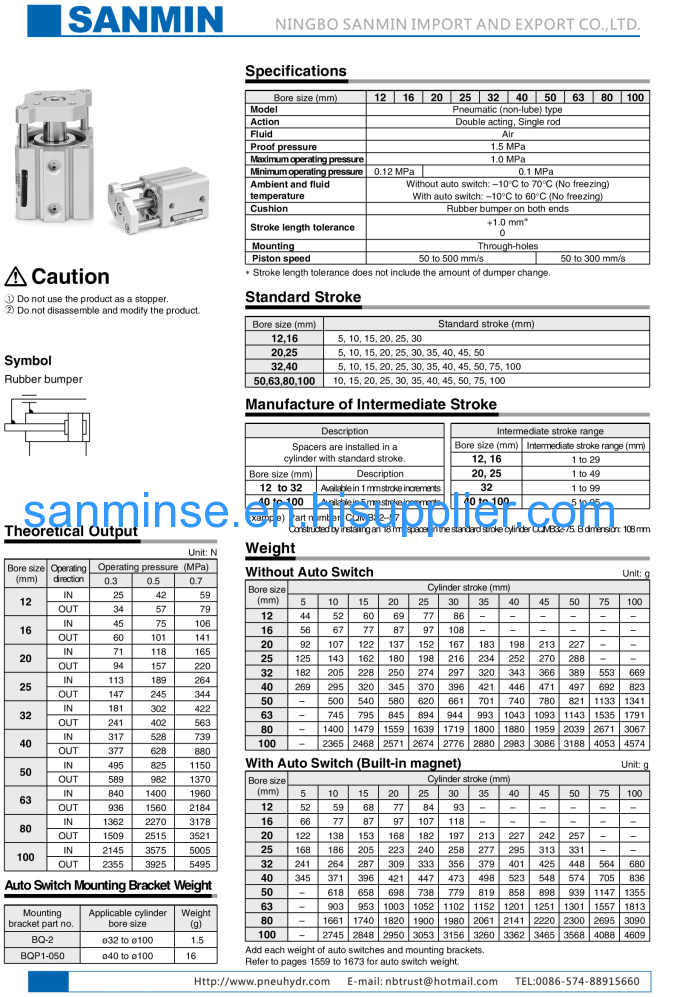 We have CQM 12-5 Compact cylinder, CQM 16-5 Compact cylinder, CQM 20-5 Compact cylinder,
CQM 25-5 Compact cylinder, CQM 32-5 Compact cylinder, CQM 40-5 Compact cylinder,
CQM 50-5 Compact cylinder, CQM 63-5 Compact cylinder,CQM 80-5 Compact cylinder,
CQM 100-5 Compact cylinder, CQM 125-5 Compact cylinder,CQM 12-10 Compact cylinder,
CQM 16-10 Compact cylinder, CQM 20-10 Compact cylinder, CQM 25-10 Compact cylinder,
CQM 32-10 Compact cylinder, CQM 40-10 Compact cylinder, CQM 50-10 Compact cylinder,
CQM 63-10 Compact cylinder, CQM 80-10 Compact cylinder, CQM 100-10 Compact cylinder,
CQM 125-10 Compact cylinder,CQM 12-15 Compact cylinder, CQM 16-15 Compact cylinder,
CQM 20-15 Compact cylinder, CQM 25-15 Compact cylinder, CQM 32-15 Compact cylinder,
CQM 40-15 Compact cylinder, CQM 50-15 Compact cylinder, CQM 63-15 Compact cylinder,
CQM 80-15 Compact cylinder, CQM 100-15 Compact cylinder, CQM 125-15 Compact cylinder,
CQM 12-20 Compact cylinder, CQM 16-20 Compact cylinder, CQM 20-20 Compact cylinder,
CQM 25-20 Compact cylinder, CQM 32-20 Compact cylinder, CQM 40-20 Compact cylinder,
CQM 50-20 Compact cylinder, CQM 63-20 Compact cylinder,CQM 80-20 Compact cylinder,
CQM 100-20 Compact cylinder, CQM 125-20 Compact cylinder, CQM 12-25 Compact cylinder,
CQM 16-25 Compact cylinder, CQM 20-25 Compact cylinder, CQM 25-25 Compact cylinder,
CQM 32-25 Compact cylinder, CQM 40-25 Compact cylinder, CQM 50-25 Compact cylinder,
CQM 63-25 Compact cylinder,CQM 80-25 Compact cylinder, CQM 100-25 Compact cylinder,
CQM 125-25 Compact cylinder, CQM 12-30 Compact cylinder, CQM 16-30 Compact cylinder,
CQM 20-30 Compact cylinder, CQM 25-30 Compact cylinder, CQM 32-30 Compact cylinder,
CQM 40-30 Compact cylinder, CQM 50-30 Compact cylinder, CQM 63-30 Compact cylinder,
CQM 80-30 Compact cylinder, CQM 100-30 Compact cylinder, CQM 125-30 Compact cylinder,
CQM 12-35 Compact cylinder, CQM 16-35 Compact cylinder, CQM 20-35 Compact cylinder,
CQM 25-35 Compact cylinder, CQM 32-35 Compact cylinder, CQM 40-35 Compact cylinder,
CQM 50-35 Compact cylinder, CQM 63-35 Compact cylinder,CQM 80-35 Compact cylinder,
CQM 100-35 Compact cylinder, CQM 125-35 Compact cylinder,CQM 12-40 Compact cylinder,
CQM 16-40 Compact cylinder, CQM 20-40 Compact cylinder, CQM 25-40 Compact cylinder,
CQM 32-40 Compact cylinder, CQM 40-40 Compact cylinder, CQM 50-40 Compact cylinder,
CQM 63-40 Compact cylinder, CQM 80-40 Compact cylinder, CQM 100-40 Compact cylinder,
CQM 125-40 Compact cylinder, CQM 12-45 Compact cylinder, CQM 16-45 Compact cylinder,
CQM 20-45 Compact cylinder, CQM 25-45 Compact cylinder, CQM 32-45 Compact cylinder,
CQM 40-45 Compact cylinder, CQM 50-45 Compact cylinder, CQM 63-45 Compact cylinder,
CQM 80-45 Compact cylinder, CQM 100-45 Compact cylinder, CQM 125-45 Compact cylinder,
CQM 20-50 Compact cylinder, CQM 25-50 Compact cylinder, CQM 32-50 Compact cylinder,
CQM 40-50 Compact cylinder, CQM 50-50 Compact cylinder, CQM 63-50 Compact cylinder,
CQM 80-50 Compact cylinder, CQM 100-50 Compact cylinder, CQM 125-50 Compact cylinder,
CQM 20-75 Compact cylinder, CQM 25-75 Compact cylinder, CQM 32-75 Compact cylinder,
CQM 40-75 Compact cylinder, CQM 50-75 Compact cylinder, CQM 63-75 Compact cylinder,
CQM 80-75 Compact cylinder, CQM 100-75 Compact cylinder, CQM 125-75 Compact cylinder,
CQM 20-100 Compact cylinder, CQM 25-100 Compact cylinder, CQM 32-100 Compact cylinder,
CQM 40-100 Compact cylinder, CQM 50-100 Compact cylinder, CQM 63-100 Compact cylinder,
CQM 80-100 Compact cylinder, CQM 100-100 Compact cylinder, CQM 125-100 Compact cylinder,
CQM 20-125 Compact cylinder, CQM 25-125 Compact cylinder, CQM 32-125 Compact cylinder,
CQM 40-125 Compact cylinder, CQM 50-125 Compact cylinder, CQM 63-125 Compact cylinder,
CQM 80-125 Compact cylinder, CQM 100-125 Compact cylinder, CQM 125-125 Compact cylinder,