High speed automatic flute laminator machine/Full automatic flute laminator for corrugated board making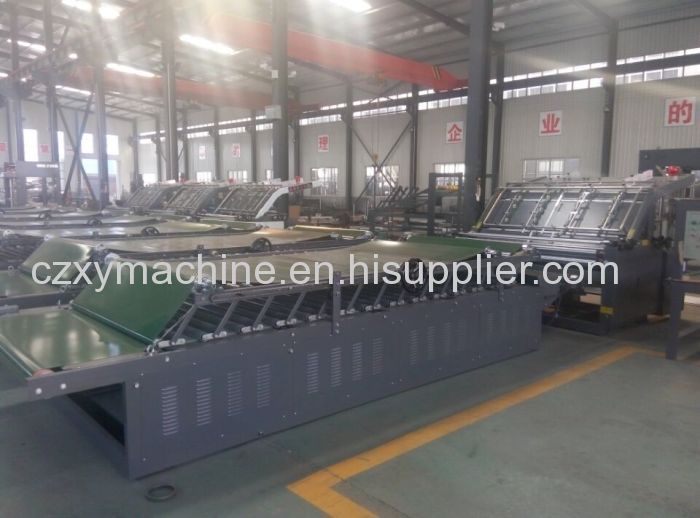 Automatic Flute Laminator Features
Specifications
| | | | |
| --- | --- | --- | --- |
| Model | BZJ1300 | BZJ1450 | BZJ1650 |
| Max. paper size | 1300×1100mm | 1450×1100mm | 1650×1450 |
| Min. paper size | 400×400 | 400×400 | 400×400 |
| Mini. weight of bottom paper | 300gsm | 300gsm | 300gsm |
| Max. weight of bottom paper | 800gsm | 800gsm | 800gsm |
| Max. thickness of paper | 10mm | 10mm | 10mm |
| Mini. weight of face paper | 180gsm | 180gsm | 250gsm |
| Max. weight of face paper | 800gsm | 800gsm | 800gsm |
| Precision of paperboard and cardboard | ±1.2mm | ±1.2mm | ±1.2mm |
| Precision of paperboard and corrugated board | ±1.5mm | ±1.5mm | ±1.5mm |
| Machine speed | 100PCS/MIN | 100 PCS/MIN | 70 PCS/MIN |
| Total power | 14HP | 14HP | 14HP |
| Total length | 12.5M | 12.5M | 14.5M |
Automatic Flute Laminator Parts Introduction
Surface Paper Feeding Part
The Feeding device made in Taiwan ensures that the feeding of surface paper is smooth and accurate.
Surface Paper Conveying Part
‍
Unique central gear made of wear-resistant PU rubber cooperating with conveying belt ensures stability and smoothness of conveying, which is adaptive for different sheets of different thickness without any abrasion for the printing surface.
Alignment System of Surface Paper
Synchronous sheet pusher particularly designed ensures that the surface paper and bottom paper enter the pasting part at the same time. It can be fine adjusted during the course of working.
Bottom Paper Feeding Part
Imported suction feeding device with punching belts ensures stable feeding at high speed. It is suitable for cardboard heavier than 300g/m2, corruggated boards of A,B,C,D,E,F,N and three, five or seven layers.
Bottom Paper Conveying Part
Synchronous sheet pusher particularly designed ensures the stable and accurate conveying of cardboards heavier than 300g/m2, and corrugated boards of A,B,C,D,E,F,N and three, five or seven layers.
.
Driving System
Imported wear-resistance timing belt, belt wheels cooperating with sheet pusher, adjustment system and alignment mechanism ensures a paste tolerance of ±1.5mm and reduction of torn sheet.
Adjustment System
Fine regulator completely manufactured in Japan is adopted, which actualizes the adjustment of pasting tolerance during the course of working with high speed, thus improving the working efficiency.
Electrical Control Part
All the electrical power adopted the worldrenowned brands, steady and dureable, frequency speed govering, lower noise and energy conservation.
Adding Glue and Gumming System
Automatic adding glue system detects by electrically operated fluid controller and adds gule automatically during the course of pasting. The thickness of glue is adjustable according to paper. Recycling system of glue avoids a waste of glue and swinging glue, and ensures accurate and tidy laminating.Unique applied anilox roller glues evenly, even suitable for cardboards and cardboards.
Machine Pictures: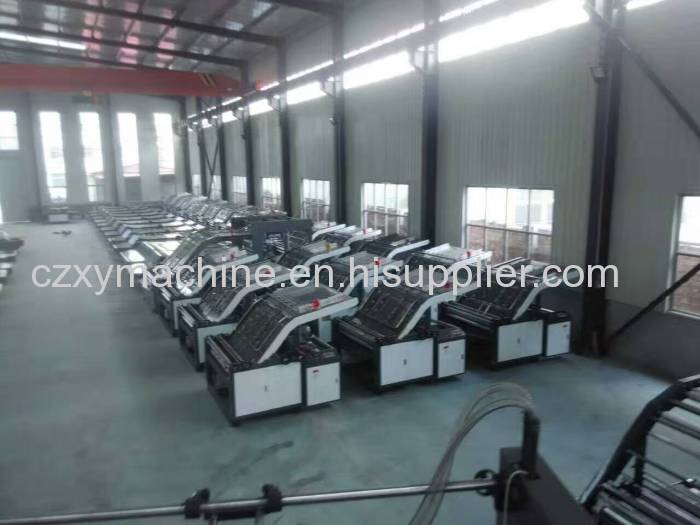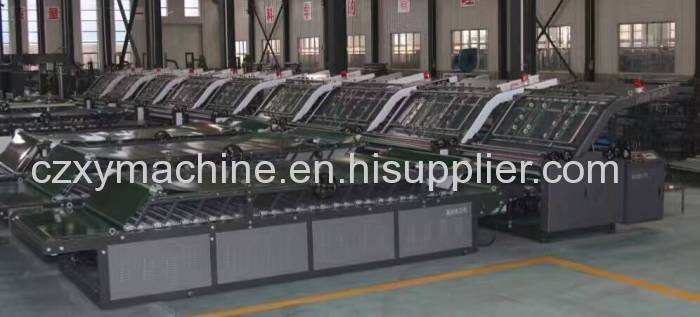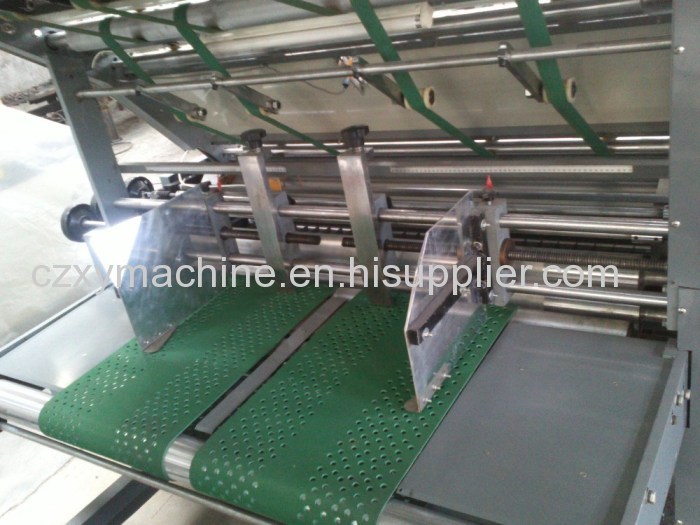 Ralated products: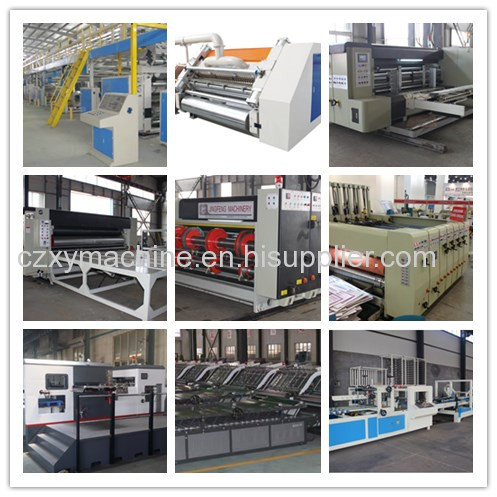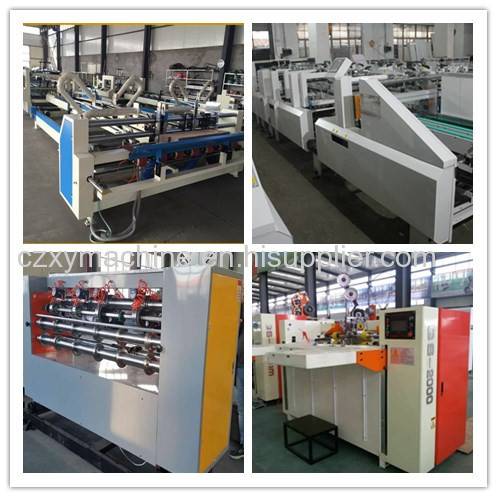 Customer Visiting: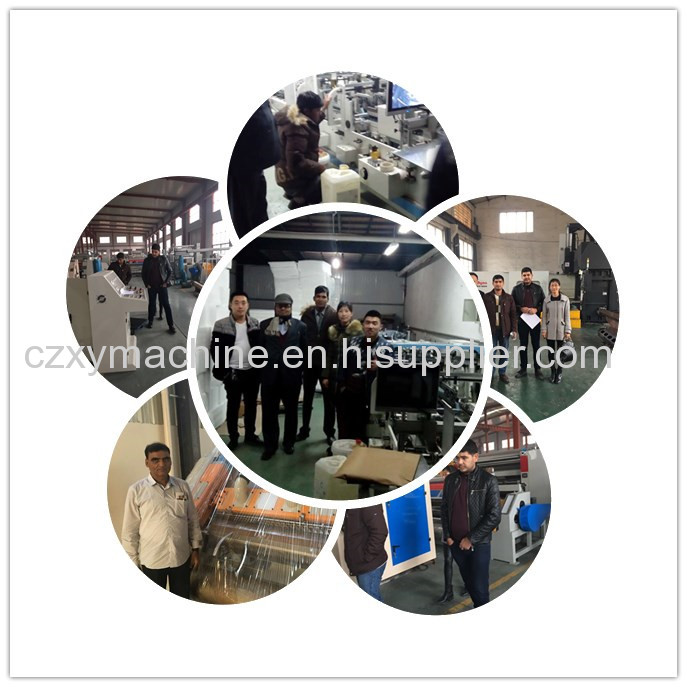 Company Information:
Cangzhou XiaoYuan carton machinery co.,ltd, is a corrugated carton machine tradingcompany based in Hebei China, Established in 2015, Who integrates research, sale and service. We can provide you high quality machines for corrugated carton board producing, corrugated box making.Such as: automatic 1-4 colour printing machine, semi automatic printing machine, Rotary slotting machine, Rotary die cutting machine, laminator, single facer machine, BFYthin blade slitter scorer machine, gluing machine, stitching machine, corrugated carton production line and so on.Automatic machines or semi automatic machines. We have stable cooperative factory and senior technicians. Which guarantees we can produce the first class corrugated carton equipments, The professional sales team and aftersale service team can supply the reasonable price and best after-sale service to our new and old customers.

Our company always adhere to the"quality first, credibility first"business philosophy, and from time to time to seize the opportunity, deepen the reform, innovation, the quality of our products to the international road to higher quality, better prices and more comprehensive after-sales service, to reciprocate the trust of old and new friends from all walks of life.

Our Company has full mechanical equipment, high degree of specialization, more manufacturing experience, has strong technical strength, advanced detection methods, complete management system, we are a rising star in carton printing machinery industry, and We will introduce you best suitable machines with our most professional sevices to our good friends.
If interested in our products, pls contact us:
skype:czxymachine
Fax/tel:0317-7805687
Whatsapp/wechat/viber: +86 18202603137