1.Product in-feed hopper
2.Vibrating plate
3.Sloping chute
4.full-color RGB CCD cameras
5.Reflector panel
6.Ejector
7.Control box
8.Discharging hopper for sorted product
9.Reject products discharging hopper.
10.DPS
Input product is loaded into the in-feed hopper (1), it moves along the vibrating plate (2), until it flows on to a sloping chute (3), where it is individually checked at 360° and sorted by RGB-Full color cameras (4) . Depending on the signals received by the optical device, the sorter software controls the pneumatic device (6), which physically separates the unwanted products out of the conforming ones, which naturally reach their discharging hopper (8). The rejected products are instead deviated by a jet of compressed air produced by the relevant ejector and discharged in the front side hopper (9). In automatic resort versions, the sorted or rejected product to be conveyed to another section of the machine to undergo an identical process.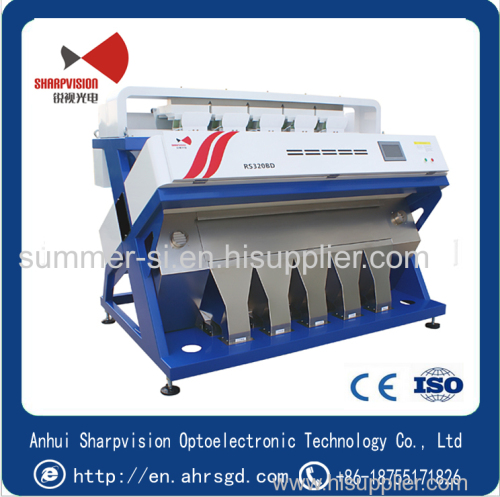 Many years of experience has made SHARPVISION a leading supplier of electronic sorting technology.When it comes to optimizing the crop qualities by sorting the grain and seed,the strong market position is a result of over 40 years of knowhow within development and production of optical electronic colour sorting equipment. This enables us to offer innovative and flexible sorting solutions based on a technical
experience and a strong concept.