Top brand precise mold parts supplier of TYCO punch and die with customization
partsiyue01
Precise mold parts supplier main requirements:
1.Good corrosion resistant
2.Good Machinability.
3.Easy to clean
4.Good heat transfer.
5.Homogeneity of steel.
6.Easy ability.
7.Low Cost.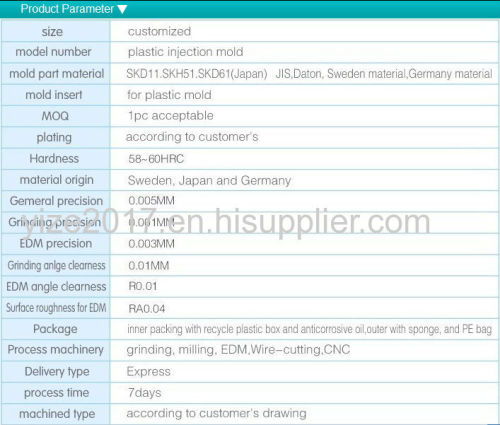 About our factory:
Dongguan Yize Mould Co.,Ltd. is a precise mold parts supplier specializing in producing precision mould parts for 8 years. Our quality products are used in many fields such as precision connector mould, plastic mould, punch mould,TYCO punch and die,stamping mould, die casting mould,machinery,etc.The advanced technology and high quality service have obtained us a good reputation from customers at home and abroad. Yize adopts advanced manufacturing equipments and processing technology that from Japan.Our products are 100% exported, mainly Japan, United States, Southeast Aisa and Europe. We mainly make nonstandard parts as per drawing or supplied Grinding tolerance within 0.001mm,EDM and wire cut precision within 0.005mm,axiality within 0.002, circularity 0.0015mm, surface roughness Ra0.025,linearity 300mm within 0.002 are the production precision available.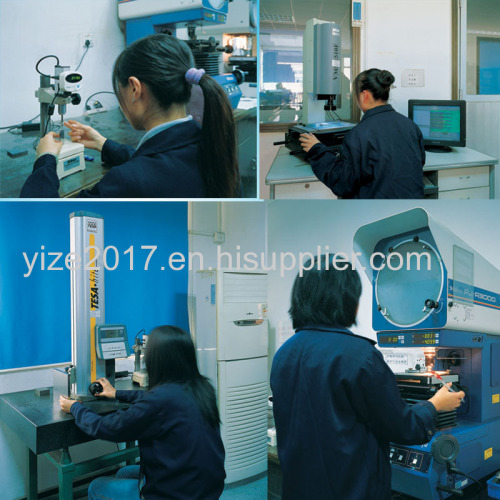 Why choose us:
(1) We have more than 20years experience in this field
(2) Price Stability: We work with legal contracts and always give a stable price, no surprises after quoting.
(3) No Communication Problems: Our well-trained staffs are well-trained and are proficient in technical communication.
(4) Strong Technical Capacity: We can help your product design and development for reducing production cost for you.
(5) Advanced Management: We are certificated with ISO 9001: 2003 quality management system.
(6) TYCO punch and die
Foreign logistics (DHL, FEDEX, UPS, TNT)

Welcome to figure offer, the price is for reference only, we have a professional considerate service to you.
YIZE recommend you TYCO punch and die
Contact Yize Mould
Dongguan YIZE MOULD Co.,LTD
Precise mold parts supplier Address: Hexing Road No.122, South Shatou District, Chang'an Town, Dongguan City, Guangdong Province