Description:
It uses one-piece U-frame casting steel hammer body, with max. striking energy from 16kJ to 160kJ. That frame is wide application and standard one. Hammer body is cast as one piece to avoid columns and anvil connecting, reduce separated hammer body contacting surface wear, improve body strength, and make this hammer afford off center forging force.

Its guiding is using the steel X-shape guide rails fixed in the hammer body inner face by bolts, with three inserted locating face to avoid bolts receive force. Imported locking washer is used to avoid bolts lose. Extending line of contacting surface of guide rails and ram crosses on the ram center, which cannot effect guide clearance due to heating, and clearance between ram and guide rails can be adjusted to be small to assure die matching. And this guide rails lubrication is automatic and once forging is stop, lubrication will be stop.

Its striking system is with big ram structure, which can make sure striking energy when striking speed is down. And longer ram guiding can improve hammer working accuracy.

Its control system can make sure striking energy controlled and program striking realized, avoid vibration and noise arising from surplus energy. Program automatic control system can control each striking energy and steps according to requirement, which make striking system vibration and noise reduce more, lower requirement for operator, get stable forging accuracy, improve hammer running reliability and die life. Striking program is easy to input, no need skilled computer engineer, even semi-skilled worker is OK. There is malfunction display window on this control system. Once problem, it will be easy and quick to find malfunction reason through this window, and then deal with it at once to short maintenance time.

Special designed die automatic lubrication, blank convey system, ejector and scale removing system are for customer to choose. They can be linked to hammer through program to realize die lubrication locating, timing, quantifying control, to improve its productivity and reduce labor intensity.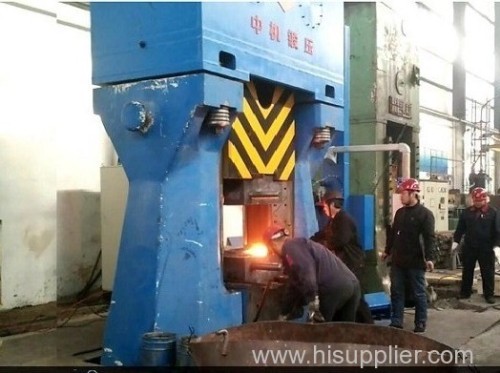 Main technical parameter:
item

unit

C88K-

16

C88K-

25

C88K-

31.5

C88K-

50

C88K-

63

C88K-

80

C88K-

100

C88K-

125

C88K-

160

Striking energy

KJ

16

25

31.5

50

63

80

100

125

160

Max. Striking

frequency

Min-1

100

90

90

90

80

80

75

70

65

Ram weight

Kg

1150

1800

2250

3500

4350

5600

7000

8600

9800

Dropping weight

Kg

1350

2100

2700

4000

5000

6300

8000

9800

11000

Total weight

T

26

42

52

82

104

123

156

195

240

Main motor power

Kw

30

55

55

2X55

2X55

2X90

2X90

2X110

2X132