Saline bag Packaging Machine

The Utien DZL thermoforming packaging line is designed for maximum output and used in food industry frequently. The new model of thermoformer redefined high durability and high work efficiency.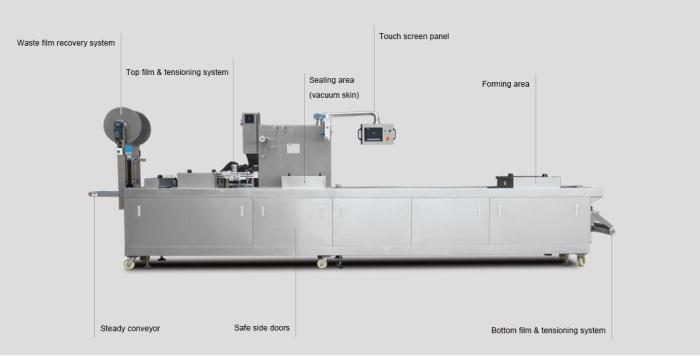 Features- High efficiency, at least 10000 packages per day.- Safe and easy to operate with PLC touch screen operating system.- Outstanding packaging with customized forming mold and functions for automated packaging.- Provide full after-sale service, engineers are able to service overseas.
Saline bag PackMore and more plastic saline bags are used in medical industry instead of glass bottles which is more economic and environment friendly. In order to keep the saline bags uncontaminated we use thermoforming flexible packing machine to pack saline bags. It can easily be opened and low weight to carry.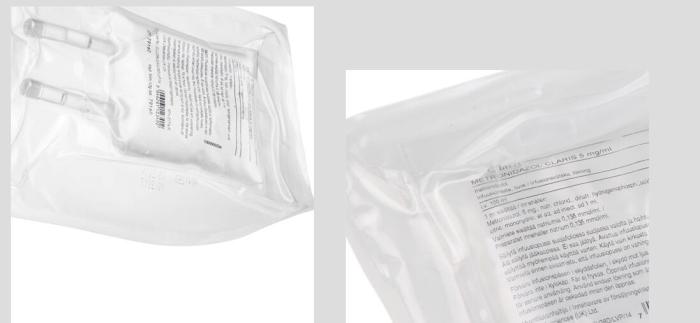 Working Schematic

Thermoforming TechnologyAdvanced thermoforming technology can increase packaging production speed and package quality. It use compressed air and vacuum to help heated film form into different shapes. The bottom mold is totally customizable.
Automatic Thermoforming MachineUtien thermoforming machine have full stainless steel frame and covers. Easy to operate and maintain. It combines package forming, loading, sealing and cutting.SEE MORE DETAIL PHOTOS
Third-party Equipments
Multi-head WeigherIt is a choice of automatic product loading system on top of the loading area. Certain amount or weight of product is continiuously loaded into the formed trays.
Ink-jet PrinterImported ink-jet printer can be integrated on our machine to print information such as production date, serial numbers and special code onto the top film.
Liquid Filling SystemMulti-head liquid filling system is customized for liquid or semi-liquid product such as honey, butter, oil and so on.
Convenience1.Mold fast changingAll three mold section can be changed in half hour. Make it easier to change product line.2.Film fast changingThe new film rolling system with auto-lock can be of a great assistance for production. It make the stop time much less than before.3.Easy to maintainIt is signed for every oil filling point and spare parts are easily changed.
Technical Data
Machine Parameter

Outer Dimension

6000mm*1300mm*1870mm

Weight

2000kg

Work Platform Height

1000mm

Operation Panel Height

1600mm

Loading Area Length

1500mm

Working Parameter

Bottom Film Width

≤520mm

Advance Length

≤500mm

Forming Depth

≤150mm

Top Film

Material

Sealable plastic extruded film such as PET\PP\PE\PA

Print

Able to print picture and text on the film

Roll Diameter

Max.250mm

Thickness

Less than 200um

Bottom Film

Material

Sealable plastic extruded film such as PET\PP\PE\PA

Print

Not able to print

Roll Diameter

500mm

Thickness

More than 300um

Components

Vacuum Pump

BUSCH(German)

Electrical Components

Schneider(French)

Pneumatic Parts

SMC(Japan)

PLC, Touch screen and servo motor

DELTA(Taiwan)