CREDIT OCEAN auto-sharpening cloth fabric cutting machine
The auto-sharpening cutting machine can be exchanged with Eastman 627x Model. It is available to cutting materials such as cotton, woolens, linen, silk, chemical fiber and leather, etc.
Having features of concentrated lubrication, neat cutting section and small-curvature radius curvilinear cutting, low noise, stable running, easy operation, and high efficency, automatic knife grinding, Powerful motor, etc. it is an ideal cutting tool for gament industry.
MODEL

RATING POWER

RATING VOLTAGE

FREQUENCY

CUTTING HEIGHT

CUTTING WIDTH

WEIGHT

PACKAGE SIZE

W

V

Hz

mm

r/min

kg

(L.W.H)mm

CO-3D

500/750

110/220

50/60

260 210 160

2800/3450

19 18 17

760×400×325

CO-3

500/750

110/220

50/60

260 210 160

2800/3450

19 18 17

760×400×325

CO-103

500/750

110/220

50/60

260 210 160

2800/3450

19 18 17

660×360×265

CO-108

370

110/220/380V

50/60

90

2800/3400

9

530x320x232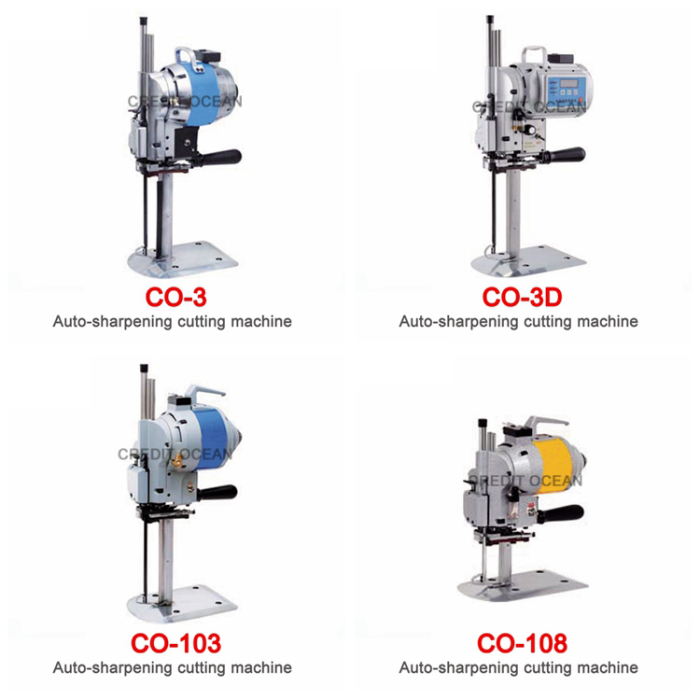 Why choose us
Credit Ocean is started in 2004 year and the centre of expertise and capacity. And we provide of needle loom, crochet machines, warping machines, electronic jacquard needle loom machines, shoelace and bag lace tipping machines, high speed braiding machine and high speed cord knitting machine etc.
Credit ocean supply of a wide range of machinery for many applications
Credit Ocean provide high quality machines
Credit ocean service quality
Credit Ocean have well experienced team
Credit ocean persist in the principle of "credit-keep promising,quality-keep upgrading,service-keep improving".
Services
1. We offer best after-sales service for customers.
2. Engineers available to solve any problem in need.
3. We help order spare parts quickly and correctly.
Don't hesitate to send us inquiry; we'll give you feedback within 24 hours!
Contact us