Brown Leather Belt Dynamic Camera for Scanning Invisible Poker Barcodes
In addition to the leather belt camera intended to scan marked Mahjong tiles, our company also sells a leather belt camera intended to scan marked playing cards -- CVK730T leather belt dynamic camera.
Neat and Fashionable Exterior Design:
The exterior design of the leather belt is made by drawing the experience from the world brands -- super-thin belt with a golden buckle, neat and fashionable.
Good Concealment:
The dynamic camera fixed inside the buckle is completely concealable and nobody can find out its existence.
Long Scanning Distance:
Its scanning distance reaches up to 70 to 105cm, making the camera applicable to the poker games played on big gambling tables.
Fast Speed, High Accuracy and Strong Stability:
Its scanning height is 25cm and its scanning width is 30cm. With this range, the camera can scan marked playing cards with fast speed, high accuracy and strong stability. This dynamic camera can work with different types of poker analyzers like CVK 500 and AKK K4, which all are available from our company.
For Your Information:
Our company has been in this line for many years, selling all kinds of gambling cheating devices to customers at home and abroad. The feedback on our products from our customers are quite good. So, you can trust us that the CVK730T leather belt dynamic camera we sell won't let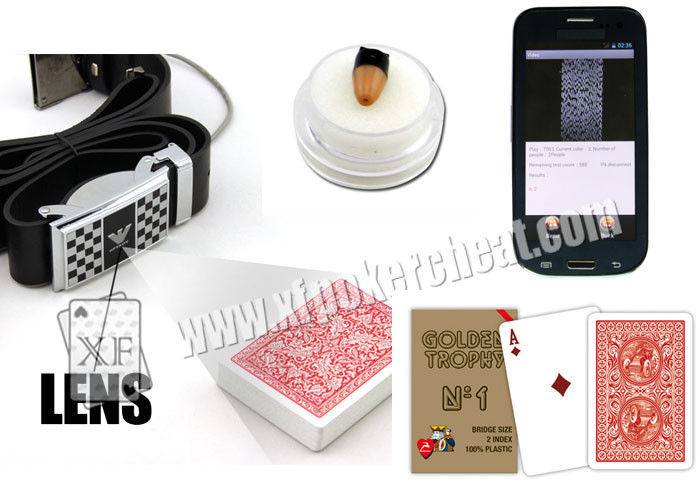 you down.