Flexible Rubber Coupling Hose Clamps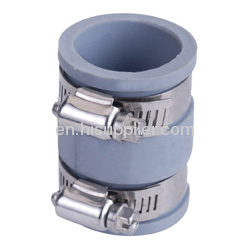 Specifications

flexible rubber coupling:
1)connecting cast iron or PVCpipes.
2)material:natural rubber&SS301 hose clamp band

Flexible rubber coupling, used in connecting drain pipes, materials: Rubber& stainless steel.
1) Flexible PVC or other Rubber gasket
2) Clamp: band, Housing and screw all stainless steel
3) customers' specifications or drawings are welcome, all the materials,finishing or other requirement of the products based on the customers'requirement. If you have similar requirements, please send the drawings or thespecifications to us for reference.


Specifications/Features:
Flexible gasket.
Clamp:Stainless Steel 301 Band 1/2'' width x length
StainlessSteel 301 Housing and Stainless Steel Screw


1. Foundation: it can fasten the pipes as it is round.
2. Application: industrial, architectural and civil fields.
3. Payment terms: T/T, L/C.
4. Transportation: by sea or by air.


1. Material: stainless steel, carbon steel galvanized. 2. Size: 29 - 131MM. 3. Packaging: plastic bags as inner package, then in cartons, pallet at last. 4. MOQ: 5000pcs. 5. Lead time: (1) 7-12 days for sampling. (2) 14-21 days for production. 6. Price: FOB Ningbo. 7. Origin: China.


StraightCoupler




naturalrubber, with 12.7 mm wide American hose hoops. (Material for hose clamp arestainless steel 301)
size
pcs/carton
carton size
weight/carton
1 1/2*11/2"
100
34*34*38
17
2*2"
100
41*33*46
21
3*3"
100
55*55*44
35
4*4"
50
55*42*45
23
5*5"
50
43*43*47
32
6*6"
20
43*43*47
22








ReducerCoupler




naturalrubber, with 12.7 mm wide American hose hoops. (Material for hose clamp arestainless steel 301)
size
pcs/carton
carton size
weight/carton
2x11/2"
100
41*33*46
21
3x2"
100
55*55*44
35
4x2"
50
55*42*45
23
4x3"
50
55*42*45
23
5*4"
50
43*43*47
32
6*4"
20
43*43*47
22
6*5"
20
43*43*47
22