Product Introduction
Mining trackless rubber-tyred explosion-proof diesel vehicle (referred as rubber-tyred vehicle) is a kind of trackless auxiliary transportation machinery which uses explosion-proof diesel engine as power, and can work in the environment with explosive gas such as underground shaft of coal mine. It is used for the delivery of materials, equipments, persons andcoal gangues. The advanced components are selected as the brake parts of vehicle to improve the braking reliability. The structure is designed by referring to the main manufacturers for popularization. The vehicle is characterized by its point to point transportation, stronger climbing ability, higher load capacity and lower transportation costs.
Picture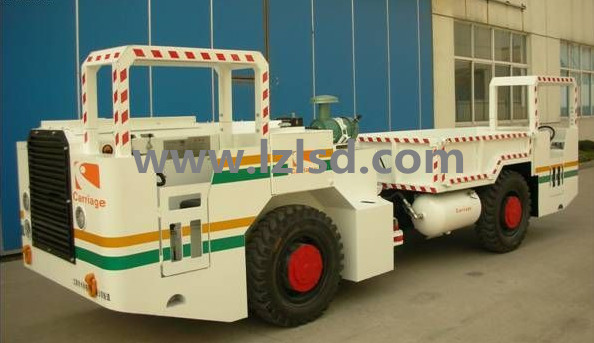 About Lishengda
Lanzhou Lishengda Railway New Technology Limited Liability Company(LZLSD)was founded in 1999. It is a high-tech enterprise specialized in research, development, production, sales, and export of railway equipments and engineering vehicles. With the significant support from Measuring & Controlling Technology Institute of Lanzhou Jiaotong University, taking Gansu Engineering & Technology Research Center for Rail Transportation Equipment as a researching and developing platform, LZLSD has had abundant human resource, professional equipments and advanced technology.
The main products of LZLSD are:
Rail transportation equipment
Special equipment for railway / highway
Mechanical equipment and accessory for coal mine
Series of AC variable frequency battery-powered locomotive for engineering and mining
Series of DC overhead line-AC drive locomotive for engineering and mining
We have undertaken and completed a number of new technology research projects in Chinese railway and have honored with the provincial Science and Technology Progress Awards since the company was established. LZLSD has been authorized with ISO9001 certification, and two series of electric locomotive are with the National Safety Certification of Approval for Coal Mining Products (MA) and the National Safety Certification of Approval for Mining Products (KA).
In recent years, the company has been growing. There is a strong technical team with innovation and dedication. The series of AC variable frequency locomotive for engineering and mining developed by the company have reached the advanced level in the world. The products such as DC (250V/550V) overhead line-AC drive locomotive (10t, 14t, 18t, 20t), AC variable frequency battery-powered locomotive (14t, 18t, 20t, 25t, 40t, 45t), special AC variable frequency battery-powered locomotive for mining (60t, 90t) and ancillary equipments for shield tunneling, have been put into application. With the complete specifications and high reliability of products, our sales network has covered China and abroad.
Our products have played important role in the construction and production of Beijing Subway, Shanghai Metro, Tianjin Metro, Guangzhou Metro, Shenzhen Metro, Water Diversion Project and Shanxi Coking Coal Group etc., as well as of India and Thailand. With the good effects, they have been highly praised by users. The company has enjoyed the reputation among the trade.